A Post-Disaster World Without Soccer Becomes Art at Carnegie International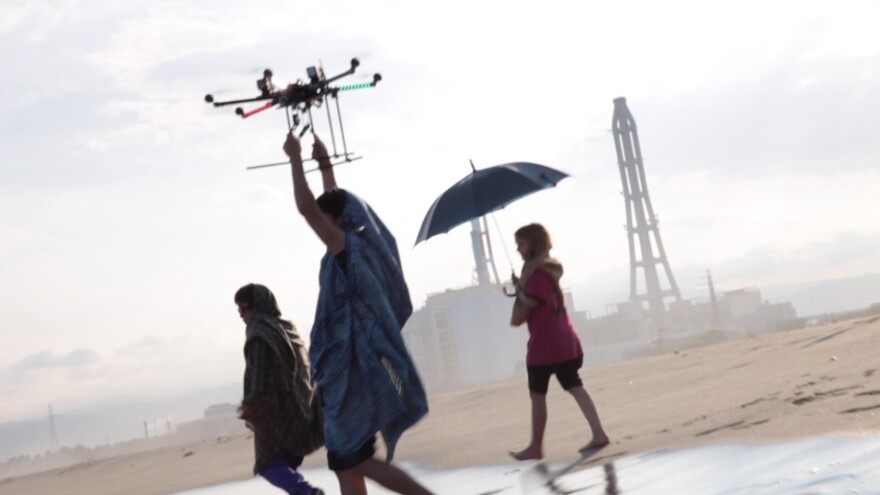 From the very beginning, the curators of the 2013 Carnegie International wanted the art exhibition to be about play, so they built a playground in front of the museum.
Several artists have picked up on that theme, including Brooklyn-based performance artists Ei Arakawa.
When he was approached to be in the International, Arakawa latched onto the playground idea and then began to think about his hometown of Fukushima Japan, which was ravaged by an earthquake, a tidal wave and a nuclear disaster in 2012. He then turned to German filmmaker Henning Bohl as a collaborator and they set their film on some of the playgrounds near the nuclear plant.
"We wanted to visit the places and show them," Bohl said. "But it should be kind of a fictionalized poetic kind of a film and not a documentary like you can see in so many biennials today."
The pair of artists turned to Bohl's daughter, Helena, and Arakawa's recently retired mother to serve as actors in the film and then began a journey from playground to playground. The result is a 40-minute film that the artists describe as part sci-fi, part road film, and part documentary.
"Children are not supposed to play there because of the radiation, there are children there but the maintenance is very bad," Arakawa said.
"It's not only Fukushima but the playgrounds look like they have been abandon a long time before Fukushima so we fictionalized Fukushima into some not specified catastrophe," added Bohl.
They began to think about this place they had created and decided that it would be in a world where soccer had become so commercialized that the sport died and left behind soccer balls that are used as money.
The pair had their set but they needed some set dressing and costumes. For that they turned to the children participating in the museum's summer camps for help.
"Helena (Bohl's Daughter) sent letters to the kids to describe this futuristic environment and the kids made costumes … based on letters from the future," Bohl said.
Bohl and Arakawa also sent fabric from Japan and encouraged the students to combine them with used sports equipment. Some very fancy soccer balls will be on display in the room where the film will be shown in a continuous loop.
Bohl calls the film "fragmented" despite having a narration that ties it all together. He said he is fine with people dropping into the film at any point. In fact, he's not sure he expects people to spend 40 minutes watching the film.
"I must say I hate watching movies in exhibitions, it's mostly a pain and better watched on your couch at home or on the Internet or something," Bohl said.
Bohl said that is one of the reasons why he and Arakawa tried to make the film lean toward the language of experimental film.
"If it gets you then you will (sit through it) and if it does not catch you at one point, you can leave and even come back," Bohl said.
Arakawa said he is fine with the idea of different visitors seeing fragments of the film. He hopes that when people get together to talk about the film it will start to come back together.
Arakawa and Bohl will also offer a performance to go along with the film. On Saturday, the pair will gather up patrons in the museum's lobby at 11 a.m. and draw them across the street to the lawn outside of the Cathedral of Learning for some futuristic, post-disaster, soccer-inspired, interactive art.