Contact 90.5 WESA with a story idea or news tip: news@wesa.fm
Pittsburgh City Planning Rolls Out New Memorial, Public Art Database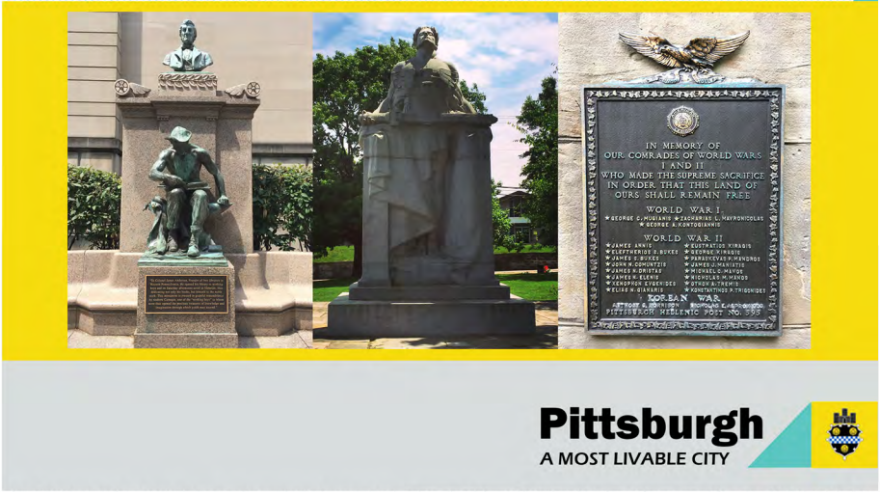 A map of Pittsburgh on the official city website is smattered with colorful, numbered dots, some of which cluster together in hot spots like Oakland and the North Side. Click the dots, and they reveal photos of public art--statues, plaques and pillars-- all with rich back stories, deep community ties.
The map is one part of a new program created by the Public Art and Civic Design Division of the City Planning Department to better catalogue and promote publicly owned art throughout Pittsburgh, the vast majority of which are war memorials.
The goal of the project, City Planning officials say, is to provide "tools to help residents learn about publicly-owned art and war memorials in the city, and track their preservation through technology."
The initiative, announced in advance of Memorial Day, is ongoing. The city has created a guide book of more than 100 memorials to accompany the interactive map, organized alphabetically by neighborhood. Some, like the Knoxville World War I Memorial, are hyperlocal, honoring the service of a particular community's residents. Others portray notable figures like George Washington, and Shawnee Chief Catecahassa.
There are cannons, sun dials and a time capsule among the collection. Some pieces are behemoth stone monuments that list hundreds of names; others are singular flag poles or humble plaques with just a few words.
In addition to the map and guide book, officials are working on other ways to highlight public art: identification plaques that will include the artist's name, a preservation and conservation plan, a podcast or audio tour of the artworks' histories, and perhaps even a mobile phone app.
The division will work to preserve and restore all of the works in the inventory, prioritizing based on need.
Tony Cavalline, the division's arts, history, and culture specialist, said the inventory is comprised mostly of memorials and monuments right now, but the department is working to include all city-owned art, including contemporary art. He hopes that one day the map and guide will also include street art and privately owned murals.
"A big goal is to have this art be presented as something that is very present in people's lives," said Cavalline. "And people can really get a sense of how the artwork has affected their neighborhood, [and] how it has been a presence in the neighborhood where they live throughout the years."
The Public Art and Civic Design Division underwent a redesign last year, when the city hired public art and civic design manager Yesica Guerra. Cavilline came on board in March. He said the division's reimagined mission is "a stronger emphasis on creating initiatives for local artists, and a stronger emphasis on engaging with Pittsburgh, with the people who live here."
Cavalline said that residents who want to submit a public artwork, memorial, or monument that's not currently included in the inventory can reach him or Guerra by phone at 412-255-8996 or via email at yesica.guerra@pittsburghpa.gov and anthony.cavalline@pittsburghpa.gov.
"It's really just giving people as much agency as possible to engage with the city's art and have a voice in where the city art collection will go into the future," Cavalline said.