90.5 WESA's Good Question! series is an experiment where you bring us questions—and we go out to investigate and find answers.So: What have you always wondered about Pittsburgh? Are you curious how your neighborhood originally received its name? Or maybe why the Mon and Allegheny Rivers are different colors when they merge at the Point? Or maybe you've always wanted to know what happened to all of our street cars and inclines? From serious to silly, we're here to help.
Guardians Of The Garland: Who's Behind Neighborhood Holiday Decorations
The Allentown penguins by local artist James Simon are decorated for the holidays with scarves and antlers by community volunteers.
Hilltop Alliance/Allentown CDC
Holiday decorations greeting people to Oakland.
Katie Blackley
From tinsel-covered telephone poles to strings of lights, decorations are an essential part of the holidays in many Pittsburgh neighborhoods. But these trees and ornaments don't just appear; they're curated and hung by groups of dedicated residents and local business owners.
Good Question! listener Lorelli Moser of East Liberty noticed each neighborhood's trimmings while driving around the city and wondered how they were chosen.
"Who gets to decide?" Moser asked. "Where do they find it and who funds it?"
Not all of Pittsburgh's 90 neighborhoods decorate for the holidays, but of those that do, Chambers of Commerce or community groups are typically responsible for deciding how to decorate and getting the festive items up. And they're almost always placed along a neighborhood's main business district. Sam Morris with Troy Hill Citizens said in his community volunteers select the big Christmas tree and string lights at their annual lighting ceremony.
"We encouraged people to bring an ornament from each of their own homes so they can decorate the tree," Morris said. "So it's more of a neighborhood tree."
Lights placed along Lowry Street are kept at the city's Department of Public Works, but the rest, Morris said, live at the Troy Hill Citizens' office in the off-season.
Nancy Lomasney with the Allentown Community Development Corporation also has a team of volunteers who decorate each winter. This year, the south hilltop neighborhood strung garlands on street poles, decked out flowerbeds with garlands and pinecones and dressed penguin statues that live on the Allentown sign with scarves and antlers.
"Winter can be really gloomy in Pittsburgh and maybe people don't want to put up decorations themselves...or they don't have the money, they don't have the energy," Lomasney said. "I think it's important to decorate the public spaces that people see. I think it makes a big impact."
Both Allentown and Troy Hill fund their decorations with money raised through their neighborhood organizations.
Greenfield Community Association board member Kristi Heidel dove into the decorating game for the first time this year. The GCA voted for how to decorate, and ultimately went with lit tree renderings, called "twin dancing trees." They're paid for by donations and a small community grant and run along Murray and Greenfield avenues.
Greenfield's annual holiday parade is the biggest event in the neighborhood, Heidel said, bringing families to Greenfield Avenue to watch school groups, bands and fireworks.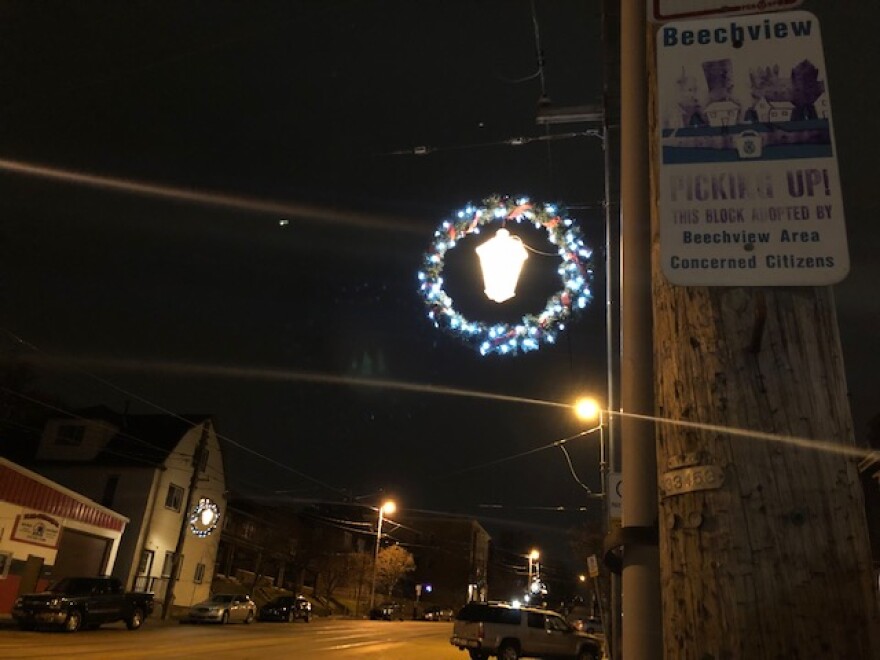 "I think that it just sets the mood for everything," Heidel said. She plans to store the trees in her basement until the GCA gets a permanent home.
In Beechview, Huddle Lounge owner-operator Pete Wagner has inherited the decorating duties. He hangs 36 different wreaths along the length of Broadway Avenue.
"We have a nice main street that goes through Beechview that carries a transit line and we felt that we wanted to expose the people on the transit line to something that makes the community look nice," Wagner said.
Some neighborhoods, including Regent Square and Shadyside, contract with lighting companies for decorations. Regent Square Civic Association board member Mike Eannarino said Outdoor Lighting Perspectives, of Robinson Township, wrapped 22 trees with six strands of LED lights per tree. Much of the money for the contract comes from the neighborhood's annual fundraiser, Run Around the Square.
"It just does that magical thing that lights do, gives it that festive atmosphere and puts everybody in the holiday mood," Eannarino said.
Shadyside Chamber of Commerce president Richard Rattner said the community has contracted with the local company, Wild Flying Pig for about 20 years. Along Walnut Street, Ellsworth and upper Highland avenues, they decorate the poles with LED garland.
"The key is that they have to be high enough up that patrons can't touch them when they're exiting the bars and restaurants," Rattner said. "They seem to be a natural attraction."
According to Rattner, about $15,000 is budgeted for the holiday upkeep from a dues-based chamber of commerce fund.
Earlier this month, Carrick held its first light up night in nearly 20 years. Donna McManus with Carrick Community Council said recent news reports have portrayed the neighborhood in a poor light, so the organization wanted to "bring everybody out" and make a "family-oriented event."
A production company based in Carrick offered to decorate the space for the event for free, and local school choirs and churches performed.
"We want people to come out and be a part of the community again," McManus said.
The tree on the hill
In Beaver County's Center Township, drivers on I-376 can see a tree strung with multicolored lights between the Center and Aliquippa exits. Good Question! listener Sarah Forester wondered about the "mysterious, lone Christmas tree" that she said she's been seeing since she was a child.
"I wanted to know its story," Forester said. "It's always been this really magical thing that I've come to appreciate pretty much every year of my life."
This tree is decorated and maintained by Mary Jo and Dan Slater, who have lived in their home on the hillside for about 34 years. Mary Jo said they started stringing lights on the backyard tree — which is actually not an evergreen, traditional Christmas tree — about 30 years ago because she thought it'd be fun for drivers making their way along the highway at night.
"If somebody's on the highway, they get all excited when they see it," Mary Jo said. "It's so dark back there, there's no lights or anything."
The couple uses about 200 feet of extension cords, which they roll out a week or two before Thanksgiving. And because they're Serbian Orthodox, Mary Jo said they'll keep up the decorations until Jan. 14, the Serbian New Year.
"Some people make a special trip to see it," Mary Jo said. "It's just so pretty."