Unionized Security Officers Reach 'Historic' Contract Agreement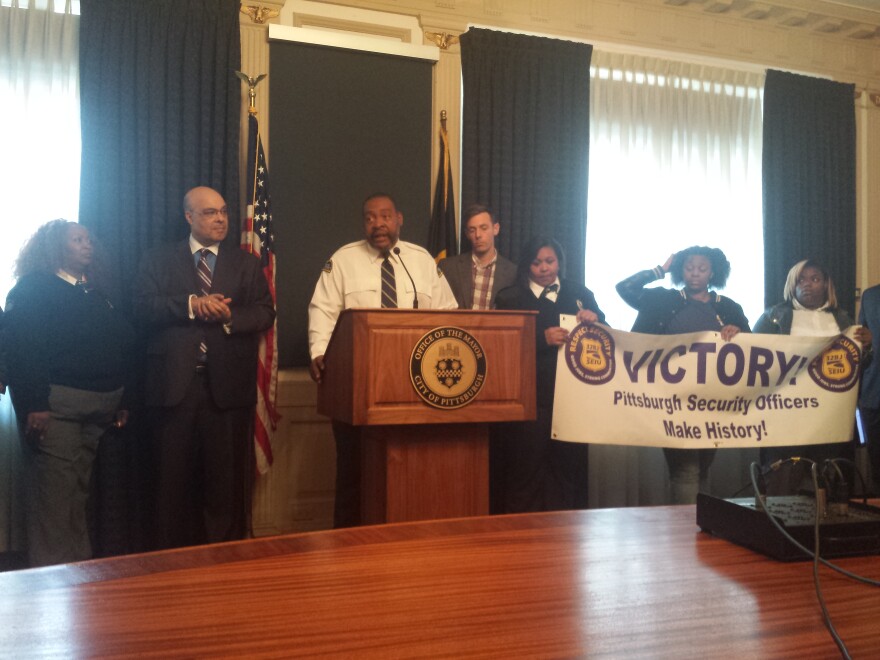 Security officers were joined Wednesday by union and community leaders to announce their first union contract with several companies that provide security services for Pittsburgh buildings.
The deal with Allied Barton Security Services, G4S, Securitas, St. Moritz Security Services, I.S.S., S.O.S. and Chesley Brown provides health care benefits and a $1.95 hourly increase over three years to a minimum of $11.75.
Sheri Geyer, a security officer for 18 years, said the contract should encourage other workers in the area to organize.
"Any service worker, or any worker for that matter, that is struggling to meet ends, you have the power to change your immediate environment," Geyer said. "Look up, talk to your coworker, one conversation turns into two, into five, into 10, into 100."
The contracts cover more than 1,000 security officers, including several employed to protect Downtown buildings like the Highmark high rise and the U.S. Steel Tower.
City Councilman Ricky Burgess said the efforts of the union should pave the way for workers in other industries looking for better wages.
"What they're doing is a template (of) what we're going to do in many industries across this city," Burgess said. "They have taken the first step, but we're going to work with them to go across the city to make Pittsburgh an affordable city and making sure that all the workers in all the industries get a living wage."
Rev. Rodney Lyde, member of the Pittsburgh Interfaith Impact Network, said this day "should go down in the annals of history ... simply because 1,000 security workers are guaranteed a path out of poverty, with all of these guaranteed wage increases and now good benefits," he said.
Negotiation began in April shortly after union officials organized the guards.
Sam Williamson, area director for the Service Employees International Union 32BJ, said the union is still in talks to reach a deal with U.S. Security Associates, which provides services to the University of Pittsburgh.