Keystone Crossroads: Rust or Revival? explores the urgent challenges pressing upon Pennsylvania's cities. Four public media newsrooms are collaborating to report in depth on the root causes of our state's urban crisis -- and on possible solutions. Keystone Crossroads offers reports on radio, web, social media, television and newspapers, and through public events.Our partner stations are WHYY in Philadelphia, WPSU in State College and witf in Harrisburg. Read all of the partner stories here.Pittsburgh's WQED joins the collaboration as an associate partner. Support for this project comes from the Corporation for Public Broadcasting.
Why An Airport Recovery Is A Good Sign For Pittsburgh's Economy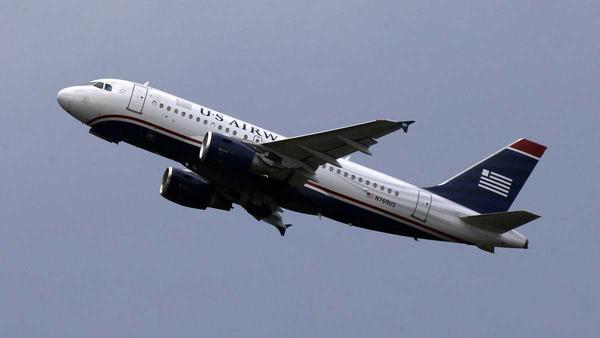 A US Airways jet takes off from Pittsburgh International Airport. The last flight for US Airways -- which was previously known as US Air -- took place in fall 2015. American Airlines and US Airways merged in December 2013.
Credit Gene J. Puskar / AP
Audio File
A few weeks ago, Dave Mawhinney was scheduled to fly from his home in Pittsburgh out to San Francisco. As the executive director of the Swartz Center for Entrepreneurship at Carnegie Mellon University, Mawhinney regularly travels to meet with startup founders, investors, and CMU alumni. Getting out to the West Coast, though, is tough for Pittsburgh travelers — there is only a single nonstop flight to the Bay Area each day. But on this Monday, United cancelled the flight without any explanation. Mawhinney just got a text message.
"There wasn't even an opportunity to reroute through another city to get there," he says. "I was dependent on that direct flight. I booked it well in advance, I paid up for it. And it went away."
The fact that there is only one direct flight to San Francisco is actually indicative of a huge problem facing the regional economy. Smaller cities like Pittsburgh — let alone a Harrisburg or Allentown — tend to have smaller airports, which puts them at a big disadvantage when it comes to participating in the global economy. As Mawhinney puts it: "We have become geographically undesirable because of access to this city via air."
Christina Cassotis, the CEO of the Allegheny County Airport Authority, hears this complaint all the time. In fact, she was hired to run the airport authority in January 2015 in order to improve Pittsburgh's connections. "When air service goes away, economic opportunities go away," Cassotis says. "Companies relocate. And companies make decisions about whether or not to locate in an area because of issues that include nonstop air service."
The good ole' hub days
It wasn't always this way. For decades, Pittsburgh was a major hub for US Air, which was headquartered here. In the early 1990s, Pittsburgh spent $1 billion on a new airport, built to US Air's specifications. By 1997, more than 20 million passengers traveled through the airport annually, flying direct to 114 destinations.
But after 9/11, US Air filed for bankruptcy; to cut costs, it shut down the Pittsburgh hub. By 2012, the airport had lost half its traffic and was down to a third of its destinations.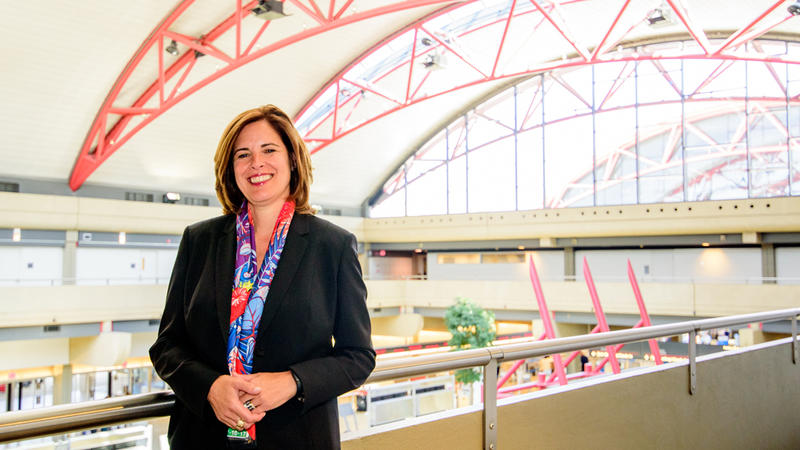 Christina Cassotis, CEO of the Allegheny County Authority
Credit Beth Hollerich / Allegheny County Airport Authority
Many Pittsburghers are still hopeful that the hub will come back, but Cassotis is definitive: "I am sure that the hub is not coming back. The airline industry has completely restructured and we will not be a hub again."
Instead, she's crafted a different way forward. "Let's focus and concentrate on being a really good origin and destination airport," she says. "Like Boston. Like San Diego. Like a whole of airports that don't necessarily survive on connecting traffic, we have a really good market here. And that market deserves a lot more service than it has today."
How does an airport find new flights?
Attracting new routes is a classic chicken-and-egg problem. "In the simplest terms, [airlines] are just looking where demand is," says Seth Kaplan, the editor of Airline Weekly. "Where there are people willing to pay enough money to fly from one place to another place at a fare where they can break even and hopefully make a little bit of money."
The airport can offer financial incentives in order to lure in an airline and show that a new route can work. But securing a new flight goes beyond just supply and demand — the airport also needs to tell a story about the city. "A lot of it is just convincing airlines, with a kind of an old-fashioned sales pitch about opportunities that they might not have considered on their own," Kaplan says.
Cassotis focuses her story on Pittsburgh's growing tech and healthcare economies, as well as the education institutions. "We are very much talking about the revitalization and the renaissance, the turnaround that Pittsburgh has experienced," she says. "And we talk about being able to catch that wave."
Now boarding...
Under Cassotis' tenure, the Pittsburgh airport has attracted more than 100 new flights per week. Still, major holes remain: tech companies get upset when United shuts down the direct flight to San Francisco over the winter, the film industry is frustrated that there are only two daily flights to Los Angeles, and European travelers have just one nonstop option — a flight to Paris — but it only runs for part of the year.
Finally, even though the airport has added some new destinations, it's still dealing with a perception hangover from losing the hub. "We just did a survey of the general population and found that 45 percent of the general public in the region thinks that you can only get to 15 destinations out of Pittsburgh," Cassotis says. "We're up to 57. So we have an awareness issue in this community. And we're working hard on making sure people know what is available."
Read more of this and other stories at the website of our partner, Keystone Crossroads.