Looking At The Costs And Benefits Of Immigration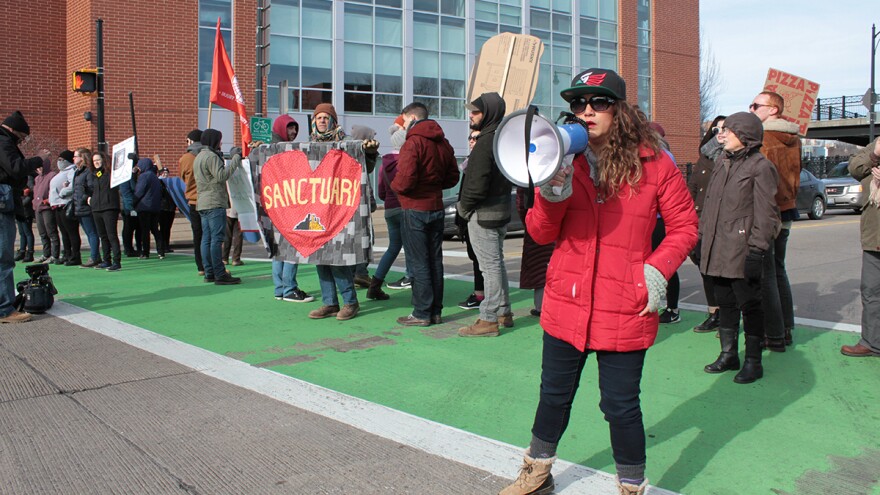 When Alhena Torres turns on her car, a gentle rumble of pop music spills out of the speakers. She used to listen to the news while she drove, but after the first few weeks of the new administration in Washington, she says music has felt like a better option.
"Sometimes I'm just sad and disappointed," she said, pulling up Google maps on her phone and plugging in an address.
Torres drives all around Pittsburgh for work, a cleaning business she started in 2015.
"I like organizing and fixing things," she laughed.
It's a passion Torres blames on her mom. Growing up in Bogotá, Colombia, Torres and her three siblings were each assigned daily chores. When Torres worked in the payroll department at Children's Hospital of Pittsburgh of UPMC, her coworkers teased her about being OCD.
"But the place where you live and how it's organized and everything that you have inside, it reflects in your life," she said.
The same could be said about how cities welcome newcomers. Much of Pittsburgh's recent growth can be attributed to the contributions of immigrants, said Torres, now a citizen.
"Different cultures, people from different races, different ages, students from all over the world, have helped grow the city on the last years."
Numerous studies demonstrate that immigrants can be expensive for state and local governments, which bear the costs for providing services such as public education and public safety. But over time, immigration provides a net boon to the federal coffers, as well as the nation's economy.
In Philadelphia, an influx of immigrants has revived the city, especially in neighborhoods with a lot of vacancies, said Peter Gonzales, president and CEO of the Welcoming Center for New Pennsylvanians.
"Just in Philadelphia's past six years, 95 percent of the new businesses created on commercial corridors in neighborhoods have been attributed to immigrants," he said.
Last year, 45,000 more people left Pennsylvania than moved in, according to the U.S. Census. Each year, thousands of Baby Boomers leave the workforce, at the same time increasing costs by tapping into Social Security and Medicare. Immigrants stem that outflow of workers. More than eight percent of Pittsburgh's population is foreign born. In Philadelphia, the number is 12.7 percent. Most are working-age adults who bolster the tax rolls, and spur innovation.
Nationally, immigrants tend to concentrate on either side of the education spectrum: they're overrepresented among people with less than a high school diploma, as well as those with more than an undergraduate college degree. That distribution complements, rather than competes with, the American workforce, writes Diana Furchtgott-Roth, former chief economist of the U.S. Department of Labor, and director of Economics21 at the Manhattan Institute. Furchtgott-Roth also recently served on President Trump's transition team.
Though just six percent of Pennsylvania's residents are foreign born, they account for 10 percent of the state's entrepreneurs.
Immigrants make significant contributions to society, said Steven Camarota, Director of Research for the Center for Immigration Studies. But those contributions don't balance out the costs, particularly for immigrants with less education, he said.
"Someone who comes to the United States with relatively little education will tend to, though not always, work at a relatively low-paying job and whether they're paid on the books or not, as a result, they won't pay much in taxes."
Of course, the taxes paid by many native-born Americans don't balance out the services they use. But immigration expands the pool of people taxpayers help to support, said Robert Rector, a senior research fellow at the Heritage Foundation. The conservative think tank favors stricter immigration. Rector said lower-skilled immigrants create competition for the country's most vulnerable people.
"There's massive underemployment and unemployment, dropping in and out of the labor force, among the least skilled American workers. And they have first claim on our jobs and our sympathy," he said.
Overall, the impact of immigration on the wages of native-born people is small, according to a 2016 report from the National Academies of Science, Engineering, and Medicine. Some studies put the wage decrease at about 5 percent, though it can vary widely depending on job type and local labor market. But Rector adds, if increased competition from immigration has forced people to drop out of the labor force — as white men without college degrees have — that loss won't be reflected in the data.
For Betty Cruz, the idea of limiting immigration to just highly-skilled newcomers is a narrow view of people's capacity, as well as the economy. Cruz is the director of Change Agency, a Pittsburgh organization that focuses on integrating immigrant communities. It's important to draw a diverse group of people who work at all different levels, she said.
"Everything from high tech areas of innovation to mom and pop shops. And really, what you need for a thriving economy is all of that and everything in between."
Simply to avoid stagnation, the Pittsburgh region will annually need to attract 29,000 new people to replace those retiring. Philadelphia, too, faces the grim possibility of population decline without continued immigration. The modest growth of recent years won't cut it.
Torres and her company, Wink Maid Services, now employ five to nine people, depending on the season. Immigrants give up everything to come to the United States, she said, for a pretty simple reason.
"They come to work hard. As myself. To make a good living, to be part of the society and make it better and bigger and stronger, not to make it weak or take advantage of it."
The authors of the National Academies' report on immigration stress that any analysis of the fiscal impact of immigrants depends on how you slice the data. And overall, they write, immigration is "integral to the nation's economic growth."