Contact 90.5 WESA with a story idea or news tip: news@wesa.fm
City School District Prepares For In-Person Learning After A Year Fully Remote
Cary Allen, a STEAM teacher at Pittsburgh Lincoln K-5, sits in his classroom March 26.
Sarah Schneider
Pittsburgh Public Schools purchased 220 air purifiers ready for use when nearly half of the district's 22,000 students return next week. But the purifiers won't be in classrooms: They'll be in the main offices of its schools and in rooms where sick children are isolated.
Stephen Connell, the district's director of facilities, said it was cost-prohibitive to buy purifiers for all 4,000 classrooms, but said teachers and staff are allowed to bring in their own. The district also won't require windows to be open.
The Centers for Disease Control and Prevention recommends that schools crack windows and use fans to bring in as much outdoor air as possible. While wearing masks helps prevent particles from being exhaled, the CDC says ventilation reduces the number of virus particles in the air.
Mike McNamara, the interim director of operations, said while many of the district's buildings are old, they all have operating ventilation systems.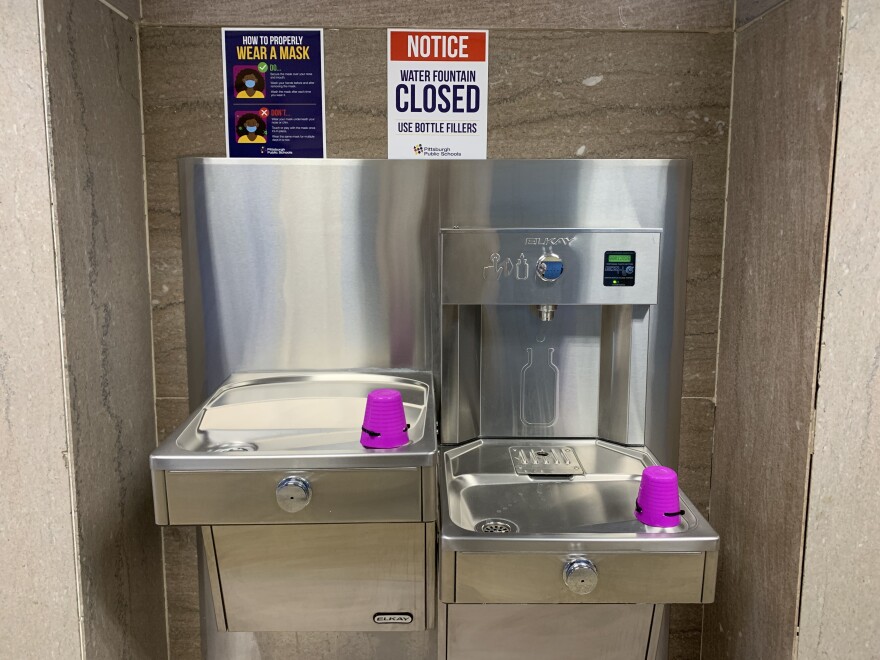 "Opening windows can provide additional fresh air, and is recommended where and when possible. But none of our buildings rely on opening windows for proper ventilation," he said.
McNamara said that staff will run the HVAC system for two hours before and after occupancy, a CDC recommendation to remove remaining particles.
The CDC eased its physical distancing recommendation this month saying desks could be 3 feet apart. But Pittsburgh Public still plans to space desks 6 feet apart where students will sit with masks.
So far, the district has reached about 80 percent of the students expected to return April 6, or about 8,000 students. The district categorized students based on the level of support each student needs. Around 10,000 students were identified in categories 3 and 4 and will return first. Students in categories 1 and 2 will have the option to return May 3.
Even then, Superintendent Anthony Hamlet said students will have increased social, emotional and learning needs for "years down the road."
"We know we need additional supports in place," Hamlet said during a press conference Friday. "Traditionally during the school year we don't have after school programming that's run by our schools but that's something that we want to do using [federal] funds for learning loss."
Meanwhile, the district is set to receive financial aid under a federal relief package.
On Monday, the Pennsylvania Department of Education announced that it will send nearly 90 percent of the federal emergency relief money it receives directly to public school districts. The funding is provided by the American Rescue Plan, which was signed by President Biden earlier this month. The state will receive $4.9 billion to help PreK-12 schools return to classrooms and "equitably expand opportunity for students who need it most," according to a PDE press release.
Pittsburgh Public Schools will receive $100,136,730. The district currently faces a $39.5 million-dollar budget deficit. Acting Education Secretary Noe Ortega said the funds can be used for instructional materials, equipment, facilities and transportation. At least 20 percent of the money must be used to address learning loss and the social, emotional and academic needs of underrepresented students, including those from low-income households, students with disabilities, English learners, migrants students, students experiencing homelessness and students in foster care.
Hamlet said Friday that the district would use extra dollars for after-school tutoring and robust summer-school programming.
"This is not just a one-and-done year," he said. "This is something that will sustain for a number of years to come so we can catch our students up from the learning loss."
Sarah Schneider: sschneider@wesa.fm
Start your morning with today's news on Pittsburgh and Pennsylvania. Sign up for WESA's Inbox Edition newsletter.