Keystone Crossroads: Rust or Revival? explores the urgent challenges pressing upon Pennsylvania's cities. Four public media newsrooms are collaborating to report in depth on the root causes of our state's urban crisis -- and on possible solutions. Keystone Crossroads offers reports on radio, web, social media, television and newspapers, and through public events.Our partner stations are WHYY in Philadelphia, WPSU in State College and witf in Harrisburg. Read all of the partner stories here.Pittsburgh's WQED joins the collaboration as an associate partner. Support for this project comes from the Corporation for Public Broadcasting.
Mobile Home Park Closures In State College Spur Concern Over Gentrification, Affordable Housing
Some of the communities experiencing the most rapid changes in Pennsylvania are those that abut colleges and universities.
State College, for instance, has boomed in recent years largely due to the growing influence of Pennsylvania State University's Main Campus. In general, this development has been positive for surrounding Center County, where there's been a 10 percent rise in median household income since 2009.
But this growth hasn't necessarily been a tide that's lifted all boats, leaving fewer options for affordable housing in the area.
One option that's been particularly diminished recently: mobile homes. Since 2013, about 200 mobile-home units in State College have been lost because the land surrounding the university has increased in value.
To former mobile-home resident Matt Rooke, this change looks and feels a lot like gentrification, a concept more often linked to development in urban centers like Philadelphia and Pittsburgh — less so in Centre County.
"The fact that I'm one of the few people who are still in town is because of the fact that I have a professional job and was able to afford it," Rooke said. "But I regret that so many of my neighbors didn't have that same opportunity."
Rooke lived at the Hilltop Mobile Home Park, which once sat on the outskirts of Penn State's main campus. A graduate student at the time, he chose to live there for its affordability. His monthly rent was about $400.
"Four hundred dollars a month is almost half of what you'd be paying for a one- or two- bedroom apartment in town," he said.
According to U.S. Census data, the median value of a mobile home in Centre County is about $22,000, about nine times less than the cost of a traditional house.
Then, in fall 2012, came the news the park was closing, as the owners sold the land to a developer.
Rooke, who was on his way to a career in engineering, was able to deal with the change relatively easily. But many of his neighbors were angry with the decision. Mobile homes aren't actually that mobile, and it costs a lot to either move them or destroy them. Overall, as residents weighed their options — finding limited housing options in the area comparable in price — many were displaced.
"Several moved way out of town. One ended up in the Scranton area. I haven't kept in touch with all of them. Some were able to make it work and stay in town still, but many of them had to totally leave the area. And that's hard," Rooke said.
He now owns a home in Lemont, a quiet neighborhood less than a mile away from the Hilltop site, living with his wife and their dog.
Centre County's office of human services says it worked directly with about a third of the Hilltop residents to ease the transition.
'Town' and 'gown'
The developer who bought the Hilltop site planned to use the space to create new student housing. To Rooke, that perfectly illustrated the tension in State College's "town" vs "gown" dynamic.
"We know that students are what make this town run, the university is the epicenter of our economic activity and everything else," he said. "But…isn't there a better way?"
The township, though, later declined to rezone the land for student housing; so that deal eventually fell through. And the land has been vacant now for four years.
The 24-acre property was finally sold in March at a price of over seven million dollars. That's more than seven times the property's market value in 1994, according to the Centre County Recorder of Deeds.
"When we displace mobile homes, and put them further away, and then replace them with newer infrastructure that is meant to raise up the prices, I think you can definitely call that gentrification," Clio Andris, an associate professor in Penn State's Geography Department, said.
Andris is the director of the Friendly Cities Lab at Penn State, researching how people interact with their geographic spaces. She said displacement means more than just moving. Often residents are pushed to places where there's less access to grocery stores, public transportation and other services.
"If they're living in a mobile home community, they're usually in a lower socioeconomic class," she said. "Moving people away is adding an extra cost to their lives because now they have to travel further for things, they have to look into owning a car."
Other onlookers saw the closure of the park as a watershed moment that reflects the larger debate over changes in the area.
Morgan Wasikonis, executive director of Housing Transitions in State College, an organization that helps people find affordable housing, says displacement can also mean a poorer quality of life.
"It's not just that people's jobs are here, it's that their community was in the mobile home park," Wasikonis said. "The one woman who always makes sure the kids got off the bus safely – they were losing that, that person can't move with them. To lose that sort of community really has an effect on people's quality of life."
Hilltop was one of several mobile home parks to close in recent years in the area. Developers who bought one of the other former sites have proposed a plan that includes an eight-story hotel, retail and residential and commercial buildings.
Township leaders are reviewing that zoning request. Patton Township manager Doug Erickson says the potential increase in tax revenue from this development will most likely provide services for the township.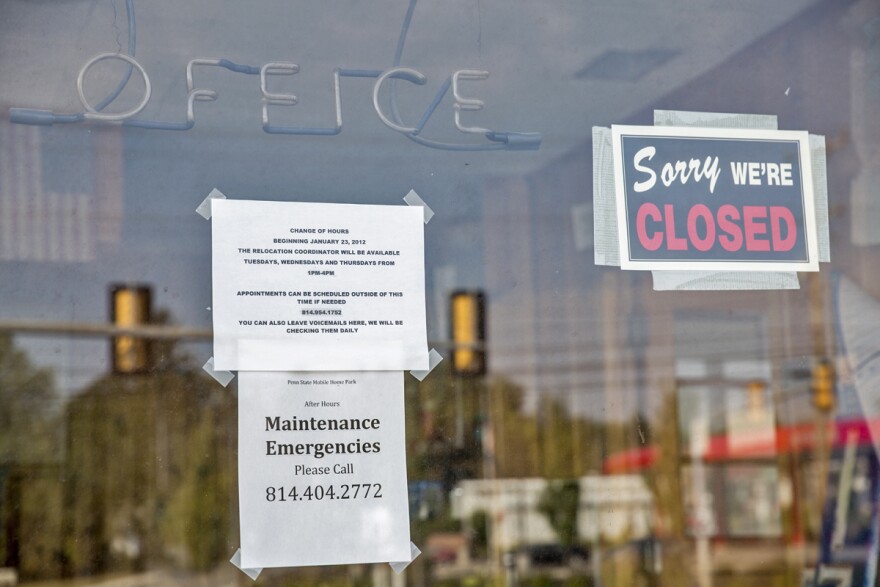 "We're just glad to see something coming up and get this land back, what I'll call, in production," Erickson said.
Many neighbors, though, object to what they see as over-development.
That complaint, along with displacement, both speak to central questions for the area: As the university fuels the expansion of the town's footprint, what's the cost? And who benefits?
Find this report and others at the site of our partner, Keystone Crossroads.