Contact 90.5 WESA with a story idea or news tip: news@wesa.fm
LIVE BLOG: Coronavirus In Pittsburgh, April 27-May 3
Gov. Tom Wolf and state officials hold a press conference on March 16, 2020.
Gov. Tom Wolf
Food distribution on the North Side.
Katie Blackley
A sign is held out the window of a car driving down Grant Street during a demonstration to reopen Pennsylvania's economy, Monday, April 20, 2020, in Pittsburgh.
Keith Srakocic
News on the coronavirus pandemic, including the responses of local governments, health departments, hospital systems, schools and other institutions. For information from the previous week, click here. 
Editor's note: This post will be frequently updated with the latest news.
00000178-b1e0-d01e-aff8-b3f038150000
For more information about our blog sponsor, The Pittsburgh Foundation, and its Coronavirus Emergency Fund, click here.
Sunday, May 3, 2020
4:12 p.m. — Northeast states to work together to buy supplies, expand testing

Pennsylvania joined a consortium of seven Northeast states that will now work together to buy billions in critical supplies to fight the COVID-19 pandemic, including personal protective equipment and ventilators, WHYY's Katie Colaneri reports.
Rather than competing with each other for these supplies, working together will increase each state's "purchasing power," said Delaware Gov. John Carney, during a briefing Sunday hosted by New York Gov. Andrew Cuomo. New Jersey Gov. Phil Murphy and Pennsylvania Gov. Tom Wolf also took part.
The governors said working together will make them more competitive in the international marketplace, and that they also plan to tap local manufacturers in those states.
Wolf said it will also allow the states involved to expand their testing capacity, which is critical to another initiative the consortium is working on: evaluating how and when to lift business restrictions and stay-at-home orders.
"We really need to work together to build the capacity to test or we're not going to be able to give our citizens the confidence they need to go back to work," he said. "They're not going to have the confidence we need them to have to go back to school or go back to the store or go back to worship."



12:08 p.m. — Pennsylvania nears 50,000 positive cases of COVID-19
The state department of health reported 962 new positive cases on Sunday, for a total of 49,267. Slghtly more than 3,000 of those positive cases were for health care workers. So far, 191,374 individuals have tested negative in the state.
Pennsylvania also had 26 more people die of COVID-19, bringing the state's total to 2,444. Around two-thirds of the deaths were residents of nursing or personal care facilities.
11:00 a.m — Twelve more positive cases in Allegheny County; no new deaths reported
The growth of positive cases of COVID-19 in Allegheny County continues to remain relatively low, with the health department adding 12 new cases, for a total of 1,345. One additional person was hospitalized, bringing the total past and present hospitalizations to 238 individuals. A total of 102 people have died of COVID-19.
The vast majority of local positive cases are in adults over 25 years old. Thirty-five percent are 25 to 49 years old; 28 percent are 50 to 64 years old; and 29 percent are over 65 years old. Seven percent are 19 to 24 years old, and the remaining roughly 1 percent are for children under 18 years old.
The median age for county residents who have died is 84 years old.
Saturday, May 2, 2020
3:10 p.m. — County offers sample ballots online, but says you should ignore polling place info
Allegheny County voters can get their first look at the new paper ballots they'll be given at the polls this June … but thanks to the coronavirus, they'll have to ignore a government website's recommendations about where those polling places are.
As in years past, an online tool put into operation by the county on Friday allows voters to enter their municipality and voting district, and displays the ballots relevant to their area for both the Republican and Democratic contests in the June 2 primary. And since this year's primary is the first year in which voters will be using new optical-scan machines that read their handmarked ballots, voters will also get a sneak peek at the ballot's layout and instructions for filling in the bubbles. (Use blue or black ink only, darken the oval beside your choice completely and don't go outside the lines.)
The tool will also display the polling place location for any given address. But this year, the county is advising voters to ignore that. Because the coronavirus threatens voters and poll workers alike, the county is seeking to slash the number of polling places from 1,300 to just a few hundred. That would mean most of the polling places identified by the tool will be closed: The county is hoping residents vote by mail instead.
But the county has to get state approval for its plan, which it submitted April 28. Meanwhile, a county spokeswoman said, local officials are still identifying voting locations that meet requirements for being handicapped-accessible while allowing the necessary social distancing.
So for the time being, the sample-ballot app is drawing from a state system that still lists 1,323 polling places, and those haven't been changed yet. It's not clear when that will be updated, but county spokeswoman Amie Downs said, "We will be doing a massive push so that everyone knows where they will be voting" between now and June 2.
1:52 p.m. - Top health official says southwest PA a priority for reopening, but does not set date
State Secretary of Health Rachel Levine said Saturday that counties in southwestern Pennsylvania were a priority for efforts to reopen the state amid the COVID-19 pandemic. But while Allegheny County Executive Rich Fitzgerald said Friday that he hoped to see some restrictions eased by May 15, Levine told reporters, "I don't have a specific date."
Levine also pushed back on the idea that the state had been unclear about the criteria for deciding where to begin reopening local economies. While Fitzgerald said he wasn't aware that Allegheny County's population density had been a factor in delaying its own partial reopening, Levine said the administration "has been extremely clear [about] the different criteria that we'll be using."
A full story on Levine's press conference is here.
12:34 p.m. - State reports 64 new COVID-19 deaths
Pennsylvania's Department of Health announced 64 new deaths attributable to COVID-19 Saturday: The statewide death toll from the disease is now 2,418. The department also announced 1,334 cases had been newly diagnosed, for a total of 48,305 cases to date.
Most of those who have died have been aged 65 or over, and roughly two-thirds of those deaths have been among residents of nursing or personal-care homes. Just under 10,000 of those who have contracted the disease either live or work within those facilities. Health-care workers make up 2,989 of the positive cases, the Health Department said.
Still, the statistics continue to show the state healthcare system is coping with the disease. Nearly half of the state's hospital beds, and 40 percent of its intensive-care capacity is available, as are three-quarters of the ventilators that are used to treat serious cases.
11:20 a.m. - County death count rises over 100, but reports only a dozen new positive test results
Allegheny County reported three new deaths attributed to the coronavirus on Saturday morning, raising the death toll to 102 cases, aged 42 to 103. The county also reported two new hospitalizations for the disease: 237 county residents either are or have been hospitalized for the condition.
Health officials reported another 14 diagnoses for COVID-19 Saturday. Of those, 12 are the result of positive test results, while two are "probable" cases, in which a test was not carried out but a patient exhibited symptoms of the disease and is known to have been exposed to a carrier.
Under one of the metrics devised by the state, Allegheny County must report an average of less than 43 cases of COVID-19 per day for two weeks to have restrictions on business eased. Saturday's totals were well within that range, although it's rate of testing has been well below the target of roughly 800 tests per day set by the state.
9:23 a.m. - COVID-19 cases continue to plague West Mifflin bus garage
COVID-19 continues to blight the Port Authority's West Mifflin garage: A ninth maintenance employee at the facility has tested positive for COVID-19, and the garage is being deep-cleaned today for the third time in the past two weeks.
In all, a total of 11 people who work out of the garage have tested positive for the disease. The latest employee to be diagnosed with it last worked on Sunday, April 26 and has been in quarantine ever since.
Buses housed at the West Mifflin garage serve 15,000 riders each day in the southwestern part of the county, the authority says. "Every bus leaving and returning to the West Mifflin garage will be sanitized before any other employee touches it," the agency said in a statement. Employees at the garage have had their temperature taken at the start of each shift, and those with a fever have been sent home.
The agency already has policies to disinfect other vehicles across its fleet. In all, the Port Authority says that as of Thursday, it had 98 employees home awaiting testing for the disease. Another 52 tested negative and have returned to work: One recovered after testing positive and is back at work.
9:05 a.m. - Pittsburgh school district closes service center until Tuesday due to COVID-19 fears
Pittsburgh Public Schools says it has shuttered its Service Center for deep cleaning as a staff member who works there awaits results of a test for COVID-19. The district said the staffer is "exhibiting symptoms of coronavirus and has been tested." While the results are pending, the district said it was cleaning the South Side building "out of an abundance of caution" and would reopen it on Tuesday. It said it advised family and staff of the move by phone notification.
Friday, May 1, 2020
5:48 p.m. - County Executive says restrictions could ease locally by May 15
Allegheny County Fitzgerald said it's no surprise that Allegheny County wasn't among two-dozen counties where COVID-19 restrictions will be eased starting next week. But he's optimistic it won't be much longer.
"I was not totally surprised" by Gov. Tom Wolf's Friday-afternoon announcement that a swath of northern Pennsylvania will move from "red" to "yellow" going forward, Fitzgerald said. "But I would not have been totally surprised had we made it into the yellow as well. And I think we were obviously very close."
It has long been clear, after all, that the number of positive cases reported over 14-day periods in Allegheny County was running below the 50 cases per 100,000 people threshold set by the state. (Under that threshold, the county could post roughly 600 new cases in a two-week period -- roughly twice its current rate.) And at Friday's press conference, Wolf himself said that "We're already looking at other counties to move from red to yellow categories. In particular we have our eyes on counties in the southwest."
Read more here.
5:17 p.m. - City of Pittsburgh, partners, distribute 5,360 meals this week
The emergency meals to seniors and children increased by 746 over last week, according to a release from the city. Throughout the different council district, other items, including baby food and laundry detergent, will also be distributed.
4:58 p.m. - Allegheny County not one of the counties reopening May 8
Gov. Tom Wolf announced Friday that 24 Pennsylvania counties will begin reopening May 8, but Allegheny County was not listed among them. Counties reopening are in the Northern part of the state and will enter the "yellow phase" of Wolf's reopening plan.
When asked about a timeline for Southwestern Pennsylvania to begin easing restrictions, Dr. Rachel Levine, Pennsylvania Department of Health Secretary, said officials are watching the region closely.
"Particularly in Allegheny County and in Pittsburgh because of population density. We have certainly learned from our modeling and our experts that population density is one of the main factors that can lead to significant spread of COVID-19," said Levine.
4:50 - Protesters call for rent and mortgage freezes
Protesters in vehicles gathered across the Greenfield Bridge in Pittsburgh this afternoon to call for rent and mortgage freezes in Pennsylvania. A few dozen cars blocked off most traffic to the bridge to watch participants hang a sign that read "Cancel Rent."
Protesters met at the Shop 'n' Save on Center Avenue in the Hill District and before arriving at the bridge stopped at U.S. Rep Mike Doyle's South Side office to lobby support of a federal bill to suspend rent and mortgage obligations during the coronavirus pandemic. An eviction moratorium in Pennsylvania is set to expire May 11.
4:15 p.m. - State revenue collection significantly down
Pennsylvania state revenue collections last month were nearly 50 percent below projections, an eye-opening—yet unsurprising—figure, given disruptions caused by the statewide COVID-19 shutdown.

In a release, State Revenue Secretary Dan Hassell says the main driver of April's shortfall was the extension of payment deadlines to provide taxpayer relief during the ongoing pandemic.

General Fund collections year-to-date are $2.2 billion below initial estimates, or more than 7 percent.

2:50 p.m. - State Senate committee votes to subpoena Wolf administration over business waivers
A state Senate committee on Thursday approved a motion to subpoena records from Gov. Tom Wolf's administration about its handling of the more than 42,000 applications filed by businesses seeking a waiver from the state's coronavirus closure order.
The move escalates an already tense dispute between the Republican-controlled General Assembly and the governor over his use of emergency powers to respond to the coronavirus pandemic.
Pennsylvania state Senate Majority Leader Jake Corman said the governor needs to address spending in his budget.
Credit Brett Sholtis / WITF
During the senate hearing on Thursday, multiple Democratic lawmakers also criticized the waiver process, which is run by the Department of Community and Economic Development.
Read more about the subpoena and the Wolf administration's response.
2:44 p.m. - Demand for coworking spaces could increase in the wake of COVID-19
When Pennsylvania shut down in response to coronavirus, many businesses didn't know if they were essential or not. This was especially true for the coworking industry, where flexible office space is shared by all kinds of companies, including life-sustaining businesses required to stay up and running.
Flexible office space has increased 600 percent — that is not a typo — since 2010. Many people credit the Great Recession for the ascendance of coworking, which paralleled the rise of gig work. The economic fallout from coronavirus may create even greater demand for flexible, shared space, said Christine Lomago, business development manager for Alloy 26.
Read more here.
1:36 p.m. — Gov. Wolf eases restrictions in 24 counties
Gov. Tom Wolf announced that 24 counties in rural northern Pennsylvania will see some relief from his strictest orders for residents to stay at home and businesses to close as part of a strategy to contain the coronavirus. All of the counties that are moving from "red" to "yellow" in Wolf's color-coded reopening plan are in the northwest and north-central regions of Pennsylvania, which have seen far fewer virus infections and deaths than the rest of the state. The changes are to take effect next Friday, May 8. Stay-at-home orders will be lifted and retail shops can start to reopen, though other restrictions will remain in place.
1:23 p.m. — PA court says special wine, liquor orders can be sent directly
A court ruling Friday says the Pennsylvania Liquor Control Board must let special orders be shipped directly to retailers instead of sending them to state stores for pickup. The Commonwealth Court says the PLCB can't ignore a 2016 state law that permits the direct shipping of wines and spirits not sold in state stores. Retailers and restaurants have instead had to get their orders at state stores that have been closed or operating on a limited basis during the COVID-19 pandemic. Judge Kevin Brobson says the agency must comply in a reasonable timeframe.
12:37 p.m. — Statewide COVID cases increase by 1,208
The state Health Department reports the total number of COVID-19 cases is now at 46,971. The department also reports 62 new deaths, bringing the statewide total to 2,354.
11:30 a.m. — Gov. Wolf prepares to relax mass restrictions in Pennsylvania
Gov. Tom Wolf is preparing to announce which parts of Pennsylvania will see some relief from his strictest orders for residents to stay at home and businesses to close as part of a strategy to contain the coronavirus. Wolf also could release details on Friday about his administration's strategy for mass testing and its contact tracing plan to contain the virus's spread. Wolf has said that shutdown measures he ordered starting in March have succeeded in heading off the potential that hospitals would be overwhelmed with patients with COVID-19, the disease caused by the virus. Changes are to take effect next Friday, May 8.
11:16 a.m. — Allegheny County COVID cases increase by 30
The Allegheny County Health Department says the number of confirmed and probable cases is now at 1,319. The number of deaths increased by five, to 99. The number of hospitalizations decreased to 235 as officials reviewed data.
9:28 a.m. — PennDOT extends expiration dates on licenses, permits and ID cards
Pennsylvania driver's licenses, ID card and learner's permits set to expire March 16, 2020 through May 31, 2020 are now extended through June 30. All license centers have been closed since March 16.
9:01 a.m. — Penn gets help sniffing out coronavirus
Researchers at the University of Pennsylvania are getting some help sniffing out coronavirus infections. Eight Labrador retrievers are training to detect an odor associated with the virus, according to the Washington Post. Scientists are using urine and saliva samples from patients who've tested positive and negative - they hope to learn if the dogs can distinguish between the two by smell. The next leg of the trial will determine if the dogs can detect the odor outside the lab.
7:40 a.m. — This week explained
The coronavirus pandemic has made the world feel small for many people. Some haven't left their neighborhoods in weeks; others haven't even left their homes. It's also impacting the people and businesses who supply our food, with numerous farmers and growers around the state having to alter their operations to meet changing demand.
Check out the latest episode of our podcast Pittsburgh Explainer to better understand this week's headlines.
Thursday, April 30, 2020
6:38 p.m. — Pennsylvania's business shutdown waiver program gets audited
Gov. Tom Wolf's business shutdown waiver program is being audited amid complaints it was unfair. Pennsylvania's chief fiscal watchdog announced the audit on Thursday.
Auditor General Eugene DePasquale says he's investigating how the Department of Community and Economic Development ran the waiver program, under which tens of thousands of businesses applied to remain open during the pandemic. Many business owners complain the process was slow and arbitrary.
The Democratic governor is defending his administration's handling of the waiver program.
5:49 p.m. — UPMC is developing its own COVID-19 antibody test
UPMC plans to administer its own COVID-19 antibody test to patients receiving surgeries and other procedures. Antibodies are proteins used by the immune system to fight bacteria and viruses.
A test could be developed in two to four weeks, according to Dr. Donald Yealy, chair of UPMC's department of emergency medicine. Antibody tests are currently being used indicate whether a patient has had the virus. Yealy said he hoped the test would help indicate if patients had developed immunity.
"Antibody testing can help not only individual patients understand where they are with the disease now and in the future," Yealy said at a press event Thursday. "It can help policymakers and public health officials make much more accurate estimates about the disease prevalence and the mortality rate."
UPMC is currently administering COVID-19 tests to all patients at its facilities, including those with no symptoms. Of the 500 asymptomatic patients tested, only one has tested positive for the virus.
The hospital system has seen 10 percent of surgical patients return in recent days, according to Yealy, and expects that demand to steadily increase as elective and preventative procedures resume.
WESA receives funding from UPMC.
5:25 p.m. — One in four work-eligible Pennsylvanians have applied for unemployment benefits
Gov. Tom Wolf says the goal is to assist 100 percent of the need in the state.

"We're not there yet. And I acknowledge that and apologies for that. We're doing that in the majority of the cases, despite the huge challenge and surge of initial claims that have come as a result of this pandemic."


The additional personnel will work in the call center, processing and the mail room.
Federal data show Pennsylvania ranks second in the nation in terms of the total volume of unemployment claims filed since the pandemic began.
Only California has more.


4:53 p.m. — SCI Huntingdon has 33 positive cases of COVID-19
According to the Pennsylvania Department of Corrections, 16 staff members and 17 inmates at SCI Huntingdon have COVID-19.

All inmates are considered residents of the county, which the Department of Health reported has 29 confirmed cases as of Wednesday. The number of cases among staff is self-reported and they are counted based on where they live, which may or may not be in Huntingdon County.


The department said COVID-19 entered the prison from the community. Visitation has been limited and other safety protocols like screening and contact-tracing -- including using prison surveillance footage -- have been put in place.

Across all state prisons, 90 staff and 47 inmates have tested positive for coronavirus.
3:59 p.m. — Hospitals around the state receive emergency funds
Thirty-one hospitals across Pennsylvania are receiving emergency funding to help combat COVID-19 cases. In Southwestern Pennsylvania, hospitals in Armstrong, Indiana, and Washington Counties received loans ranging from $10-15 million. Gov. Tom Wolf says the program is meant to ensure hospitals have sufficient personnel and equipment.
So far, $324 million has been awarded to Pennsylvania hospitals.

No Allegheny County hospitals were listed as participants in the program.

3:42 p.m. — Gov. Wolf, AG Secretary discuss meat processing and food supply
Pennsylvania Governor Tom Wolf is sending a message about the food supply: there's plenty of food and the state is adjusting to get it to people. Wolf along with the state's agriculture secretary outlined how the state is addressing food security measures in a news conference Wednesday.
Consumer habits changed almost overnight after the Pennsylvania's stay-at-home order in March, and the food supply chain has been adapting. After restaurants, schools and other institutions closed, many farmers have had nowhere to send their products, some dairies dumped milk, and some farmers plowed under crops, unharvested. Meanwhile, some supermarket refrigerator shelves have stood empty of milk, and as more people lose jobs in the economic downturn, lines at food pantries have grown.
Read more here.
3:06 p.m. — Will polling places be ready for the June primary?
Pennsylvania election directors face the unprecedented challenge of staffing voting locations for the June 2 primary while also taking steps to protect workers and voters from the coronavirus (and handling a historic number mailed ballots). Many say they aren't ready.
Personal protective equipment – mask, gloves, hand sanitizers and other materials often referred to collectively by the acronym "PPE" – remains difficult or impossible to acquire, county elections officials said.
Berks County officials, for example, said they've obtained some items — such as gloves and hand sanitizer — for poll workers to use on June 2. But the county still faces "widespread issues surrounding PPE" acquisition in general, according to Brian A. Gottschall, the county's director of Emergency Services.
Read more here.
2:22 p.m. — Pennsylvania's business shutdown waiver program gets audited
Pennsylvania Gov. Tom Wolf's business shutdown waiver program is being audited amid complaints it was managed unfairly. Pennsylvania's chief fiscal watchdog announced the audit on Thursday. Auditor General Eugene DePasquale says he's investigating how the Department of Community and Economic Development ran the waiver program, under which tens of thousands of businesses applied to remain open during the pandemic. Many businesses have complained about a process they contend has been slow and arbitrary. The Democratic governor is defending his administration's handling of the waiver program.
1:09 p.m. — Statewide COVID deaths increase by 97
The state Health Department reports the number of COVID deaths in Pennsylvania are now at 2,292. Statewide, the number of positive cases is at 45,763, an increase of 1,397 from the day before. There are also 9,144 cases of COVID-19 among nursing and personal care home residents and staff.
11:12 a.m. — Allegheny County reports 8 new COVID deaths
County health officials say the total number of confirmed and probable deaths is now at 94. The number cases countywide is now at 1,289, an increase of 16 from the previous day. So far, there have also been 236 hospitalizations in Allegheny County.
10:11 a.m. — COVID hospitalizations in Allegheny Co. so low that nurses are traveling to New York
Early social distancing interventions have paid off. So far, fewer than 250 Allegheny County residents have been hospitalized for COVID-19.
In fact, the level of COVID illness is so low, some Pittsburgh-based nurses have left to take temporary jobs at hospitals in coronavirus hotspots. Read more from Sarah Boden.
8:17 a.m. — Next generation corona test raises hopes and concerns
States clamoring for coronavirus tests in recent weeks have been talking about two different types. First, there's a PCR test that detects the virus' genetic material, so can confirm an active infection. And then there's an antibody test, which looks at the body's reaction to that infection, so is useful in identifying people who have been infected with the virus in the past.
Now, there's a third kind of test under development to help fight COVID-19 that homes in on proteins that stud the virus's outer surface; it, too, detects an active infection. Known as an antigen test, this one could offer a much easier and more widely available alternative for diagnosis than the PCR test, proponents say, though some other scientists remain concerned about the test's reliability. Read more from NPR's Rob Stein.
7:23 a.m. — Arts groups ponder reopening
Whether it's live performances, archived shows, or virtual gallery tours, most arts groups have tried online programming. They're also anticipating the return of in-person events. Problem is, no one knows when arts venues will be free to re-open. Could be late summer. Could be fall. Could be later still. Nor do they know what kind of social distancing will be required. Bill O'Driscoll has more.
Wednesday, April 29, 2020
6:47 p.m. — Wolf administration to announce benchmarks for testing
The administration plans to announce Friday new benchmarks for testing and contact tracing in the commonwealth, as it takes steps to reopen the state.
The move comes as companies like Apple and Google begin to expand electronic tracing data.
State Health Secretary Dr. Rachel Levine says all forms are completely voluntary.
"I believe, as the governor does, that Pennsylvanians want to do the right thing and part of that is working with our disease investigators--working in terms of contact tracing--using simple technology to be able to help us," Levine said.
The administration also is expected to detail which counties will be able to begin the reopening process on May 8.

6:16 p.m. — PPS board questions district's remote learning rollout
At least two Pittsburgh Public Schools board members say they are unsatisfied with the way the school district has transitioned to remote learning.
Kevin Carter and Sala Udin, board members representing Districts 8 and 3 respectively, both had tense exchanges with district administrators Wednesday about the pace of equipping students with computers and the quality of material that has been distributed.
Carter said the district was taking a "tortoise pace" to move kids online. He said parents are complaining about the "lackluster approach" to resolving issues. Udin called the district's response "woefully inadequate," and expressed frustration with its inability to get laptops into the hands of students who need them.
"I would hope that the administration would develop a workable strategy for raising money," he said.
Read more here.
5:35 p.m. — County health officials clarify what it will take to reopen locally
Based on a state formula, Allegheny County must have fewer than 650 new COVID cases over a two-week period for the county to reopen. Dr. Debra Bogen, head of the Allegheny County Health Department, said Allegheny County is well below that benchmark.
"From April 10 to 23, which is the latest 14-day period for which we have complete data, our county has had 328 new or confirmed cases," Bogen said. "So, we are definitely looking good from a data, case data, standpoint."
The state will have the final say as to whether Allegheny County reopens. Pennsylvania Secretary of Dr. Rachel Levine said on Wednesday there would be more information on which counties would reopen later this week.

4:06 p.m. — Pittsburgh has lost an estimated $75 million in revenue
VisitPittsburgh estimates hotels, restaurants and tourism have lost out on $75 million so far due to pandemic-related cancellations and postponements.
Jerad Bachar, executive vice president and interim CEO of Visit Pittsburgh, says conference and convention organizers are already scoping out the city as the site for future gatherings. The city will see crowds of tourists again, he says, albeit with precautions in place.
"They're looking for a lot more space, they're looking for people to be spaced out, they're making sure that they're asking a lot more detailed questions about health and safety standards," he says of event planners. "It's going to be a much different world as we come out of this, but we will come out of this."
Listen to today's episode of The Confluence.
3:09 p.m. — Construction resumes in Pennsylvania on Friday
Companies say the coronavirus lockdown began just as the spring work season had started to pick up. Philip Americs with the Laborers' District Council of Western Pennsylvania said 60 percent of his members were laid off during the shutdown. He said new state and local guidelines will take some adjustment, but people are just glad to be going back to work.
"They'll do what's right and make the contractor successful and get the job done," Ameris said.
State guidance requires all projects to sanitize high-risk areas, such as equipment steering wheels, provide hand-washing and sanitization stations and maintain social distancing.
A lot of construction work is already socially-distanced, according to Karina Ricks, head of Pittsburgh's Department of Mobility and Infrastructure. The city requires contractors to submit a safety plan.
"That plan spells out what the protocols on that job site are going to be," Ricks said. "We have protocols in place for if there is a confirmed positive case at the job site."
Contractors are required to screen workers and send home anyone with COVID-19 symptoms.
2:50 p.m. — Penn State plans for the fall
Penn State President Eric Barron outlined several enrollment scenarios being studied, from new international students not being able to make it to campus in the fall to the "worst case scenario."
"Which is you can't be residential in the fall. You lose a lot of students, particularly out of state and international," Barron said. "You convert a number of them to remote education, with the hopes that they become residential in January."
Barron said other possibilities include out-of-state students opting for something closer to home and less expensive.
Penn State summer classes are already slated to take place remotely.

1:08 p.m. — NYT data show Beaver Co. has highest death rate in Pennsylvania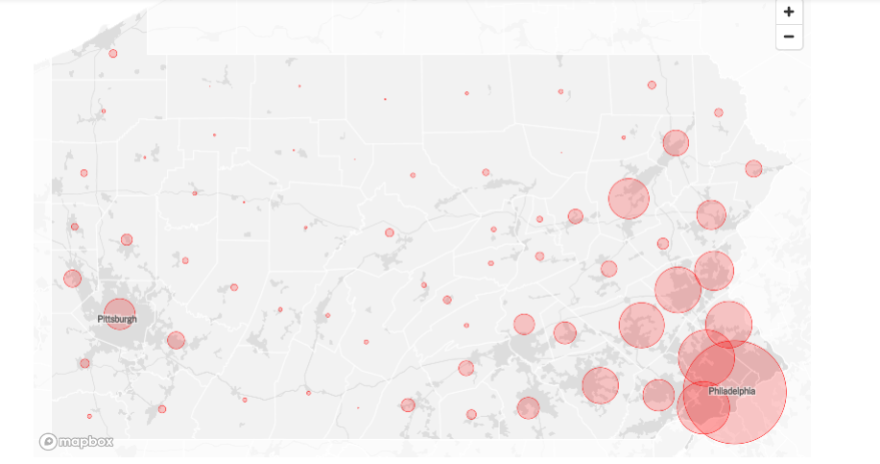 A New York Times map looking at coronavirus cases and deaths across Pennsylvania shows that Beaver County's death rate is 35 per 100,000 people, the highest of any other county. Trailing Beaver are Lackawanna and Philadelphia counties. Beaver County is also where Brighton Rehabilitation and Wellness Center is located, where more than half of the residents have tested positive for COVID-19.
12:10 p.m. — Pennsylvania sees increase of 479 deaths
The number of COVID-19 deaths statewide increased to 2,195. The large increase is the result of adjusting data from the past two weeks. The number of positive cases statewide is now at 44,366, an increase of 1,102.
11:29 a.m. — Number of COVID-19 deaths in Allegheny County decrease
The Allegheny County Health Department says the number of deaths now stands at 86, down from 87 on Tuesday. Officials say this is due to a reporting error. Of those deaths, 76 are confirmed and 10 are probable. The number of positive cases increased by 38 to 1,273.
9:59 a.m. — Road work to resume Friday
Road work will begin this Friday at 7 a.m. on three projects in Allegheny County. The work includes base, drainage, and structural repairs, as well as paving on Nadine Road, Painters Run Road, and Thomas Run Road. The contractor halted in-person operations last month to comply with the state's shutdown order. Construction-industry businesses across Pennsylvania are permitted to resume operations May 1, if they follow state-ordered precautions against COVID-19.
8:26 a.m. - Headed to the trails? You still need to practice social distancing
Wednesday, April 8, saw probably the nicest weather since the coronavirus shutdown began: sunny and topping 70 degrees. At about 5:30 p.m. that day, the Three Rivers Heritage Trail was packed, at least for the mile or so along the Allegheny River between Heinz Field and the Veterans' Bridge.
It was, in other words, not the place and time for social distancing. Pedestrians, dog-walkers, joggers, cyclists, and stroller-pushers thronged in both directions. The recommended 6 feet of distancing was difficult to maintain, almost impossible in spots where the trail narrowed. And virtually no one was wearing a mask.
That sort of scene gives officials pause during a pandemic. Bill O'Driscoll explains.
7:15 a.m. — Pennsylvania unemployment system still stressed by virus
As Pennsylvanians continue to wait for unemployment assistance, the beleaguered state agency responsible for administering claims says it is making progress, but more needs to be done. A record 1.6 million workers have applied for unemployment since mid-March, when the administration of Gov. Tom Wolf began closing nonessential businesses in an effort to slow the spread of the new coronavirus. The business closures unleashed an unprecedented flood of new claims, and the Department of Labor & Industry was unable to keep up. Officials say the claims backlog has been whittled down. But some people have yet to see a dime in unemployment assistance.
Tuesday, April 28, 2020
7:32 p.m. — Allegheny County Jail reports 24 inmates have been diagnosed with COVID-19
Tuesday evening, the county reported that 24 inmates had tested positive – up from 19 the day before. Prison-reform advocates argue the number of cases is likely higher but can't be known due to a lack of testing. So far, 44 of the facility's 1,600 inmates have been tested.
Bret Grote of the Abolitionist Law Center said he expected the increase. "Even with the best mitigation practices that are recommended by the Centers for Disease Control [and Prevention], the institution is too crowded," Grote said. Three jail employees have also tested positive. Grote said a lack of testing means the infection rate behind bars is likely higher than reported.
County manager William McKain defended jail administrators in a statement Tuesday, saying they have followed guidance from health and corrections experts. He did not address a question about whether the the jail planned to expand testing for COVID-19.
6:24 p.m. — Pittsburgh Public Schools to vote on how it grades students remotely
The district rolled out more formal modes of instruction last week, a month after schools shut their doors to students. A grading policy presented by administrators was pulled from a special meeting last week. Board members said they were concerned that students without internet access or computers would be graded unfairly.

6:12 p.m. — Pennsylvania preps reopening without mass testing
Gov. Tom Wolf's administration plans to announce Friday which parts of Pennsylvania will begin seeing a step-by-step relaxation of coronavirus-related shutdown directives, although Wolf and administration officials did not project Tuesday when the state will secure widespread mass-testing capacity.
Meanwhile, one of the state's hardest-hit areas, southeastern Pennsylvania, appears to be past its peak rate of increase in new coronavirus cases, Wolf's secretary of health said, as the rate has slowed in recent days in many parts of Pennsylvania.
Wolf, in a telephone news conference, didn't estimate how long it will take to reach mass-testing capacity, and said his administration is working different "avenues" try to secure that capacity.
Read more here.
5:56 p.m. — Pardons hearings suspended
Hearings for Pennsylvanians seeking a pardon, or the commutation of a life sentence, have been postponed at least for as long as the state Capitol is closed. Lieutenant Governor John Fetterman said today Tuesday that the hearings cannot be conducted safely amid the COVID-19 pandemic. He also said it's not feasible to conduct the hearings remotely, although preliminary merit reviews of each case will continue by phone.

5:35 p.m. — PA hospitals get another $450 million in federal aid
Congress first authorized the 175-billion-dollar fund as part of the initial CARES Act coronavirus relief bill. It is aimed at covering COVID-19-related expenses and offsetting lost hospital revenues.
According to a release from U.S. Senator Pat Toomey's office, rural providers and those located in high-impact areas are allocated additional funding. So far, Pennsylvania hospitals have received more than $1.7 billion from the Provider Relief Fund.

5:06 p.m. — Rural PA hit hard by economic impact of pandemic
On a normal day, 12 presses and six furnaces run nearly round-the-clock at Catalus Corp., a powdered metal manufacturer in St. Marys, Pennsylvania.
Now, all are idled.
St. Marys, population 13,000 in rural Elk County, is a hub for powdered metal manufacturing. The area is also known for lush forests and game lands, where herds of elk congregate.
In a state where unemployment-compensation claims are already some of the highest in the country, the numbers here stand out. More than 1.5 million Pennsylvanians have filed claims since mid-March. Though the numbers are highest in urban areas such as Philadelphia, this rural, low-population region has proportionally been hit the hardest. Elk and neighboring Cameron County have the highest rate of unemployment claims per capita, at nearly twice the state average.
4:51 p.m. — Carnegie Mellon University students may not return to campus in the fall
The university released a contingency plan Tuesday with options including a delayed start and remote learning.
CMU has lost about $28 million through refunds to students for dormitory costs and other expenses. The university froze hiring and President Farnam Jahanian is taking a 10 percent pay cut.
University of Pittsburgh Chancellor Patrick Gallagher is also donating 20 percent of his salary back to the school. Pitt has not released a contingency plan.
4:39 p.m. — State Health Department addresses reopening, metrics discrepancies
The Wolf Administration is facing questions about its handling of the coronavirus pandemic in Pennsylvania, including a planned phased reopening.
State Health Secretary Dr. Rachel Levine says she expects to reveal more details at the end of the week — including plans for expanding COVID-19 testing.
"We already have developed a plan in terms of case investigation and contact tracing," Levine said. "We're putting the final touches in terms of our laboratory plan. We'll be able to put all of that out by Friday, as we choose which counties and regions open."
Levine says she expects restrictions on businesses and social distancing to begin to relax in certain counties next Friday, May 8.
Meanwhile, discrepancies in data on COVID-19 cases and deaths in Pennsylvania have attracted scrutiny from the public and county coroners..
Several complain they're left out of the process for reporting deaths from coronavirus complications.
"Any situation that is moving as quickly day by day as COVID-19 poses challenges in terms of collecting our data and reconciling our data," Levine said. "We respect the corners very much and we're looking forward to working with them even further."
Coroners have said their main concern is ensuring the numbers of pandemic-linked fatalities are accurate.
3:41 p.m. — Anthrocon canceled
The annual gathering of furries typically took place each summer at the downtown convention center. People who had purchased tickets are able to request refunds online. Anthrocon has been held in Pittsburgh since 2006 and draws nearly eight-million-dollars to the city each year.
Read more about 90.5 WESA's past coverage of Anthrocon.
2:58 p.m. — Council, Mayor address housing discrimination, give money to assist local housing organizations
Pittsburgh Mayor Bill Peduto backs a bill to ban discrimination on the basis of citizenship, or against those who speak a language other than English. Peduto says the coronavirus has made it more urgent to ban housing discrimination.

"We have housing stress. And if you add on top of that the shock of going through a global pandemic, you can understand how housing becomes a commodity which is sought after by everyone," Peduto said.
The legislation was introduced by councilor Erika Strassburger on Tuesday.
Peduto also said he plans to give over $12 million in federal funds to organizations that support residents impacted by the coronavirus. The money will address housing needs by helping to pay for improvements to homeless shelters, and providing rental assistance for low-income residents. The money is targeted for groups that include the Urban Redevelopment Authority, the Pittsburgh Community Food Bank and the Women's Center and Shelter of Greater Pittsburgh.
2:52 p.m. — With 1 million cases, U.S. has more COVID-19 infections than any other country
More than 1 million cases of COVID-19 have been diagnosed in the U.S., marking a grim milestone in the country with the most reported coronavirus infections in the world, according to data compiled by Johns Hopkins University.
U.S. deaths from the respiratory virus passed 57,000 on Tuesday, equal to the upper end of estimated flu deaths for the 2019-2020 flu season, according to data from the Centers for Disease Control and Prevention. The true death rate of COVID-19 is still unclear because of a lack of widespread testing, but current numbers suggest a rate much higher than the flu, which infects between 9 million and 45 million people in the U.S. each year, the CDC estimates.
The U.S. has far more COVID-19 cases than any other country. Spain, which has around 50 million people compared with some 332 million in the U.S., has 232,128 cases. Italy, which has a population of around 62 million people, has 201,505 cases. China, where the outbreak began, is reporting fewer than 84,000 cases. Those numbers are as of Tuesday afternoon.
Read more here.
2:28 p.m. — Pittsburgh Festival Opera postponing productions
Pittsburgh Festival Opera is the latest arts group to alter its programming due to the pandemic and shutdown, the troupe announced today in a statement. The group, which holds its entire season over the course of a few weeks in July, is postponing this year's two mainstage productions — Wagner's "Siegfried" and "Gotterdammerung (Twilight of the Gods) in Concert" and Brown/Lanay's "Virgula Divina" — until October and November, respectively. All the planned second-stage productions are canceled, including Daphne Alderson in Concert and "The Drowning Boy's Guide to Water," based on the work of acclaimed Pittsburgh-based poet Cameron Barnett.
The festival's scheduled educational programming for young artists will continue in an online format. The group's annual fundraiser, scheduled for June, has been postponed as well. All current ticketholders are entitled to a full refund, though patrons are free to donate the cost of the ticket back to the company. ticketholders are asked to email info@pittsburghfestivalopera.org to indicate their preference.
1:50 p.m. — Schools group says PA districts could see 5% revenue loss
Pennsylvania's 500 school districts are facing a projected loss of up to 5% in the revenue from local taxes as coronavirus pandemic shutdowns take a heavy toll on the economy. The Pennsylvania Association of School Business Officers said Tuesday it is projecting a loss of $1 billion, or 5%, in revenue from local taxes if an economic recovery lags. The group says a quicker turnaround could limit losses to $850 million, or 4%. School districts reported spending about $30 billion in the 2017-2018 school year, the latest data available. About $17.5 billion in revenue that year came from local sources, primarily property taxes.
12:15 p.m. — Pennsylvania sees 1,214 new COVID cases
The Pennsylvania Department of Health reports the number of cases statewide is now at 43,264. There have now been 1,716 deaths.
11:02 a.m. — Allegheny County sees increase of 8 COVID deaths
The number of confirmed and probable deaths increased to 87, up from 79 the previous day. County health officials say the ages of those who have died range from 42 to 103, with the median age being 84. The number of positive cases increased by 11 to 1,193.
10:55 a.m. — COVID cases in county jail more than double
Nineteen inmates at the Allegheny County Jail have tested positive for the coronavirus, more than doubling from the cases reported over the weekend, according to county data. Seven inmates are still awaiting test results. Among inmates who have been tested, 43 percent have been diagnosed with the disease. Two jail staffers have also tested positive, as have 11 inmates and three employees at the Allegheny County Treatment Alternative center in Oakland.
Infection rates at jails and prisons elsewhere in the country have been shown to far outstrip those in the surrounding community. State and local officials have released more than 1,100 people from the jail in an effort to limit transmission of the virus. Allegheny County reports about 1,600 are housed in the facility today.
9:14 a.m. — Advocates ask to extend moratorium on evictions, foreclosures
In the early weeks of Pennsylvania's response to the coronavirus, the state Supreme Court put a moratorium on evictions and foreclosures. That protection runs out on Friday.
Advocacy group Pittsburgh United organized a virtual town hall meeting Monday and called on state and local officials to extend the deadline. Click here to read more from Margaret J. Krauss.
7:50 a.m. — 10th Kane Glen Hazel resident dies
The Allegheny County Health Department reports a 10th resident of the Kane Glen Hazel Community Living Center has died. There are 62 residents who have tested positive, while 22 have recovered. Seven residents have also been hospitalized.
Monday, April 27, 2020
6:17 p.m. — State wants information on race, ethnicity of patients
Across the country, minority communities are believed to be getting hit the hardest by COVID-19.
Governor Tom Wolf says health care providers need to start following the health secretary's mandate to collect race data related to the coronavirus.
He says, despite a requirement by Secretary Dr. Rachel Levine, 69 percent of race data is still unreported and there is little to no data when it comes to ethnicity.
Wolf says that data is important because the administration is hearing COVID-19 is hitting minority populations – especially black communities – hardest across the United States, but the commonwealth lacks the statistics needed to determine the severity of this issue across Pennsylvania.
A Health Disparity Task Force is working with the Department of Health, to gather more specific information on how to approach the issue.
Wolf is also calling for more free and accessible testing for minority and vulnerable populations.
5:11 p.m. — Eleventh Port Authority employee tests positive for COVID-19
The employee worked in maintenance at the West Mifflin garage and has been in self-quarantine for one week, according to the transit agency. The worker is the "seventh case involving a maintenance employee at this location," the release read.
Port Authority has been taking employees' temperature before the beginning of each shift and disinfecting vehicles more frequently, it said.
4:35 p.m. — State to reopen golf courses, marinas and other outdoor recreation facilities May 1
The state said in a release Monday that it would lift some restrictions on certain outdoor recreational facilities beginning Friday, May 1. Privately owned campgrounds, golf courses, marinas and guided fishing trips were among the sites the Wolf administration cited, saying "it is critical that we also focus on our physical and mental health during these extraordinary times."
The facilities will still be required to abide by guidance issued by the Centers for Disease Control and Prevention. State park campgrounds will remain closed until May 14.
3:58 p.m. — Most small businesses still aren't getting federal aid
A federal program to aid small businesses during the coronavirus pandemic still isn't helping the smallest, or those owned by minorities, critics say. The Paycheck Protection Program offers forgivable loans to keep paying workers. But much of the money has gone to the clients of larger banks. A second round of the program began Monday, but many smaller nonprofit lenders in Pittsburgh say they still don't qualify.
Mark Masterson, who heads the fund, says such lenders serve businesses with little capital or access to credit.

"My plea would be that banks should really make an effort to try to help these folks, because they're gonna be devastated," Masterson said.

Advocates have asked Treasury Secretary Stephen Mnuchin to reserve funds specifically for nonprofit lenders serving very small businesses and entrepreneurs of color.

2:54 p.m. — Garden centers are latest topic of debate in business reopening conversations
Garden stores — even ones that sell food-producing plants — aren't considered essential businesses in Pennsylvania and have been ordered to close. It is a point of contention in the industry — the Pennsylvania Nursery and Garden Association, for instance, is petitioning Gov. Tom Wolf to issue a blanket waiver letting the businesses continue operating.
Garden stores are the latest kinds of businesses that Republican state lawmakers have latched on to in hopes of pressuring the Wolf administration to let them reopen. They have drafted legislation that would reclassify garden centers as essential, as they are in some neighboring states.
Read more here.
1:04 p.m. — Wolf administration releases third version of metrics required to reopen
The Wolf Administration on Saturday released a third iteration of language it's using to describe the initial benchmark that areas of the state must meet in order to be considered for reopening during the novel coronavirus pandemic.
The administration now says an area must have "fewer than 50 new confirmed cases per 100,000 population reported to the department in the previous 14 days."
The new language came amid confusion about how many new cases of COVID-19 a county or region can have and still qualify for consideration to move into the "yellow" phase of reopening, Liz Reid reports.
12:00 p.m. — Latest COVID numbers
The Allegheny County Health Department reports an increase of 13 COVID-19 cases, bringing the total to 1,224. Officials also report an increase of six deaths, bringing the total of confirmed and probable deaths to 79.
Statewide, the number of COVID-19 cases increased to 42,050. The number of deaths across Pennsylvania stands at 1,597.
10:43 a.m. — Most students aren't being instructed in real time
All Pennsylvania school districts have now submitted plans to the state Department of Education detailing how they are or will teach students remotely.
Under Act 13 signed into law March 27, districts were obligated to do so by April 17 and are to post those plans online. Every Allegheny County district except Pittsburgh Public Schools has posted its plan to its district website. The PPS board is expected to vote on a grading policy this week and will post the continuity plan after the vote.
Learning looks very different now with all Pennsylvania school buildings closed through the end of the year. A vast majority of students in the region will be responsible for guiding their own learning as much of it won't happen it real time. Read more here.
9:52 a.m. — Food bank holding distribution in Duquesne
The Pittsburgh Community Food Bank is holding an emergency drive-up food distribution today in Duquesne. The event runs from noon to 3 p.m. at 1 North Linden Street. The Food Bank will serve up to 1,000 vehicles - each will receive two boxes of food. Today will be the last weekly distribution at the Duquesne site. Future distributions will take place every other Monday, starting May 11, 2020.
8:06 a.m. — Pitt holds online commencement
Nearly 8,000 students in the class of 2020 graduated from the University of Pittsburgh yesterday in the school's first online commencement ceremony. Chancellor Patrick Gallagher said via live stream the school's decision not to hold an in-person event during the pandemic was "designed to alleviate suffering and save lives." Graduates received virtual diplomas via email just after the ceremony.
7:09 a.m. — What you missed over the weekend
The Associated Press contributed to this report.