Toomey, McGinty Battle Over Police, Gun Control And Jobs In First Debate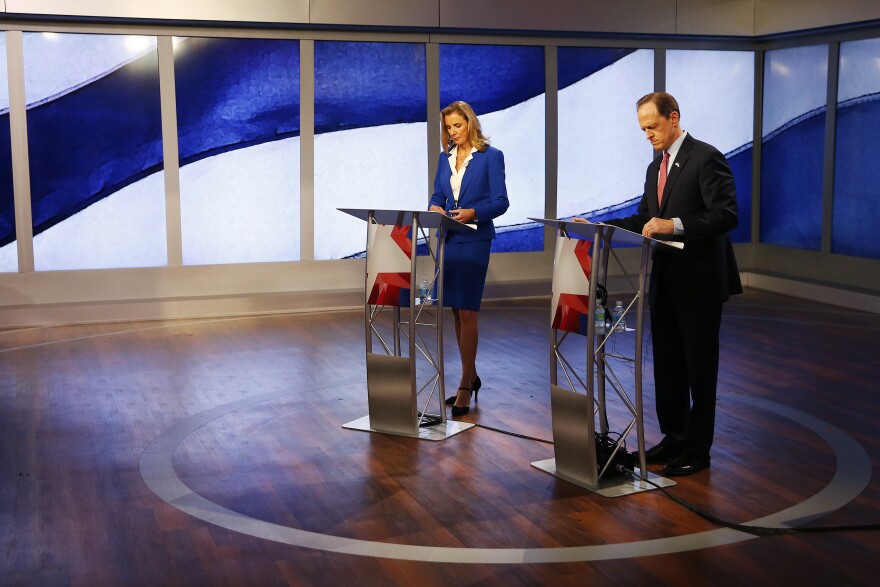 On Monday afternoon, candidates in the Pennsylvania race for U.S. Senate taped the first of two debates at KDKA-TV in Pittsburgh. The outcome of the election could determine whether Republicans maintain the Senate majority.
Katie McGinty and incumbent Senator Pat Toomey attacked each other on state and national issues, including gun control, coal and steel jobs, and Obamacare.
In a charged exchange, they argued over who supported police more, both stating they'd received support from police unions and organizations.
However, the candidates found common ground on one issue: Trump's claims that the election is rigged.
When asked about the chance of widespread election fraud, Toomey called it "maybe one of the most important questions," adding "our elections may not always be completely perfect, but they are legitimate. They have integrity. And everyone needs to respect the outcome."
But after the debate, both candidates were eager to discuss the issues that weren't addressed, appearing separately to take questions. Earlier, McGinty said a police organization had endorsed her. Toomey disputed that claim.
"Katie McGinty had no answer on the police endorsement question," he said.
McGinty went after Toomey for not clearly answering the question of who he supports for President.
"I'm a little disappointed for the people of Pennsylvania that Senator Toomey was asked not once but four times about his support for Donald Trump and he refused to answer the question," she said.
She added that a vote for Toomey is a vote for politics as usual, presenting herself as the alternative.
"I'm going to bring change," she said. "I'm going to bring a fight for working families and growing the middle class and making sure that we've got a fair economy and an open and transparent political system."
Toomey said he's been thinking a lot about how to move a deeply divided electorate forward.
"First thing I'm going do is look to see where we can make progress, who on the other side wants to make progress on the many, many big challenges that we face," he said. "We've got crazy regulations that are destroying jobs, we've got a tax code that's preventing new job creation."
More than $60 million has been spent on this race, making it one of the most expensive Senate races in the country. Polls show the candidates running neck and neck, but registered Democrats outnumber registered Republicans in the state. Steve Inskeep, of NPR's Morning Edition, said Pennsylvania "was considered a swing state, but it's gone for Democrats a lot in recent years."
The candidates' second and final debate is scheduled to take place in Philadelphia on Oct. 24.
Katie Meyer with our news partner WITF contributed to this report.