Doyle, Democrats Promise Sustained Pressure On Gun Reform
On the heels of the sit-in staged by Democrats in the House of Representatives last week, one Pennsylvania Congressman took to the steps of Pittsburgh's City-County Building on Wednesday to renew calls for lawmakers to hold a vote on proposed gun reforms.
After the 26-hour sit-in protest on the House floor ended with Republican Speaker Paul Ryan calling a recess, Congressman Mike Doyle (D-PA) said he and other Democrats plan to take up the gun reform issue again when the chamber reconvenes in early July.
Doyle said he still wants Ryan to call for a vote on two bills currently in committee: one that would prevent anyone on the federal "no-fly" list from buying firearms, and another that would institute a universal background check for gun buyers.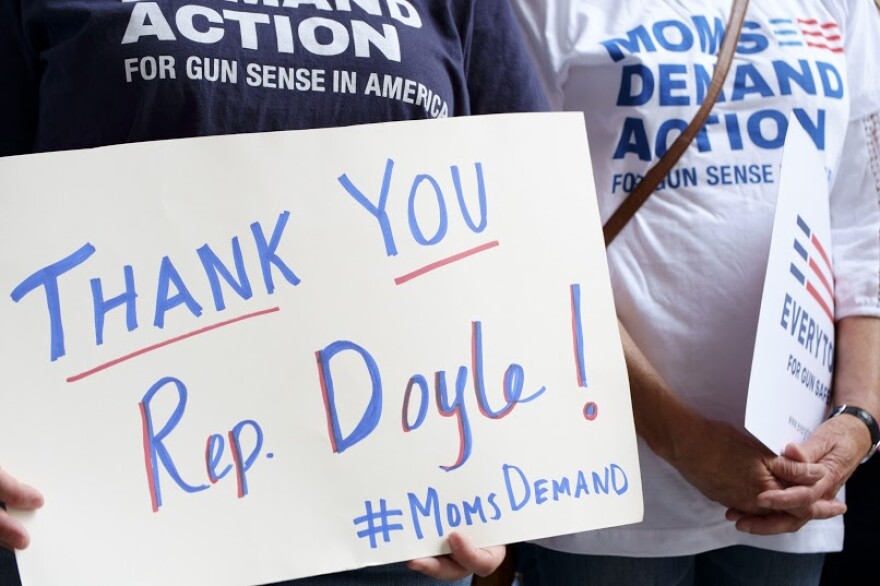 Doyle said Ryan has the influence to move the bills out of committee for a full House vote.
"If he refuses to make that commitment for us, well then, you stay tuned, because we're not going to let this go," Doyle said. "We want some action, and we want a vote."
Flanked by Mayor Bill Peduto, Council President Bruce Kraus and a slew of gun reform advocates, Doyle criticized the availability of what he called "military weapons."
"There can be common-sense exceptions to the Second Amendment," Doyle said. "We don't let Americans carry hand grenades or shoot bazookas, and it seems to me that military weapons should be off, too."
Peduto said he wants the federal government to approach gun violence as a public health issue.
"We did it with seatbelts. We did it with airbags. If toasters killed 30,000 people a year, you don't think we'd be changing the plugs on toasters?" Peduto said.
Other speakers recounted their personal experiences with gun violence: Rev. Glen Grayson of Wesley Center A.M.E. Zion Church said he lost a child to gun violence at a college party, and Pittsburgh native Daylan Stubblefield recounted his experience being shot nine times by a man with an illegal handgun in Chicago.
For his part, Ryan has called the gun reform sit-in a "stunt" and a "gimmick" that's impeding House business.