Contact 90.5 WESA with a story idea or news tip: news@wesa.fm
Controversial Democrat Running For City Committee Leadership Post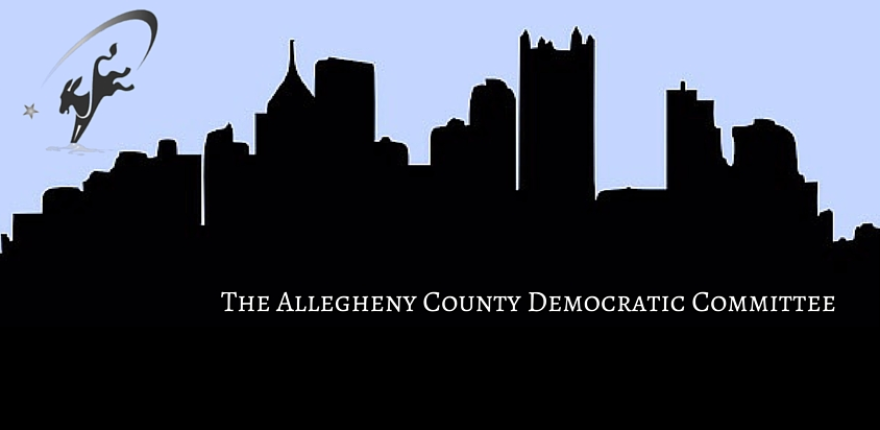 Democratic committee leaders gather Saturday to decide who will be the next face of the party in Pittsburgh. And among the three candidates is a controversial ward chair who has faced repeated allegations of domestic violence.
Kevin Quigley, of Brighton Heights, is a fixture in local Democratic politics -- he chairs his community's 27th Ward Democratic Committee and currently serves as the city committee's vice-chair. Once a public-works official for former Mayor Luke Ravenstahl, he's now employed by County Controller Chelsa Wagner.
In 2014, he was charged with simple assault, reportedly for striking his girlfriend in the face and throwing his cell phone at her. Quigley adamantly denied those charges, and they were dismissed a week later, after his girlfriend requested they be dropped.
Quigley previously had been the subject of a 1996 Protection From Abuse order sought by his then-wife. A prior media report suggests he was also the subject of of a PFA in the 1980s, although those records were not immediately available.
Quigley sent a statement Friday morning that read as follows:
I have served in leadership roles within the Democratic Party since 1988. I am in my 4th term as the Chairperson of the 27th Ward of the City. For the past 4 years, I have served the Party as its Vice-Chair in the city. The commitment I have shown to the Party stands on its own merits. No one is more dedicated to the success of the Democratic Party than I am. I have a vision and desire to see the Party grow and become more vibrant for the betterment of all citizens. For more than three decades, I have worked hard to get to this point. That is why I am extremely honored to be considered to be the Chair of the City Democratic Committee. The committee persons who will be voting tomorrow are those people who know my work within the party, my work ethic, and my commitment and character over many years. And I am particularly honored to say that the two people in my family life who know me best, my partner, Liz, and one of my daughters, Shannon, will be at my side tomorrow during this vote.
After the 2014 incident, Eileen Kelly, who chaired the city committee at the time, told the Post-Gazette that she'd heard concerns from committee members about Quigley's role in the party. But she told the paper that "There is no procedure to remove someone who holds an elected position."
Kelly was elected to the post of county chair earlier this month. She said this week she couldn't comment on the race to replace her: "That's what I ran on when I ran for county chair -- that I would never come out and endorse anyone before the committee does."
Some Democrats are privately expressing concern over Quigley's past, and the message electing him would send at a time when the #MeToo movement has raised awareness about abusive behavior by men. Still, it's not clear what impact Quigley's background may have on his chances when Democrats vote, in a Banksville Avenue event hall, Saturday morning.
"I'm sure it's being talked about behind closed doors, but it's not public because this election is on such a fast track," said Tonya Payne, a former Pittsburgh City Councilor and previous city chair.
Payne is running for the job again this weekend. Asked whether she thought Quigley was the frontrunner, she said, "I'm sure he is."
"If he wins, it says this is the same old/same old," she added.
Barbara Ernsberger, of Shadyside, is the third declared candidate in the race. She says "some committee people are bothered by" Quigley's past. "And I think some are not even aware."
"It becomes a matter of how the party presents itself, and how it is seen based on the leadership it selects," said Ernsberger, an attorney and previous Superior Court judge candidate who previously served two terms as city chair.
But Ernsberger said she was running largely on her own merits, and on her vision for "the future of the party." Both she and Payne said the city committee needed to enhance its profile online, where it is almost entirely invisible, and to find ways of harnessing the energy of younger Democrats like those who belong to the Democratic Socialists of America.
One factor in Quigley's favor, Democrats suspect, is resentment among some committee people toward Pittsburgh Mayor Bill Peduto and County Executive Rich Fitzgerald. (Ravenstahl, Quigley's former boss, was a one-time political nemesis of Peduto.) Democrats say that similar resentments helped Eileen Kelly win the county post. She bested incumbent Nancy Patton Mills, who was allied with the county's two top local leaders.
Political parties are mostly governed at the county level. The post of city chair is comparatively obscure. Still, Pittsburgh's 32 wards contain the largest block of Democrats in Allegheny County, and the city chair nominally represents them.
Saturday's election is open to the officers of each of the city's wards. With four officers in each ward -- chair, vice-chair, secretary and treasurer -- as many as 128 people could be eligible to vote. (Kelly said, however, that some positions may not currently be filled.) Other candidates may be nominated at the event itself.
A chair must earn an outright majority of all eligible voters, and if no candidate wins that on the first ballot, the last-place finisher will be dropped and the remaining candidates will be voted on again.