Contact 90.5 WESA with a story idea or news tip: news@wesa.fm
Zappala Cruises To Victory Over Jenkins In DA Race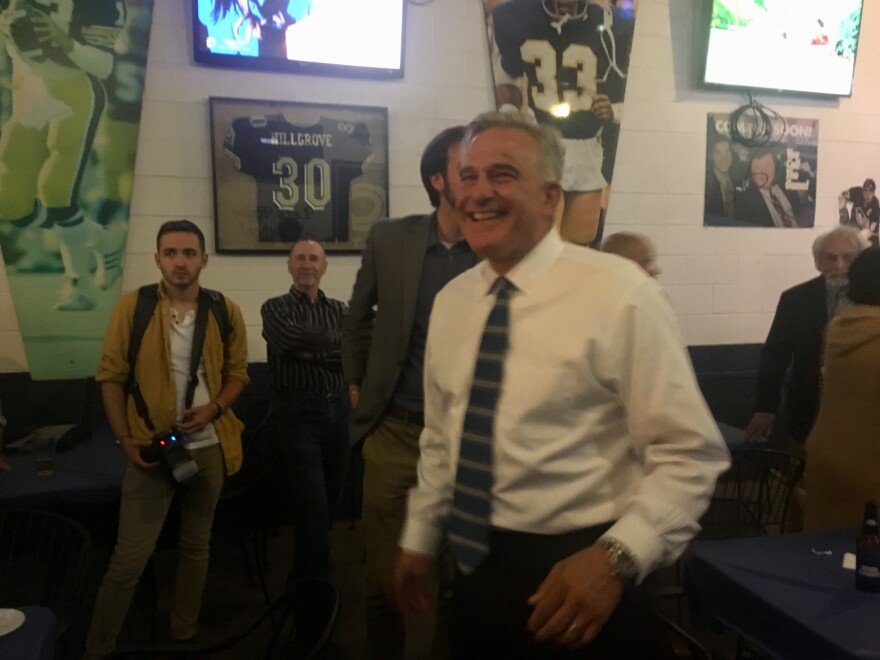 Allegheny County District Attorney Stephen Zappala held off challenger Turahn Jenkins in one of the more closely watched races this primary season. The 21-year incumbent scored a resounding victory, with about 59 percent of the vote.
In the wake of his big win, Zappala said he believes Allegheny County does a great job when it comes to serving those involved with the criminal justice system. "Frankly," Zappala said, "I think we're one of the best jurisdictions in Pennsylvania and maybe … the country."
The district attorney is the county's chief law enforcement officer and oversees all prosecutions in Allegheny County courts. This was Zappala's first serious challenge for the job in 20 years, in a race that began amid controversy over his office's handling of the prosecution of former East Pittsburgh police officer Michael Rosfeld. The white officer fatally shot black, unarmed teen Antwon Rose in East Pittsburgh last June. A jury acquitted Rosfeld of homicide in March.
Jenkins launched his campaign against Zappala in the days following Rose's death. Although the district attorney had charged Rosfeld with homicide by that point, activists were adamant in their calls to remove Zappala. Jenkins later faulted lawyers from Zappala's office for not calling an expert witness during Rosfeld's trial, and said that if he were district attorney, he would have tried the case himself.
Despite his loss, Jenkins said his campaign nonetheless "exposed to Allegheny County how much is needed in terms of criminal justice reform."
"Hopefully, [Zappala] will take some steps to make criminal justice reform more just and fair," Jenkins added. "The ball is in his court now."
On Tuesday, Zappala said, "It's a very divisive time. People are angry about government." But, he said of his administration, "Overwhelmingly, most people don't … have a problem with how we proceed."
Jenkins, previously the chief deputy director for the Allegheny County Public Defender's Office, also said if elected he would have focused on ending mass incarceration and the use of cash bail. He would have pursued this goal in part by expanding the use of treatment programs and community service.
Jenkins alienated some progressives early in his campaign, when he said that homosexuality is a sin. The candidate, who has ties to a deeply conservative church, apologized for those remarks last month.
Nonetheless, 70 activists and criminal justice reform advocates signed a letter in support of Jenkins in the final days of the campaign. Signatories included Michelle Kenney, the mother of Antwon Rose and other progressive candidates for local office.
While the letter accused Zappala of punishing "behavior related to serious mental health issues, substance abuse disorder, and the inability to pay bail," the DA countered that his office helped to establish drug court and mental health court early in his tenure.
These programs and a handful of other such "problem-solving dockets," he said, connect eligible defendants with treatment and community support.
In addition, he said he has lobbied for reducing the use of monetary bail in letters to the Pennsylvania Supreme Court. In those letters, sent in 2000 and 2018, he advised the court to amend court rules that govern the use of bail. He also recommended that the justices mandate legal representation for low-income defendants at bail hearings.
"The last six months, people have been looking for problems not solutions," Zappala said, referring to the controversy that followed Rose's death. "Overwhelmingly in my career, we've been looking for solutions … I hope to get back to that, I really do."
Other countywide offices
The District Attorney's race was the highest-profile race in the county, though several other countywide offices were on the ballot. County Executive Rich Fitzgerald, County Controller Chelsa Wagner and Treasurer John Weinstein ran unopposed in the Democratic primary. Only Fitzgerald appears certain of facing a challenger in November: Former County Council member Matt Drozd, who ran unopposed for the Republican nomination to challenge him.
But while there were no GOP candidates on the ballot for treasurer, controller, or DA, write-in campaigns on behalf of a few would-be challengers were underway on Tuesday.
Mt. Washington resident Brooke Nadonley was seeking the 500 votes necessary to challenge Wagner, who is facing charges in Michigan after an altercation with Detroit police. Efforts were also afoot to find a Republican challenger to Zappala, with backers putting forward the names of local prosecutor Larry Sachs and former public defender Joe Otte on the GOP ticket this November.
Otte, however, said he had no plans to run for district attorney. But he said he received a call on Monday from unknown political consultants, who said they wanted to campaign for him as a write-in candidate.
"Essentially, my response was that I can't stop them," Otte said. "It's their First Amendment right to put up the signs. If they want to do it, they can do it.
"And then sure enough, I showed up to my polling place at … 7:15 in the morning," he chuckled, "and there were signs: 'Write in Joe Otte for DA.'"
Otte said he is not inclined to run for district attorney. But if he were to receive enough votes to become the Republican nominee, he said he would "sit down and talk to the party members and … hear what they have to say."
Nearly 3,400 write-in ballots were cast by Republicans in the controller's race, with close to 3,500 cast for district attorney. It takes county election workers a few weeks to tally write-in votes.