Contact 90.5 WESA with a story idea or news tip: news@wesa.fm
Independent DA Candidate Reports Strong Finances In Bid Against Zappala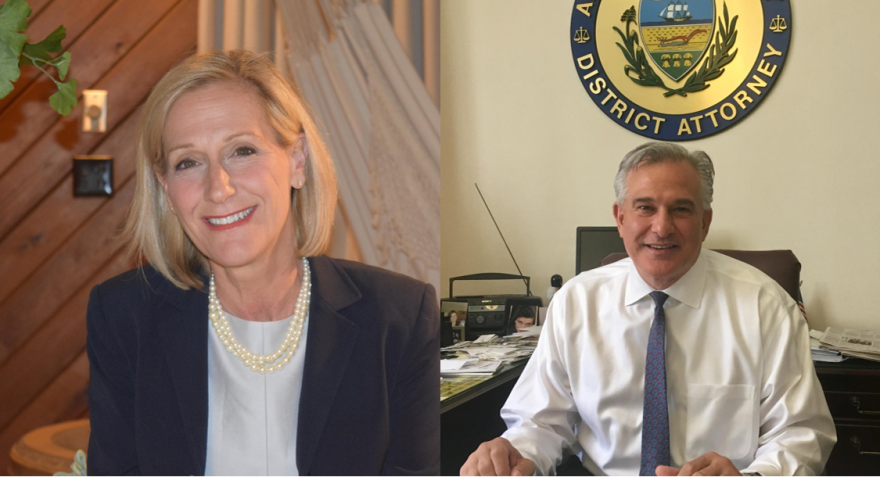 Friday was the deadline for the last full accounting of what campaigns are spending prior to the November 5 election, and judging by the numbers, independent candidate Lisa Middleman is running a very competitive race against incumbent District Attorney Steve Zappala. An effort to convince voters in the city of Pittsburgh to raise their property taxes, meanwhile, is spending large sums despite facing no organized opposition.
Middleman reported raising $196,590.51 since launching her campaign after the spring primary. That is just off the pace of Zappala, a two-decade incumbent who reported raising $212,014 since June.
Zappala had something of a head start: He began the summer with $20,650.41 in the bank. And he is still in the stronger financial position: After deducting expenses, he goes into the final two weeks of the campaign with $127,920.51 on hand: Middleman has $93,165.63.
But Zappala's total fundraising was boosted by a $15,000 contribution from a committee that Zappala used to finance his unsuccessful 2016 run for state Attorney General. Without that contribution, the two candidates' totals were almost identical. And Middleman's report did not include an additional $20,000 contribution pledged this week by UNITE, a progressive political committee established by state Rep. Summer Lee. That, and other late money that may come in for either candidate, could well reshape the financial race. Even so, Middleman is within shouting distance of an incumbent who has one of the best-known political names in Allegheny County.
She's gotten there with help from small dollar contributors. Just over $17,000 of her contributions were made in amounts of $50 or less – the kind of contributions that can suggest the depth of a candidate's appeal to grassroots activists. Zappala raised just $164 in small-dollar sums; meaning Middleman's edge among the group is over 100-to-1.
Still, Zappala has been able to draw on a sizable advantage with big donors. Fully $204,000 of his backing came in donations of more than $250, led by two $25,000 donations from an area Steamfitters union local and the Western Pennsylvania Laborers. Numerous other unions also backed him financially, as did a slew of area lawyers – many of whom are criminal defense attorneys who routinely square off against lawyers from Zappala's office.
Middleman's biggest donors included entrepreneur Eric Cooper, who gave $25,000, and long-established progressive donors Janet Anti ($18,000) and Joy Sabl ($6,000).
The picture was much more lop-sided on another closely watched question on the local ballot. The campaign to support a proposed real-estate tax hike to finance park improvements has spent over $762,000 – all of which has been financed by the Pittsburgh Parks Conservancy and the civic group PUMP.
"Pittsburgh Parks for All," the committee urging voters to approve the half-mill property tax hike, reported receiving $681,030.46 in direct financial support from the two organizations. It also received another $81,615.49 in "in-kind" support, most of which was in the form of mailers and postage sent out by the conservancy on the initiative's behalf. Other expenditures have paid for television-advertising buys, consultant fees and paid petition-gatherers.
Some of those petition gatherers caused a stir this summer by falsely telling citizens that if the ballot initiative failed, parks and swimming pools could close.
The amounts come as little surprise: The conservancy told WESA that it would likely spend somewhere in the neighborhood of $800,000 to $1 million on its campaign. And there is still a week-and-a-half before the Nov. 5 election.