Contact 90.5 WESA with a story idea or news tip: news@wesa.fm
Election Day Roundup: Get Caught Up Before Heading To The Polls
Voters are taking to the polls Tuesday to cast their votes on a number of local issues and races.
Voting began at 7 a.m. and will continue until 8 p.m. this evening. By late morning, voting seemed to be going smoothly amid light turnout. County officials reported a handful of concerns at area polling places, none of which were out of the ordinary: Some electronic voting machines had "calibration issues" in which the touch-screen did not properly register a voter's selection, for example, while a handful of polling places requested extra workers. Voters at one North Side polling place, located in a public-housing project with security, were improperly asked for identification early in the morning: County officials, notifed of the complaint by WESA, halted the practice.
Some of the issues on the ballot -- such as a proposed tax hike to fund Pittsburgh city parks infrastructure, as well as victim's rights proposal called Marsy's Law -- aren't as clear-cut as they seem. To help you understand what you'll be voting on, we've rounded up our coverage on some of these key issues and races:
Marsy's Law
What it is: An amendment to shift a package of existing victims' rights laws from the state's legal code to the constitution. Some argue it would hamper the rights of the accused.
EDIT: The state Supreme Court ruled Monday afternoon that Marsy's Law votes would not be tallied.
For a full breakdown, check out this primer that explains the history of Marsy's Law, what it would change in Pennsylvania and why it's garnered such divisive reactions. Last month, the ACLU filed a challenge against Marsy's Law, saying it would affect too many parts of the state constitution. Last week, a judge barred Marsy's Law from taking effect, even if voters approve it. Late Monday, the state Supreme Court agreed, telling the state not to count the votes until the ACLU suit is resolved. Despite the proposed law's legal limbo, both sides say it's still worth voting on, since the votes could matter down the line.
Parks Tax Referendum
What it is: A proposal to raise property taxes by half-a-mill, or an extra $50 for every $100,000 a home is worth, in order to generate an expected $10 million in new revenue for Pittsburgh parks.
While backers of the measure see it a clear-cut solution to raise some of the $400 million in needed capital improvements, critics fear that when voters make their choice, the playing field won't be level. You can also check out reporter Chris Potter talking about the referendum on The Confluence here.
Allegheny County District Attorney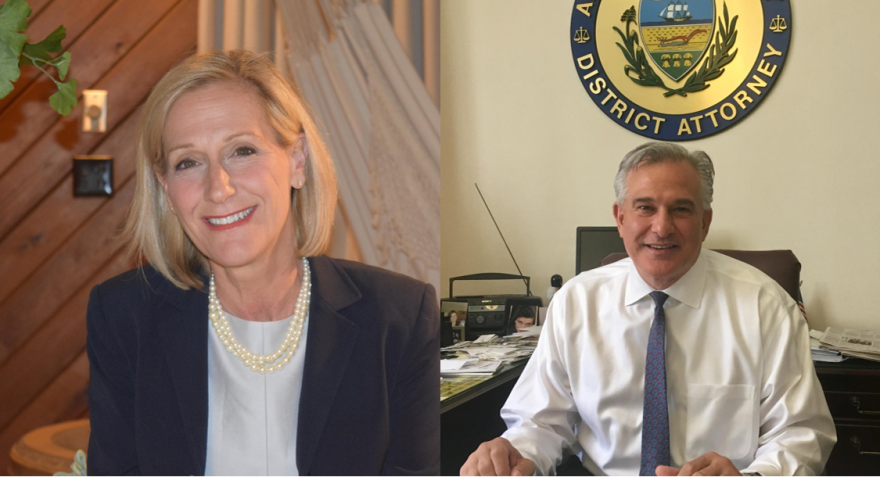 Who's running: Democrat Stephen Zappala, who has held the position of District Attorney since 1998, faces Independent challenger Lisa Middleman, a long-time Allegheny County public defender.
Middleman first announced her bid to run in June, promising to push harder as district attorney than Zappala to find alternatives to incarceration for low-level offenders. After announcing she would run, Middleman was accused of removing black jurors from a racially charged case 27 years ago. But she's mostly been on the offense: Middleman blasted Zappala for his handling of a 2017 case in which four local teens were each jailed for up to 15 months despite alibi evidence that proved their innocence. In September, two black women were assaulted during an altercation at a North Side gas station, which became an issue in the District Attorney race. Middleman criticized Zappala for not bringing more serious charges against three male defendants. Zappala said the law did not allow for harsher charges, considering the circumstances. At the end of October, campaign finance reports showed Middleman was running a competitive campaign against Zappala.
City Council District 1
Who's running: Chris Rosselot (independent), Malcolm Jarrett (Socialist Workers Party) and Bobby Wilson (Democrat) are all hoping to replace longtime District 1 Councilor Darlene Harris, who represents the North Side.
Wilson is an emphysema/COPD researcher at the University of Pittsburgh and received Mayor Bill Peduto's endorsement this spring. Rosselot is a community development consultant and previously worked for Democratic U.S. Sen. Bob Casey. And Jarrett is a catering company cook who is running with the Socialist Workers Party. Find more on where they stand on key issues here.
City Council District 9
Who's running: Incumbent Ricky Burgess faces three challengers, all running without major party support, on the November ballot, including Barbara Daniels, Randall Taylor and DeNeice Welch.
District 9 includes Homewood, Larimer, Garfield, North Point Breeze and part of East Liberty, where Burgess has held the position of city councilor since 2008. Burgess initially faced a crowded field of "Independent" candidates, which was cause for some contention. Here's more on the candidates hoping to take on Burgess and where they stand on key issues.
Superior Court
What's at stake: Republicans and Democrats are vying for two open seats on the statewide appellate Superior Court. The 15-seat court handles civil and criminal appeals from Pennsylvania's county courts.
The Democrats are Amanda Green-Hawkins, a longtime steelworkers' union lawyer from Pittsburgh, and Philadelphia Judge Daniel McCaffery. The Republicans are Megan King, a Chester County prosecutor, and Cumberland County Judge Christylee Peck. Judges serve 10-year terms and run for reelection in up-or-down retention races. The court currently has eight Republicans and six Democrats, with one Republican not running for another term.
The Associated Press contributed to this story.