Contact 90.5 WESA with a story idea or news tip: news@wesa.fm
LIVE BLOG: Coronavirus In Pittsburgh, March 30 - April 5
A sign encourages people to practice social distancing on McKnight Road in Ross Township.
Katie Blackley
A sign with corrected spelling, tells visitors the playground at the Community Park is closed until further notice due to COVID-19, Friday, March 27, 2020, in Zelienople, Pa.
Keith Srakocic
A woman walks past a closed Mt. Washington overlook above downtown Pittsburgh Monday, March 30, 2020. Pittsburgh Public Works employees closed the overlooks Monday morning because people were not following social distancing rules on them over the weekend.
Gene J. Puskar
People take in the view of downtown Pittsburgh from Mount Washington with protective masks adorning the "Point of View" sculpture depicting George Washington and Seneca leader Guyasuta, Friday, March 27, 2020.
Gene J. Puskar
News on the coronavirus pandemic, including the responses of local governments, health departments, hospital systems, schools and other institutions. For information from the previous week, click here.
Helpful coronavirus links:
Editor's note: This post will be frequently updated with the latest news.
Sunday, April 5, 2020
4:03 p.m. -- State spells out cleaning requirements for building owners
Owners of large buildings that house essential businesses must adhere to stricter cleaning measures to combat the spread of the new coronavirus, under a new order signed today by State Department of Health Secretary Rachel Levine.
The order requires owners of buildings -- including warehouses, factories, offices, airports, grocery stores and residential buildings of at least 50 units -- to "[c]lean and disinfect high-touch areas routinely in accordance with CDC guidelines, in spaces that are accessible to customers, tenants, or other individuals." The rules apply to buildings of 50,000 square feet or more, if businesses inside have been permitted to remain open for in-person operations during the statewide shutdown.
The order also requires that buildings continue pre-existing cleaning protocols throughout their facilities, and that owners ensure that there are enough employees to carry out the protocols safely.
The requirements go into effect Tuesday.
12:55 p.m. -- Lamb to host coronavirus telephone town hall Monday
Congressman Conor Lamb will hold a "tele-town hall" Monday at 4 p.m. to field questions on the coronavirus. According to an announcement made Sunday afternoon, Allegheny County Executive Rich Fitzgerald and Allegheny County Health Department Director Debra Bogen will also participate. Those interested in taking part should sign up at lamb.house.gov/live. The page will also carry audio of the event once it begins.
12:24 p.m. -- State reports nearly 1,500 new cases of COVID-19
The state's Department of Health announced today that as of midnight Saturday, there were 1,493 new positive cases of COVID-19 in Pennsylvania, for a total of 11,510 in 65 counties. The department also reported 14 new deaths, for a statewide total of 150, according to a statement. Everyone who has tested positive is either in isolation at home or is hospitalized, the Department reported. More than 66,200 patients have tested negative to date.
Today's announced increase in new cases is similar to that of the prior two days. On Friday, about 1,400 new cases were reported, and nearly 1,600 were reported yesterday, according to the Department.

"The continued rise in cases combined with our increasing deaths from COVID-19 reflects the seriousness of this situation," Secretary of Health Dr. Rachel Levine said. Levine repeated that Pennsylvanians are under orders to remain at home unless they absolutely have to leave for life-sustaining reason.
11:15 a.m. -- County reports fourth coronavirus death
The Allegheny County Health Department has reported a fourth death from COVID-19. The individual was in his or her 80s and had been hospitalized, according to a statement from the county. The total number of cases in the county is 605, up 53 from the previous day, and there is one additional hospitalization, for a total of 87.
8:50 a.m. - Religious leaders urged to find 'alternate' approach to worship
As Christians begin their Holy Week celebrations and Jews prepare for Passover, Gov. Tom Wolf is urging faith leaders across the state to find other means of celebrating the holidays.
"I am encouraging religious leaders hosting a holiday celebration to consider an alternative that does not bring people together in-person," Wolf said in a weekend statement.
The statewide "stay at home" order that has shut down many businesses does not apply to religious institutions. But it adds, "Religious leaders are encouraged to find alternatives to in-person gatherings and to avoid endangering their congregants. Individuals should not gather in religious buildings or homes for services or celebrations until the stay-at-home order is lifted."
Leaders from a number of faiths and communities all across the state joined Wolf in the statement. Among them was Pittsburgh's Rabbi Aaron Bisno, of Rodef Shalom. "Judaism teaches us the highest value is to save a life, not only our own but how our behavior impacts others' lives, their freedom and their health," he said.
Some religious leaders, particularly in evangelical faiths, have bridled at restrictions meant to limit exposure to COVID-19. But many others, including the Diocese of Pittsburgh, have already been livestreaming worship services.
As of the morning of Palm Sunday, Pennsylvania had reported more than 10,000 cases of COVID-19 and 136 deaths.
Saturday, April 4, 2020
6:36 p.m. - Port Authority bus driver tests positive
Allegheny County's Port Authority reported that a second employee has tested positive for COVID-19.
The employee is a bus driver who works out of the West Mifflin garage. They have been in self-quarantine since April 1, and have not been to work since March 21.
The Port Authority deep cleaned the West Mifflin garage and the last bus the operator had driven.
12:01 p.m. - Pennsylvania surpasses over 10,000 total confirmed cases
The Pennsylvania Department of Health Saturday announced 1,597 additional positive cases of COVID-19, bringing the statewide total to 10,017. The department also reported 34 new deaths among positive cases, bringing the statewide toll to 136.
"The continued rise in cases combined with our increasing deaths from COVID-19 reflects the seriousness of this situation," Secretary of Health Dr. Rachel Levine said. "We need everyone to listen to the orders in place and to stay calm, stay home and stay safe. We know that these prolonged mitigation effects have been difficult for everyone, but it is essential that everyone follows these orders and does not go out unless they absolutely must."
Levine also recommended that everyone follow the State's orders to wear a face mask when going out.
11:01 a.m. - Allegheny County confirms one new death
Allegheny County confirmed a third person has died due to COVID-19. The person was in their 90s and had been hospitalized. The county also confirmed 552 cases, and 86 hospitalizations due to the disease.
Friday, April 3, 2020
5:05 p.m. - History Center, Frick, among latest organizations to furlough or lower salaries for employees
Pittsburgh's nonprofit cultural organizations continue to make adjustments to the coronavirus shutdown, which has forced the closure of their physical locations.

Heinz History Center announced today that it will fully or partially furlough half of its 130-person workforce, and that most remaining staffers would continue on reduced pay. The History Center includes not only its Strip District museum but also the Fort Pitt Museum and Meadowcroft Rockshelter and Historic Village, all of which are closed until further notice.

A statement from the History Center cited the loss of revenue from the closures as the reason for the furloughs. Spokesperson Brady Smith said the total of 65 workers furloughed include part-time workers who were furloughed March 14, when the History Center closed to the public. Smith said the pay cuts for remaining staffers ranged from 5 percent to 20 percent, with "the highest cuts ... at the top" of the pay scale.
Also today, the Frick Pittsburgh announced temporary salary reductions for staff to help cope with income lost during the shutdown. However, the group -- which includes the Frick Art Museum and the historic Clayton Mansion-- said expected support from the new federal stimulus bill has allowed it "to rescind many of the temporary staff furloughs" it announced last week, meaning more employees will be back to work. A request for clarification on the number of employees affected was not answered by press time.
4:51 p.m. - State Supreme Court rejects plea order to release prisoners in county jails
But in a partial win for prison-reform advocates, the Court ordered county judges and officials to do what they could to minimize the threat of the coronavirus behind bars.
The advocates asked the court to compel the release of a broad swath of inmates. But the justices unanimously ruled Friday that doing so could jeopardize public safety. Still, the court directed county officials to identify prisoners that could be released, and to limit the intake of new prisoners.
4:00 p.m. - The City distributed 2,813 meals this week
The CIty of Pittsburgh Department of Public Works said it gave 1,475 meals to seniors and 1,186 to children. This week's distribution was supplemented by the Pulaski Club, which gave 150 meals to seniors in the West End, as well as Eat 'n' Park, which gave 152 to children.
3:14 p.m. - Pittsburgh leaders, athletes, artists create #stayhomepgh video
Nearly one hundred Pittsburghers from across industries created the video to the tune of "We Will Rock You" by Queen. Watch it below:
2:38 p.m. — Department of Health urges people to wear masks
In a reversal of instruction, the state Department of Health is now urging Pennsylvanians to wear masks whenever they need to go out to essential businesses, traveling or visiting a health care provider.
The state also says, "because homemade masks protect everyone else from the droplets created by the wearer, it is important that as many people as possible wear these masks when leaving their homes. This helps prevent those who may be infectious but are only mildly symptomatic or not symptomatic from spreading the virus to others in the community. Everyone should remember the phrase 'my mask protects you, your mask protects me.'"
12:41 p.m. — Pennsylvania halting pay for 9,000 state workers
Pennsylvania will stop paying about 9,000 state workers whose offices have been closed as a result of the coronavirus pandemic. Gov. Tom Wolf's administration says that paid leave for state employees whose work locations are closed and who are unable to work remotely will end April 10. The pay freeze impacts about 12% of the state workforce, though individual agencies are being hit much harder. The state Departments of Transportation and Revenue are halting pay to more than half of their employees.
12:05 p.m — Statewide COVID-19 cases reach 8,400
COVID-19 cases across the state jumped by 1,404, bringing the statewide total to 8,420. The number of deaths across the state is now at 102.
In Allegheny County, the number of positive cases increased by 78, raising the total to 476. The number of deaths remains at two.
10:12 a.m. — DHS launches helpline for behavioral health resources
The state Department of Human Services launched a helpline today that offers support and referrals for Pennsylvanians struggling with anxiety and other mental health issues during the COVID-19 outbreak. The department says the helpline will be "staffed by skilled and compassionate caseworkers who will be available 24/7 to counsel Pennsylvanians."
The number to call is 1-855-284-2494. For TTY, dial 724-631-5600.
The state also recommended people in need of help also check out these valuable resources:
National Suicide Prevention Lifeline: 1-800-273-TALK (8255)
Línea Nacional de Prevención del Suicidio: 1-888-628-9454
Crisis Text Line: Text "PA" to 741-741
Safe2Say: 1-844-723-2729 or www.safe2saypa.org
Veteran Crisis Line: 1-800-273-TALK (8255)
Disaster Distress Helpline: 1-800-985-5990
Get Help Now Hotline (for substance use disorders): 1-800-662-4357
10:04 a.m. — Activists call prison crowding cruel and unusual punishment
Pennsylvania corrections secretary John Wetzel said earlier this week that his department is taking steps to reduce the state's incarcerated population, in an effort to limit the spread of coronavirus behind bars. But prison-reform advocates argue that more dramatic action is needed to remedy conditions that they say amount to cruel and unusual punishment.
8:43 a.m. — What you need to know about the small business loan program
Starting today, small businesses can apply for the nearly $350 billion in loans available through the economic rescue plan from Congress.
The loan program, known as the Paycheck Protection Program, is intended to support businesses so they can ride out the tough economic times and most importantly assist with either keeping current workers or rehire those that were laid off. NPR's Danielle Kurtzleben lays out what you need to know.
7:40 a.m. — FEMA not meeting states' needs
Newly released documents show the Federal Emergency Management Agency has barely fulfilled states' requests for protective equipment to fight the coronavirus. Pennsylvania is among the states still in need.
The state requested hundreds of thousands of face shields, masks, gloves, respirators and other desperately needed equipment. But FEMA only fulfilled a small fraction of those requests.
According to the documents, Pennsylvania requested more than half-a-million surgical masks, but only got about 60 percent of what it needed. It also requested nearly 500,000 respirators, but only received about 100,000. But it received nearly all of the 100,000 face shields it requested.
Congressional Democrats say the documents show the Trump administration did not properly prepare for the pandemic. FEMA did not immediately respond to a request for comment.
Thursday, April 2, 2020
6:11 p.m. — District attorney's office warns of more coronavirus scams
The office wrote in a release that robocalls and stimulus check scams are increasing. It advised to be wary of robocalls about air duct sanitization services, work-from-home opportunities, health insurance and immune-system boosting nutritional supplements.
Additional scams include those where callers promise to expedite the $1,200 stimulus payments. Callers often impersonate a public official and request personal information. The office says the majority of these checks will be deposited directly into bank accounts and not by phone.
5:24 p.m. — Lawmakers want to expand and strengthen hate crime laws in Pa.
It's a response to an increase in reported hate crimes against people of Asian descent. The proposed legislation would step up civil and criminal penalties for hate crimes, provide training for law enforcement to investigate the offenses, and offer anonymous online reporting at colleges. Pennsylvania state police report an increase in hate crimes amid the COVID-19 pandemic, which originated in China.
2:41 p.m. — Photos from AHN's test kit assembly location
Dozens of tables with medical staffers lined the auditorium of Highmark Health Penn Avenue Place filled with sterile media tubes, swabs, instructions, and biohazard bags.
"Once the provider swabs the patient, it goes into the tube and it gets sent to the lab," said Korie Enscoe, director of quality for the Allegheny General Hospital surgery center. "It's actually pretty fun."
2:25 p.m. — Stay-home order can be dangerous for those experiencing domestic violence
Governor Tom Wolf has issued stay-at-home orders across Pennsylvania as the coronavirus spreads. The directives are meant to save lives, but for victims of domestic violence, staying at home can be extremely dangerous.
Because victims don't have the privacy to call and ask for help, western Pennsylvania organizations like the Hope Center have been trying to push other lines of communication, including text, email, and Facebook Messenger. But those alternatives canpresent another set of challenges.
1:24 p.m. — Clearing the air around face masks
The Centers for Disease Control and Prevention and the White House Coronavirus Task Force are both reviewing official guidance that people who are healthy don't need to wear face masks during the novel coronavirus pandemic.
To clear the air around what kinds of masks people should wear, when and what the difference between an N-95 respirator and a cloth mask is, we put together this post.
12:53 p.m. — Pitt says it may have developed coronavirus vaccine
The University of Pittsburgh's School of Medicine says it has developed a promising potential vaccine against the virus driving the global COVID-19 pandemic.
Researchers say that in tests on mice, the vaccine produced sufficient antibodies to fend off the virus. They hope to begin human testing soon.
12:01 p.m. — State reports more than 1,200 new cases
The Pennsylvania Department of Health says there are now 7,016 positive COVID-19 cases statewide, up 1,211 from the previous day. The department also says there have been 16 new deaths, bringing the total to 90.
"The continued rise in cases combined with our increasing deaths from COVID-19 reflects the seriousness of this situation," Secretary of Health Dr. Rachel Levine said. "We need everyone to listen to the orders in place and to stay calm, stay home and stay safe. We know that these prolonged mitigation effects have been difficult for everyone, but it is essential that everyone follows these orders and does not go out unless they absolutely must."
The department says most of the COVID-19 deaths have occurred in people who were age 65 or older.
11:03 a.m. — Allegheny County sees 63 new cases
County health officials released the latest numbers, saying there are now 419 positive COVID-19 cases, up 63 from the day before. There have also been 70 hospitalizations and the number of deaths remains at two.
Welp, Allegheny County reporting 63 new cases of COVID-19 -- a record . County says the "numbers reflect an increase in testing and could account for tests performed over multiple days and reported at once. There is community spread and expect to see the number of cases increase"

— Chris Potter (@CPotterPgh) April 2, 2020
10:19 a.m. — Coronavirus threatens indie bookstores
Independent bookstores have been an unexpected comeback story of the past decade. Since the 2008 recession, their numbers have grown nationally by about 50 percent, according to industry statistics – something most observers wouldn't have predicted in the age of Amazon. Pittsburgh alone now has a dozen or more such bookshops.
But like many retail businesses, independent bookstores face an existential threat in the coronavirus shutdown.
While roughly half of all U.S. book sales happen online, a majority of actual bookstores do most of their business in person. Now – like stores all over the country, including iconic names like Powell's and the Strand – most of them are carrying on with online sales, greatly reduced revenue, and, in some cases, layoffs.
8:53 a.m. — Latrobe priest tests positive
A Roman Catholic priest based in Latrobe is in quarantine after testing positive for COVID-19, according to the Diocese of Greensburg. The Reverend Daniel Mahoney is pastor of the Holy Family Parish and last was in contact with parishioners during Mass on March 17. The diocese says Mahoney is experiencing mild symptoms of the coronavirus and is expected to recover.
8:06 a.m. — Second state prison inmate tests positive
A second inmate at a state prison has tested positive for COVID-19, according to the Department of Corrections. The inmate is at the State Correctional Institution at Phoenix in Montgomery County. The department imposed a system-wide quarantine earlier this week after another inmate at the facility tested positive. The quarantine means that inmates are largely confined to their cells. Four staffers in the state prison system have also become infected.
7:15 a.m. — AHN turning auditorium into COVID-19 test production center
Allegheny Health Network is turning the Penn Avenue Place Auditorium into a COVID-19 test production center with the goal of creating 6,000 new kits by the end of the week. It will be an ongoing operation and AHN spokesperson Dan Laurent says, "it's a good example of some out of the box thinking to get more kits to the front lines as we prepare for the surge."
Wednesday, April 1, 2020
6:20 p.m. — Penn State students should be counted at school address
April 1 is Census Day. That means it's usually where you live on April 1 that you give as your address when you fill out the census.
But coronavirus means Penn State students who would usually be in State College are spread far and wide. Penn State and the U.S. Census are trying to get word out that students should still be counted at their school address.
4:50 p.m. — Firefighter tests positive for COVID-19
The Pittsburgh Bureau of Fire said one of its firefighters experienced "flu-like symptoms" last week and has been in self-isolation ever since. The agency has identified seven other firefighters who came into contact with the individual and officials are checking in daily with all those possibly affected.
4:46 p.m. — Online booze ordering resumes, with limited options
The Pennsylvania Liquor Control Board which operates the state's fine wine and spirits stores resumed online sales Wednesday. The agency says it will accept up to six bottles per transaction and only one order per address will be filled each day. PLCB's 600 stores statewide are not expected to be re-opened until Gov. Tom Wolf and public health officials say otherwise.
The stores had closed two weeks ago, as per state recommendations.
4:39 p.m. — Children's Museum furloughs more than half its staff
The Museum, on the North Side, announced today that it plans to furlough most part-time and some full-time employees during what it expects to be an extended closure. Gov. Tom Wolf is requiring all non-life-supporting businesses to close their physical locations through the end of April.
The Children's Museum, including its new MuseumLab -- which opened in May -- has more than 50 full-time employees, but a spokesperson declined to provide numbers of staff affected. The museum is also suspending major capital expenditures, though it continues to offer online resources for children and families.
4:13 p.m. — Port Authority modifies lost and found procedures
The agency said customers will only be permitted to pick up wallets, IDs and passports, credit cards, personal electronic devices and items valued at more than $300. The temporary move goes into effect Thursday, April 2 and will continue until further notice.
Customers are encouraged to call ahead to arrange pickup of any items.
3:00 p.m. — Airbnb to be banned after the Poconos became a coronavirus hotspot
After a surge of coronavirus cases in the Poconos that some attributed to out-of-state travelers, Gov. Tom Wolf's administration says it is moving to remove short-term rentals such as Airbnb from the state's list of "life-sustaining" businesses during the shutdown.
Local officials blame the spread on people from New York seeking heading there to wait out the pandemic.
2:21 p.m. — City offers COVID-19 updates in multiple languages
The city of Pittsburgh's website for COVID-19 updates now translates into six languages, including Nepali and Swahili. The site also lists community resources needed by the public, including mental health resources.
1:21 p.m. — All of Pennsylvania now under orders to stay home
Gov. Tom Wolf has placed all of Pennsylvania under an order to stay at home, dramatically expanding the geographic footprint of the quarantine as state officials combat the coronavirus pandemic. In one stroke, Wolf added 34 counties to his stay-home edict, meaning that residents of all 67 of Pennsylvania's counties must now stay home as much as possible to help slow the spread of COVID-19. Coronavirus infections are continuing to rise dramatically in the state, with nearly 1,000 new confirmed cases reported Tuesday. Meanwhile, Pennsylvania State Police will no longer respond in person to some types of calls.
12:41 p.m. — Social distancing is our best tool, but how long do we have to do it?
The adage, "an ounce of prevention is worth a pound of cure" is certainly true for COVID-19. The disease has no cure, and right now, the only way to avoid completely overwhelming our medical system is to prevent the virus's spread by isolating ourselves from each other.
It does seem that Allegheny County's rate of growth of confirmed cases is starting to slow, but there is still wide variability from day to day, which makes it difficult to draw any firm conclusions.
12:04 p.m. — Pennsylvania sees another big increase in COVID-19 cases
The state Health Department reported another 962 cases since the previous day, bringing the statewide total to 5,805 cases. Additionally, there were 11 new deaths, bringing the statewide total to 74. So far, 42,427 people have tested negative.
11:06 a.m. — Allegheny County cases at 356
Allegheny County Department of Health officials released the latest numbers, saying there are now 356 positive COVID-19 cases, including 61 hospitalizations. The number of deaths remains at two.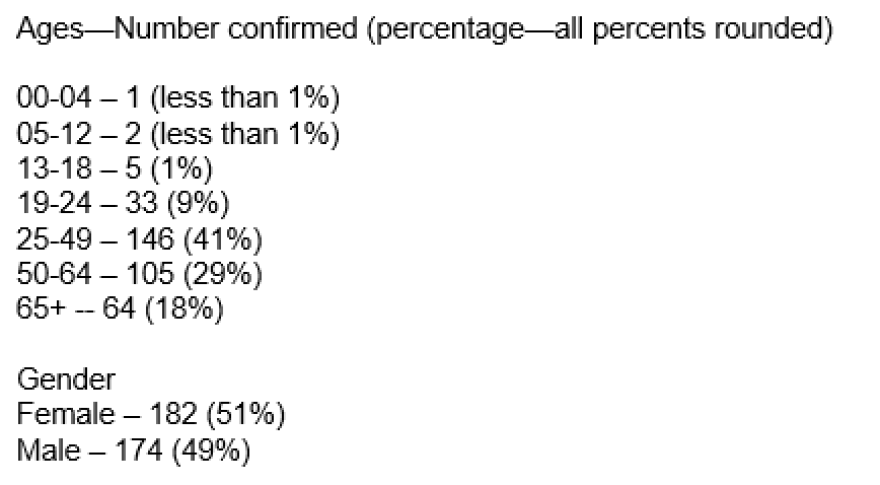 10:07 a.m. — Giant Eagle confirms new cases of coronavirus
Employees of the Pine Creek store in McCandless and the Robinson Market District have tested positive for COVID-19, reports the Pittsburgh Tribune-Review.
The newspaper reports employees at five other stores in New Kensington, North Huntingdon, Wexford and two Ohio stores also previously tested positive.
9:01 a.m. — AG says residents can't be evicted
Pennsylvania Attorney General Josh Shapiro is warning landlords and mortgage lenders they cannot evict tenants during the pandemic. Last month the state Supreme Court suspended all eviction proceedings in an order that applies to landlords, lenders, and property owners and managers. Tenants who believe they've been wrongly evicted can file complaints with the Attorney General's website.
8:15 a.m. — Why Is Pennsylvania Leading The Nation In Unemployment Claims?
Unemployment claims have reached historic levels nationwide as coronavirus mitigation efforts effectively shutter the national economy, and it's Pennsylvania that is outpacing the nation in the number of claims filed.
Chris O'Leary, a senior economist at the Upjohn Institute in Michigan, said one reason is the state's early steps to halt or slow the coronavirus outbreak. Pennsylvania leaders were stressing "social distancing" measures well ahead of many other states, he said, which could have slowed the economy and led more businesses to lay off workers sooner than in other states.
7:38 a.m. — Residents and staff test positive at area nursing homes.
Six residents and a staff member of the Ligonier Gardens Personal Care Home in Westmoreland have tested positive for COVID-19, according to announcement from Bethlen Communities, the non-profit that operates the facility. Two other Bethlen employees not stationed at Ligonier Gardens have also tested positive. In Beaver County, at least 26 residents of the Brighton Rehabilitation and Wellness Center have tested positive. As many as 44 residents are under quarantine, according to the Beaver County Times. Two residents of the Center died earlier this week.
Tuesday, March 31, 2020
6:17 p.m. — Allegheny County Jail has released more than 600 inmates since March 16
According to a release from the county, a total of 622 inmates have been released from the county jail as of Tuesday at 4:30 p.m., to stem the spread of the coronavirus. The ACLU has previously praised Allegheny County for the action.
6:04 p.m. — Allegheny County will use convention center as backup hospital space if necessary
‪If a surge of COVID-19 patients overwhelms local hospitals, Allegheny County plans to use the David L. Lawrence Convention Center in downtown Pittsburgh to accommodate patients. 
"The purpose of this site would be to allow hospital systems to transfer their least acute patients to open up additional hospital space for acute COVID-19 patients," said ‪Allegheny County Emergency Services Chief Matt Brown in a statement. "To be clear, this work is anticipatory at this time. There is not a current need for an alternate care site in our community. We are preparing for the worst, and hoping for the best, as is often the mantra of emergency services personnel.‪
In a Tuesday afternoon press conference, Allegheny County Health Department Director Dr. Debra Bogen said the county's medical reserve corps is also standing by: "A group of professionals from a variety of backgrounds, including practicing or retired medical and non-medical professionals, and support staff is prepared to provide additional support if needed."
‪Bogen says the best way to prepare for a surge is to prevent a surge by staying home as much as possible and practicing good hygiene, including frequent hand washing.
4:43 p.m. — Pittsburgh Public Schools will purchase 5,000 computers as it prepares to begin virtual learning April 16
About 46 percent of families that responded to a district-wide technology survey said they do not have enough devices for the children in their home. About 41 percent of the district's 23,000 students were accounted for in the returned survey, so the need could be larger.
Superintendent Anthony Hamlet said the first round of devices will cost about $1.2 million. He said some foundation support has been committed, and through a partnership, the district is purchasing another nearly 600 refurbished computers from the University of Pittsburgh.
Hamlet said paper packets will be distributed at 30 meal sites across the city because not all students will receive devices by the time virtual learning is set to begin. He said the district is working on a plan to meet the needs of all students, but high school seniors will be prioritized to make sure they graduate on time. He said the district is considering moving to a pass or fail system.
The state department of education hasn't issued new guidance for graduation requirements. Last week, the state strongly encouraged districts to begin remote instruction. This week, Governor Tom Wolf said schools would remain closed indefinitely.
Pittsburgh Public is training teachers this week to use Microsoft Teams to connect with students.
3:40 p.m. — Pennsylvania schools can now provide free meals to all children during statewide shutdown
The U.S. Department of Agriculture has issued a waiver to Pennsylvania to ease requirements for free meals community-wide. Since schools have been closed, only students who met free and reduced meal requirements had access to free meals from schools.
Now as schools are closed indefinitely, school leaders can use recent economic data including unemployment claims and business closures to qualify as an open meal site. Once approved, the school can provide free meals to anyone under 18 in the community. There are currently about 1,600 food distribution sites across the state. A map of open locations can be found here.
3:25 p.m. — Health secretary explains expansion of "stay at home" order
At a press conference on Tuesday, state Health Secretary Dr. Rachel Levine says the decision to expand the Pennsylvania's "stay at home" order to seven new counties isn't just about the raw number of cases: "We're taking into consideration the recommendations of people in the county—perhaps their county officials or state representatives, in terms of what they feel is best for their county." The "stay at home" order now applies to 33 counties until April 30th. Some, like Somerset County, have reported only one or two cases of COVID-19; others haven't recorded any.
1:57 p.m. - First responders to get more COVID-19 info before going on calls
Allegheny County first responders are now being given more information about their risk of being exposed to COVID-19 when taking emergency calls.
Allegheny County Health Department Director Debra Bogen sent a letter to county Emergency Services Chief Matt Brown on Tuesday proposing that he will be provided a daily list of addresses of known positive cases for COVID-19. The addresses would be entered into the county's 9-1-1 database with a COVID flag, so that dispatchers can relay them to first responders.
12:52 p.m. — Wolf places 7 more counties under stay-home order
Gov. Tom Wolf has added seven more counties to his order to stay at home as the new virus expands its reach and Pennsylvania reports another big jump in confirmed COVID-19 cases and deaths. Wolf is telling residents of Lebanon, Franklin, Somerset, Lawrence, Cameron, Crawford and Forest counties to stay home at least through April 30. That brings to 33 the number of counties under the governor's order.
12:04 p.m. — Statewide COVID-19 cases increase by more than 700
The statewide total of positive COVID-19 cases is now at 4,843 -- up 756 from the previous day. There have also been 14 new deaths, bringing the statewide total to 63. The state Health Department says most of those deaths have occurred in people who are 65 years old or older.
"The continued rise in cases combined with our increasing deaths from COVID-19 reflects the seriousness of this situation," Secretary of Health Dr. Rachel Levine said. "We need everyone to listen to the orders in place and to stay calm, stay home and stay safe. We know that these prolonged mitigation effects have been difficult for everyone, but it is essential that everyone follows these orders and does not go out unless they absolutely must."
So far, 37,645 patients have tested negative. The largest group of positive cases are from people aged 25-49.
11:18 a.m. — Allegheny County up to 325 cases
Allegheny County health officials released the latest information, saying there are now 325 COVID-19 cases, as well as 51 hospitalizations. The number of deaths remains at two.
Here's a chart of positive test results. The curve was shaping up ugly this time a week ago. But that trend hasn't continued, at least not to date. pic.twitter.com/lLfwqceaJ6

— Chris Potter (@CPotterPgh) March 31, 2020
10:42 a.m. — No more basketball
One of the city's rimless basketball hoops, seen at Armstrong Park on the South Side. Public works crews have been removing them to discourage group sports and large gatherings of people amid social distancing efforts.
9:27 a.m. — Stocks up for Pittsburgh companies
Stocks of Pittsburgh-based companies saw modest gains yesterday. Shares of PPG Industries were up just more than 1 percent, Dick's Sporting Goods rose nearly 2 percent, while PNC Financial Services Group posted the trading day up about three-quarters of a percent. Retail giant Macy's announced yesterday it will furlough nearly all of its 130,000 workers. The company operates five stores in the Pittsburgh area.
8:58 a.m. — Former WYEP host dies
A beloved former DJ at our sister station WYEP died yesterday from coronavirus. Stephen Chatman hosted The Soul Show from 1995 to 2009. He moved to Phoenix after leaving WYEP and remembered running into a fan of his old show back in Pittsburgh.
"And I said 'you're not my fan, you're just a friend that took all these years to meet. We lived together for 14 years.' I was in their homes. Helped them clean and helped them party."
8:05 a.m. — No pothole blitz
The Pittsburgh Tribune-Review reports the city's typical spring pothole patching schedule is on hold in light of coronavirus precations.
"If there is a giant pothole causing major damage it will be filled, but (we're) not sending crews to do small patches citywide," Mayoral Spokesperson Tim McNulty told the newspaper.
7:33 a.m. — PA unemployment hits new record
The number of unemployment claims in Pennsylvania hit another record high last week. Nearly 405,000 people applied, surpassing the previous week's record of 379,000, according to data from the Department of Labor and Industry. Nearly 835,000 people have filed claims since March 15, the highest number in any state. Yesterday, Gov. Tom Wolf extended the closure of physical locations of non-life-sustaining businesses indefinitely, as the number or COVID-19 cases continues to climb.
Monday, March 30, 2020
5:49 p.m. — Health Department continues to monitor air quality
The Allegheny County Health Department says it will continue enforcement of federal air quality standards despite an EPA policy relaxing environmental rules because of COVID-19.
The EPA had announced a temporary suspension of some fines and enforcement for some violations.
Under the policy companies can apply for a waiver for some environmental rules by demonstrating their inability to comply is caused by COVID-19. But the policy, which has been criticized by environmentalists as a "license to pollute," only affects facilities the EPA regulates directly.
ACHD, which enforces federal air quality rules within the county, will continue its normal oversite. The department said that includes processing air quality complaints and monitoring air pollution.
5:35 p.m. — Food bank discourages food drives
The Greater Pittsburgh Community Food Bank is discouraging traditional food drives until further notice. Each food drive donation requires staff to unpack and sort the delivery, but the food bank has temporarily restricted volunteers due to the coronavirus pandemic.
With fewer hands on deck, the food bank is encouraging monetary donations instead, which allows them to purchase in bulk and reduce physical contact between staff.

WESA receives funding from the Greater Pittsburgh Community Food Bank.

4:47 p.m. — All schools will remain closed indefinitely
Gov. Tom Wolf announced Monday that all schools will remain closed indefinitely as Pennsylvania reported nearly 700 new cases of the coronavirus.
"We're going to keep our schools and businesses closed as long as we need to keep them closed to keep Pennsylvania safe. Right now, it isn't safe," he said.
4:40 p.m. — Scientific modeling tries to figure out how many people in Pennsylvania will be infected with coronavirus
More than three weeks after Pennsylvania reported its first coronavirus cases, no data has been released on how many coronavirus cases the commonwealth expects to see -- despite claims from the state Health Department that it's working on determining an estimate.
University of Pennsylvania Chief Data Scientist Mike Draugelis said data is needed to help hospitals prepare for a surge in Intensive care unit patients.
"I think what our models have shown right now, is with our uncertainty, we have to gather better data now. And that's why you're not hearing from any policy maker what that time frame is," Draugelis said.
Draugelis says he's working to feed data into a model that helps hospitals prepare -- and leaders make decisions.
California-based researcher Doctor Leo Nissola says health-care companies face the difficult task of throwing significant resources at treating people with the coronavirus while also continuing to care for patients with other illnesses.
3:27 p.m. — Stay at home order extended to four more counties
Gov. Tom Wolf is asking residents of Carbon, Cumberland, Dauphin and Schuykill counties to stay inside except for essential travel. Twenty-six Pennsylvania counties are now under the order, including Allegheny.
1:34 p.m. — City closes more amenities to encourage social distancing
The city of Pittsburgh will close basketball courts and the overlooks in an effort to further enforce social distancing, officials said.
Public Works crews are removing the basket ball hoop rims today and will close off the Mt. Washington overlooks.
City parks, however, are still open. Public safety officials will also be monitoring soccer fields and other areas to make sure people are not congregating or participating in group sports.
1:09 p.m. — ACLU urges PA Supreme Court to order release of inmates
The American Civil Liberties Union of Pennsylvania urged the state Supreme Court today to order the release of inmates from county jails. In an emergency petition, the civil liberties group said the facilities are poised to become a breeding ground for COVID-19. And it asked the justices to direct local courts to free certain inmates, including those charged with low-level crimes or at high risk of severe illness or death. Inmates and staff at some Pennsylvania jails have already tested positive for the virus.
12:54 p.m. — Street sweeping postponed
No need to run out and move your car first thing in the morning, the city announced it has postponed street sweeping, which was scheduled to start April 1. The city did not say when street sweeping will start, but said that some cleaning and catch basin cleaning will still take place to help with weather-related events.
12:24 p.m. — Pennsylvania COVID-19 cases pass 4,000
The state Department of Health confirmed there are now 4,087 positive cases in 59 counties -- up 693 from the day before.
"The continued rise in cases combined with our increasing deaths from COVID-19 reflects the seriousness of this situation," Secretary of Health Dr. Rachel Levine said. "We need everyone to listen to the orders in place and to stay calm, stay home and stay safe. We know that these prolonged mitigation effects have been difficult for everyone, but it is essential that everyone follows these orders and does not go out unless they absolutely must."
So far, 33,777 people have tested negative.
11:58 a.m. — Layoffs continue for Pittsburgh journalists
Pittsburgh Magazine staff members say the publication's parent company is laying off most of its staff starting Tuesday.
Since March 12, the Pittsburgh Tribune-Review has laid off 35 people and cut additional reporter salaries, and the Pittsburgh Catholic, which has been publishing for 175 years, has suspended operations. Several other local media outlets have since opted into membership models, including the Pittsburgh City Paper, Pittsburgh Current, Jewish Chronicle, The Incline and NEXTPittsburgh.
Andrew Conte, founding director of the Center for Media Innovation at Point Park University, says it's a frightening time for journalism.
"A lot of the news outlets are seeing more clicks than ever before," he says, "but at the same time revenue has just evaporated."
11:36 a.m. — Latest: 290 cases in Allegheny County
Health officials say there are now 290 confirmed COVID-19 cases in Allegheny County. The number of hospitalizations is 38 and the number of deaths remains at two.
11:15 a.m. — Cultural Trust announces Broadway season
While Pittsburgh's performing-arts venues are likely to remain shuttered for weeks to come, the show will go on — eventually, at least according to the Pittsburgh Cultural Trust.
The Trust, the region's biggest presenter of live theater, recently canceled all its programming into early May. But today, it announced its 2020-21 slate of touring Broadway shows. The PNC Broadway in Pittsburgh Series is scheduled to begin Aug. 25 with the Pittsburgh-premiere run of "Ain't Too Proud to Beg — The Life and Times of the Temptations."
The eight-show season also includes the local premiere of the Tony- and Grammy-winning "Hadestown" (Oct. 27-Nov. 1), and the return of "Hamilton" (Jan. 5-Feb. 7). For the complete season, see here.
10:25 a.m. — Map lays out COVID-19 cases in Allegheny County
The Allegheny County Health Department now has a map where you can see the number of COVID-19 cases by municipality.
8:52 a.m. — Poconos a coronavirus hotbed
A major hospital system has declared the Pocono Mountains a coronavirus hotbed.
The determination from St. Luke's University Health Network comes as northeastern Pennsylvania officials grow increasingly vocal in expressing concerns about a surge in the region, given its proximity to New York and New Jersey, Where the virus has already overwhelmed health systems.
"We can discuss with the federal government the possibility of setting up other federally subsidized mass testing sites, but the decision will be theirs," said secretary of health Rachel Levine. "But we certainly will be working with the hospitals and health systems in the Pocono area, about having testing sites and being able to handle the increased number of cases."
Meanwhile, some public officials want the state to release county-level testing data.
They believe the small number of positive test results in rural regions has more to do with lack of testing, than the relatively sparse population.
7:41 a.m. — Can't get it at the grocery store? Grow it in your backyard
With shelves emptying faster than usual at local stores, many people are taking the opportunity to create their own gardens and urban agricultural spaces. WHYY's Alan Yu reports local agricultural organizations say they're being "flooded" with orders for vegetable seeds.
6:50 a.m. — COVID-19 cases still on the rise
The number of new COVID-19 cases in Pennsylvania is still on the rise and four more people have died. The state's health secretary, Dr. Rachel Levine, said during a video news conference on Sunday that confirmed cases jumped by more than 640 to nearly 3,400 over the past day. There have now been 38 deaths in Pennsylvania. Most of the people who have died or required hospitalization in Pennsylvania have been 65 or older. Pennsylvania's governor says the state's COVID-19 outbreak response would be helped by a federal major disaster declaration. Gov. Tom Wolf made a formal request for the declaration on Sunday, saying it would provide additional help to governments responding to the crisis.
The Associated Press contributed to this report.