Pride In Pittsburgh Goes Grassroots 50 Years After Stonewall
On today's program: Pride month celebrations kick off in Pittsburgh this weekend; the Mattress Factory art museum tries to find its footing after sexual misconduct allegations rocked its staff last year; PA motorists are nearly three times as likely to die on rural roads than the rest of the nation; a look at what happened in the primary elections and other political news; and the Three Rivers Arts Festival begins Downtown tonight.
When and where to celebrate Pride in Pittsburgh
(00:00 – 12:26)
Fifty years ago police raided the Stonewall Inn, a bar frequented by LGBTQ patrons in New York City. Those inside, led by transgender women of color tired of harassment and oppression, fought back. The next five decades would bring significant victories for the LGBTQ community, including the election of openly gay lawmakers, the repeal of the military's "Don't Ask, Don't Tell" policy and the legalization of same-sex marriage. But the community isn't done fighting.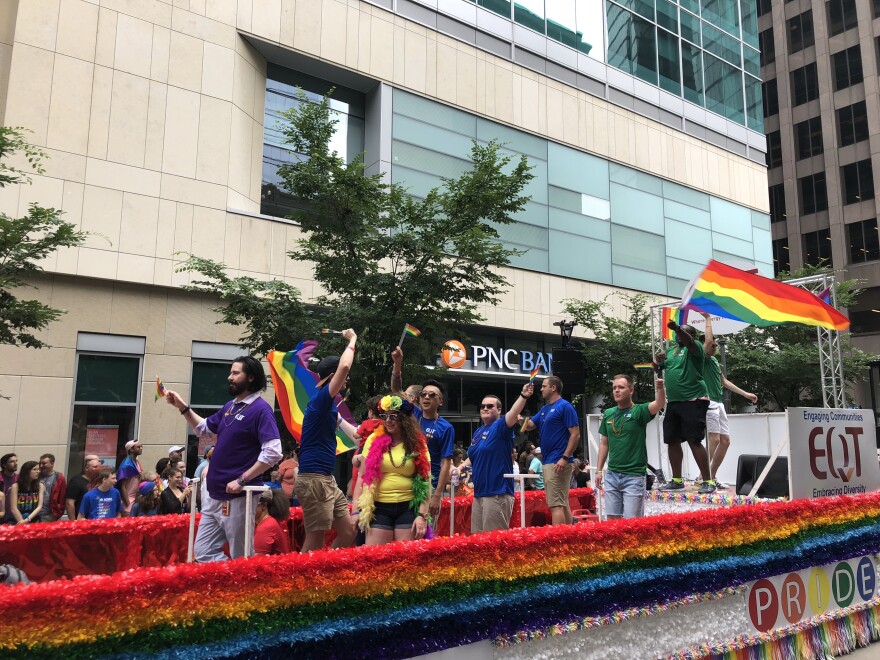 Reporters Katie Blackley and Kristina Marusic, co-presidents of the Association of LGBTQ Journalists, Pittsburgh chapter, say here locally the community is shifting away from mass corporate events and back toward more grassroots celebrations.
People's Pride organized by Sisters PGH, and Pittsburgh Pride organized by the Delta Foundation, are each hosting multiple events throughout the weekend.
Critics remain as the Mattress Factory tries to move past sexual misconduct allegations
(13:05 – 17:50)
More than a year after it was first rocked by allegations of sexual misconduct, Mattress Factory leadership is trying to move on. 90.5 WESA's Bill O'Driscoll reports that last month, the North Side art museum held its first opening event under interim executive director Hayley Haldeman, who started work in February.
Haldeman says that the Mattress Factory recently hired its first full-time human resources manager – part of a retooling effort after four current or former employees filed federal labor charges against the museum last year. The museum and employees settled that case in December.
The Mattress Factory hosts its biggest annual fundraiser, the Urban Garden Party, later this month.
A makeover for PA's rural roads won't happen any time soon
(17:51 – 26:40)
A new report from a national transportation group confirms Pennsylvania's rural roads and bridges are among the worst in the nation. So why is PennDOT withdrawing $200 million set aside to improve them? Pittsburgh Post-Gazette's reporter Ed Blazina weighs in.
The latest in Western PA politics
(26:41 – 31:49)
Results from the primary elections have been certified, the head of the Allegheny County Republican party has stepped down, there's a new report about allegations of sexual harrassment by state Sen. Daylin Leach, and the search is on for a new Allegheny County Council member. WESA government and accountability editor Chris Potter explores the latest in local political news.
The past and present of Pittsburgh's Three Rivers Arts Festival
(32:09 – 38:35)
The 60th annual Three Rivers Arts Festival begins tonight and runs through June 16. WESA's Bill O'Driscoll explores its history, current artists, performances and more.
90.5 WESA's Hannah Gaskill, Julia Zenkevich and Julia Maruca contributed to this program.
The Confluence, where the news comes together, is 90.5 WESA's daily news program. Tune in weekdays at 9 a.m. to hear newsmakers and innovators take an in-depth look at stories important to the Pittsburgh region. Find more episodes of The Confluence here or wherever you get your podcasts.