What's next for the redrawing of state legislative districts as public comment comes to an end?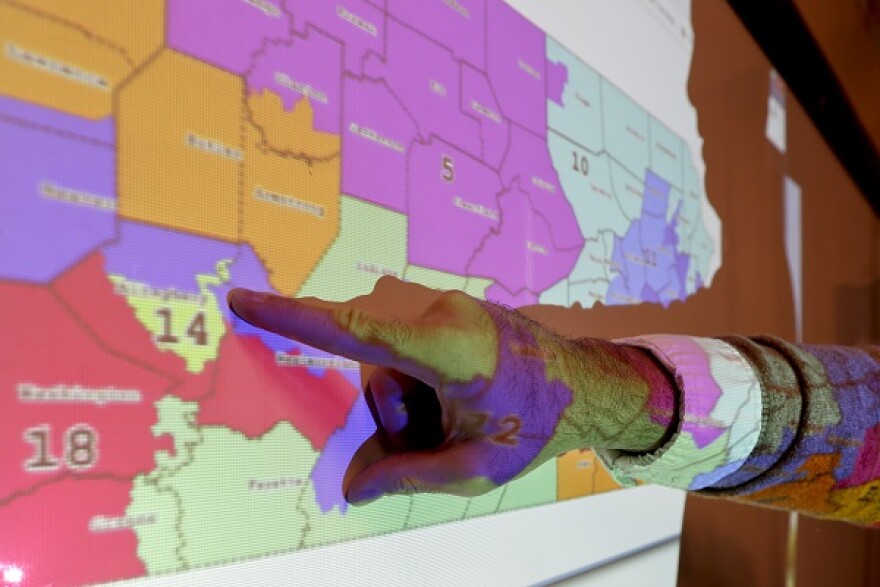 On today's episode of The Confluence: Public comment on maps to redraw state legislative districts ended last night, and chair of the Legislative Reapportionment Commission Mark Nordenberg explains the steps taken to ensure transparency in the process; and the Community College of Allegheny County is welcoming veteran students who qualify for the Veteran Rapid Retraining Assistance Program, which is meant to support those unemployed due to COVID-19.
The State Legislative Reapportionment Commission now has 30 days to come up with final state legislative district maps
(0:00 - 13:50)
The Legislative Reapportionment Commission held a second series of public hearings over the weekend for maps of new state House and Senate districts using new Census data.
In mid-December the panel voted unanimously in favor of the preliminary Senate district map. The preliminary House map was approved with committee chair Mark Nordenberg breaking the tie, voting along with two Democratic leaders.
Republican representatives accused Nordenberg of not being non-partisan, but Nordenberg disputes the claim, saying the process has been more transparent than ever.
"There have been occasions where I have voted in a three-to-two vote along with the two Republicans against two Democrats," says Nordenberg. "It's unfortunate that politics has taken this turn, typically when people turn their attention to others rather than commenting on the plan itself, it's a reflection that they have little of merit to say about the plan."
Nordenberg says transparency has been championed throughout the way, with many public hearings and discussions.
House Majority Leader Kerry Benninghoff, a Republican representing parts of Centre and Mifflin counties, has argued the map is unfair because it pits more Republican incumbents against each other in re-election, six districts in total, than Democrats, just one district.
Nordenberg explains this is to be expected.
"It's important to know in this case that the Republicans not only are in the majority, so they have a larger group of representatives potentially to be paired, but they also tend to serve in districts that have either lost population or have had very slow growth," says Nordenberg. "Since the purpose of reapportionment is to shift district lines to make certain that the districts are as nearly even as possible in population, I think that naturally, there would be more Republicans who would be paired."
The 30-day public comment period on the maps ended last night. Nordenberg says the committee can now develop its final plan, and has 30 days to accomplish that task.
"To this point, anything that has been a commission deadline, we have worked to shorten [it]. … It is my hope that we'll be able to approve a final plan sooner than the 30-day deadline that the constitution imposes, but that remains to be seen."
Retraining program offered at the Community College of Allegheny County will help veterans unemployed due to COVID-19
(13:59 - 22:30)
Veterans who lost their jobs during the pandemic could now be eligible for support through the Veteran Rapid Retraining Assistance Program at the Community College of Allegheny County.
Daniel Duffy is the executive director of CCAC's Military and Veteran Services.
"The program is designed to cover 12 months of educational benefits for our students, and a housing allowance," explains Duffy.
Twelve months of benefits work out to three academic semesters, and Duffy says the hope is for students to focus on building skills, rather than worrying about taking care of themselves or families.
"COVID has had an impact across the board. I think when we look at individual veterans specifically, depending on where they're at in their careers, there has been downsizing, there's been a loss of employment in some cases," says Duffy.
He adds that the program fits into CCAC's goals for helping veterans reach their personal goals, by gaining skills for quick employment, and perhaps eventually helping them transfer to a university later on.
Twenty certificate and two diploma programs have been approved for funding through the program, including cyber security, surgical technology, and paralegal certificates.
Duffy says the highest demand employment opportunities fall under information technologies and the service sector, like barbering or heating and air conditioning technology.
Veterans who qualify for the retraining program have to have lost their job due to the COVID-19 pandemic and cannot be enrolled in a federal or state jobs program, and do not qualify for existing educational benefits programs for veterans. They can apply now on the Veterans Affairs website.
The Confluence, where the news comes together, is 90.5 WESA's daily news program. Tune in Monday to Thursday at 9 a.m. and 7:30 p.m. to hear newsmakers and innovators take an in-depth look at stories important to the Pittsburgh region. Find more episodes of The Confluence here or wherever you get your podcasts.