Some Butler, Washington County conservatives want to stop the use of electronic voting machines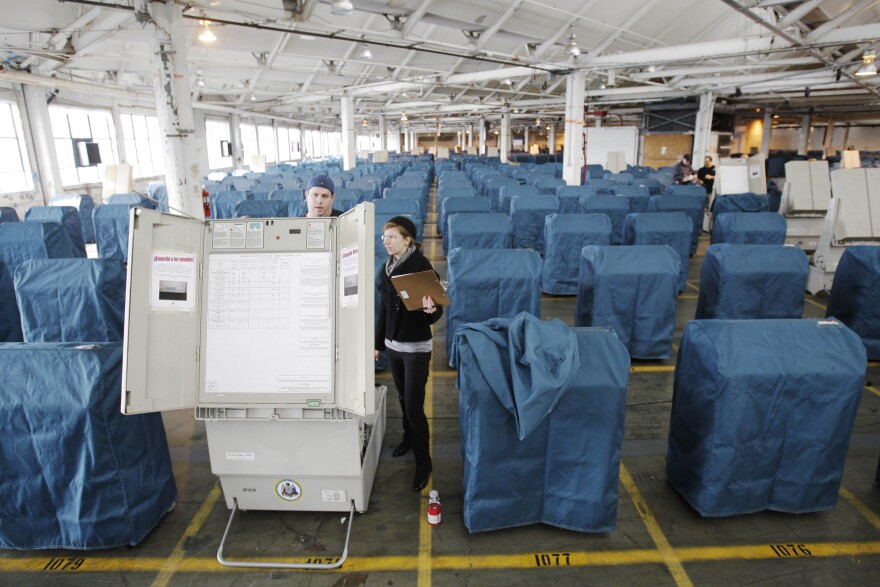 On today's episode of The Confluence:
Conservative activists push for removal of electronic voting machines in some PA counties
(0:00 - 6:13)
Across the state, conservative activists have been trying to challenge the use of electronic voting machines at the request of former President Donald Trump and his allies. These activists have been trying to get questions on the ballot in 16 counties to stop the use of these machines, despite these machines being certified as safe.
"The most important thing to note is that these machines go through these logic and accuracy testing where they randomly pick ballots and they run them through ahead of time so that we can see for sure that the ballots are coming off correctly based on what a voter marks," says Gillian McGoldrick, The Post Gazette's Harrisburg bureau chief.
Even if the desire to eliminate electronic voting machines becomes a ballot referendum, there are questions about the constraints of federal law. The 2002 Help America Vote Act states that counties are not allowed to ban the use of electronic voting machines.
Healthy Home Lab will test solutions to prevent falls and other safety concerns for aging adults in a Pittsburgh home
(6:17 - 14:23)
At the height of the pandemic, most people spent all of their time at home. For those individuals that are aging, staying at home has an added importance. Healthy Home Lab through the University of Pittsburgh is looking to use and develop technology to make it safer and more accessible to live at home.
Everette James, director of the Health Policy Institute at the University of Pittsburgh, which is operating the lab, says this work means considering the structural integrity of homes, and whether they're "age ready."
"Most of it was built before 1930. I think all of your listeners are either living in or are familiar with these houses that have very steep stairs, difficult to get in and out of," says James.
The lab purchased a 105-year-old house in Oakland to test and develop products and solutions for making homes safer in a real-world setting.
"How can we equip homes with technology that can prevent falls, that can make sure that the lighting is correct in the house so people can see and navigate the house? Bathrooms are a big issue, so we've got a lot going on in terms of technology development," says James.
Pennsylvania Western University professors are establishing learning communities to improve student's scientific literacy
(14:26 - 22:30)
The National Science Foundation awarded $1.2 million to Pennsylvania Western University to implement learning communities among faculty on campus. With the grant, faculty will explore best practices to help students become more literate in sciences and determine how community affects student learning.
Peter Cormas, an associate professor in the Department of Education, and Kyle Frederick, a professor in the Department of Geosciences, are both participating in the grant at PennWest California.
"A learning community gives someone like me an opportunity to learn pedagogical skills from people that have been doing it longer than me and maybe have some different expertise in teaching," says Frederick.
The first year the grant is implemented, a cohort of science faculty will be placed into a learning community and meet five times per semester to share concerns and solutions. Over the second third year, new cohorts of faculty will be recruited and implementing ideas piloted by the first year cohort.
The Confluence, where the news comes together, is 90.5 WESA's daily news program. Tune in Monday to Thursday at 9 a.m. and 7:30 p.m. to hear newsmakers and innovators take an in-depth look at stories important to the Pittsburgh region. Find more episodes of The Confluence here or wherever you get your podcasts.