Shuttered factories, abandoned warehouses and boarded up store fronts are being re-purposed as galleries and performance spaces by people with passion and vision. Art From the Ground Up was created to provide a showcase for some of the most innovative members of Pittsburgh's emerging arts community.00000176-e6f7-dce8-adff-f6f7706f0000Art From the Ground Up is hosted by Bob Studebaker and is a monthly series highlighting small grass roots arts organizations and individual artists that take non-traditional approaches to the creation, presentation, and even the definition of art.Know an organization Bob should check out? Email him with your suggestions.
Thanks To 'Community-Minded' People, Afro American Music Institute Thrives After 30 Years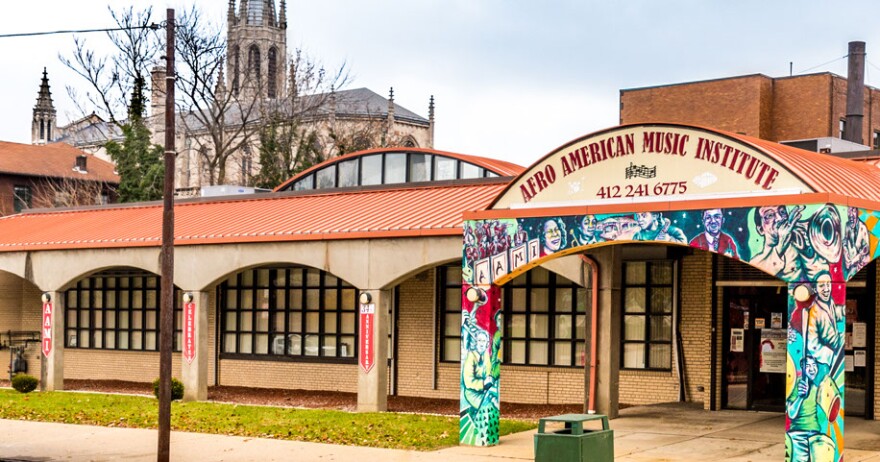 On a recent Saturday afternoon, Howard Alexander instructed a group of young musicians at the Afro American Music Institute in Homewood.
As a Xylophone gently clinked in the background, one of the center's founders, James Johnson, touted some of the accomplishments of former students.
"The young lady on piano just got a scholarship to go to Duquesne," he said. "We've sent them to Berkeley, the University of Pittsburgh, and they do well."
In 1982, Johnson, and his wife Pamela, started a small educational program in the basement of a church in East Liberty. They modeled on a place where he had previously worked as an instructor – a small, private music school in Shreveport, La.
"That was strictly devoted to the total curriculum in Afro American Music," Johnson said.
Some of that music includes jazz, blues, gospels, spirituals, Broadway and Caribbean, he said.
The music institute also collaborates with other organizations, such as the Pittsburgh Jazz Orchestra, which sponsors scholarships for students.
But Johnson said he is most proud of his institute's national touring boys choir. The choir first came together 25 years ago for a Father's Day concert, now they've won national awards, traveled the country and performed in Canada.
"A lot of them haven't been outside of Pittsburgh. And they get a chance to go and see other parts of the world and it comes back and enriches them," Johnson said. "I've even had some of the young men tell me that if they were not in the choir, they know they'd be in gangs."
Despite being a small, independent grassroots organization, Johnson said getting off the ground wasn't a struggle because the community welcomed it with open arms.
"Actually, it wasn't that tough because the people that I dealt with were community-minded people," he said. "I knew someday we'd grow to be the institution that we are now."
Muhammad Nasir is a student at the institute and said it's been a part of his entire life.
"I was in my mother's womb when I came to the institute, back in 1989," Nassir said. "And everybody here is really a part of my family."