Contact 90.5 WESA with a story idea or news tip: news@wesa.fm
Debate Puts Both Candidates In North Hills State Senate Race On The Defensive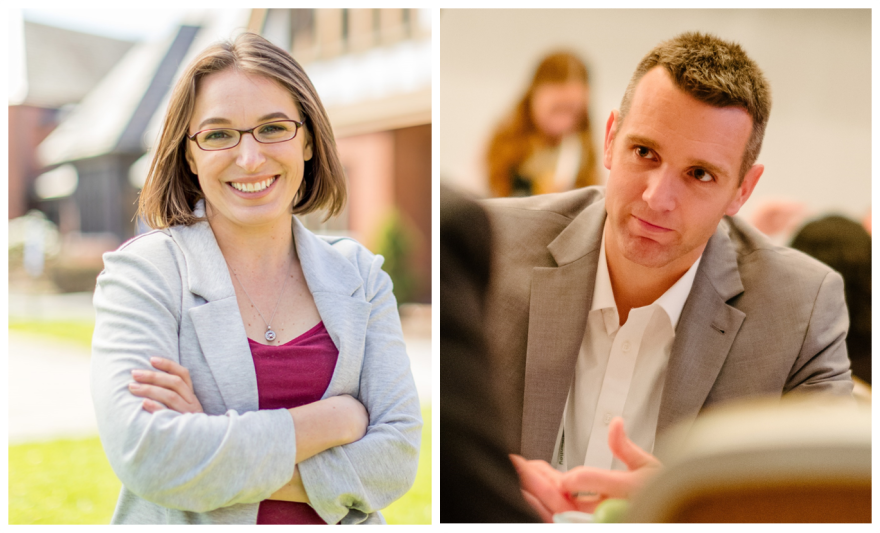 In what's emerged as one of the region's most dramatic races, state Senate candidates Jeremy Shaffer (R - Ross) and Lindsey Williams (D - West View) met Thursday evening for their lone debate.
While the contest in Pennsylvania's 38th Senate district has featured significant drama – from a lawsuit to "dark money" to charges of socialism – the candidates focused on policy at the forum hosted by the League of Women Voters. They differed on a number of issues, including the minimum wage, healthcare, and education, but there were some areas of common ground.
During the forum, held at the North Campus of the Community College of Allegheny County, Williams and Shaffer both expressed support for universal background checks for gun sales. They also called on government to take more steps to protect the environment.
But one of the most animated moments of the evening came when Shaffer proposed extending hate crimes legislation to cover sexual orientation. State law currently applies to bias based on race, color, religion, and national origin.
Shaffer, a software company executive and Ross Township commissioner, added that LGBTQ people should be protected from discrimination.
"People should not lose their housing or their job based on LGBTQ status or any status they have," he said.
Williams, who works for the Pittsburgh Public Schools teachers' union, pointed out that Shaffer missed a September vote on a Ross Township ordinance that would have banned discrimination against LGBTQ people.
"I'm a little confused," Williams said of Shaffer's comment on the issue. She noted that he previously had refused to disclose how he would have voted on the ordinance.
In turn the Republican criticized Williams for benefitting from so-called "dark money" that has funded negative mailers against Shaffer. 90.5 WESA reported Wednesday that a Philadelphia-based political committee, the Pennsylvania Fund for Change, financed the mailers.
The Fund received over half of its money from a 501(c)(4) "social welfare organization," called PA Alliance Action. 501(c)(4) groups are a popular vehicle for "dark money" because they aren't required to disclose their donors and can raise unlimited sums of money.
Williams said "Pennsylvania desperately needs campaign finance reform," though she stopped short of denouncing the Fund for Change and PA Alliance Action.
Other differences were expressed with less rancor. On the minimum wage, Williams reiterated her support for raising the rate to $15 an hour.
"Let's be honest – Amazon just raised their minimum wage to $15 an hour; they didn't cut any jobs," she said.
Higher wages, the Democrat added, drive consumer spending and boost local economies. She suggested the state could "phase in" such an increase for small businesses.
Shaffer said $10 an hour would be a more reasonable rate.
"Company owners want to pay their employees well, by and large, and they want to pay their [employees] well," said Shaffer, who co-founded and sold a bridge-inspection and maintenance firm earlier in his career.
"The way we give more money to our employees is to grow our economy," he added.
The candidates also differed on abortion, with Williams saying she supports abortion rights and Shaffer identifying as pro-life. Shaffer, however, said he thinks abortion should be permitted to protect the life of the mother and in cases of rape or incest.
Williams and Shaffer favored different approaches to making health care more affordable. The Democrat, who supports single-payer health care, said Pennsylvania should explore options to expand access to Medicaid. The system could be strengthened, she said, if more healthy people could pay into it.
The Republican, meanwhile, favors a "market-based solution" to improving health care. With more providers, such as MedExpress and other urgent care facilities, Shaffer said, the health care market would be more competitive.
He said the dominance of the region's two largest providers, UPMC and Highmark, limits competition. He faulted the providers for restricting which doctors and hospitals patients may access.
"Crony capitalism and socialism are two sides of the same bad coin," Shaffer quipped.
That comment evoked jeers from the audience: Shaffer has drawn criticism for repeatedly calling the progressive Williams a "socialist."
In one of the more contentious exchanges, Williams said she supports applying what's known as the "fair funding formula" to all basic education funding at the state level. Such a proposal would reallocate the funding based on a formula the state adopted in 2015. Currently, the formula only applies to additional funding the state has provided in recent years.
While expanding the formula's use would benefit a majority of students statewide, Williams acknowledged that it would have to be implemented carefully or else it could hurt many local schools, either because they are wealthy or suffer from shrinking enrollments.
"I would like to gradually increase [the use of the fair funding formula] in a way that's responsible because, if we did that tomorrow, Pittsburgh Public Schools would lose $75 million," she said.
"It's stunning to me that a potential representative from this district would support a funding formula that, as she just mentioned, would defund one of our largest school districts by $75 million," Shaffer shot back.
Williams added, however, that the state could prevent this outcome by increasing education spending overall.
State Senate district 38 covers many North Hills suburbs as well as a handful of neighborhoods in Pittsburgh's East End.