Shuttered factories, abandoned warehouses and boarded up store fronts are being re-purposed as galleries and performance spaces by people with passion and vision. Art From the Ground Up was created to provide a showcase for some of the most innovative members of Pittsburgh's emerging arts community.00000176-e6f7-dce8-adff-f6f7706f0000Art From the Ground Up is hosted by Bob Studebaker and is a monthly series highlighting small grass roots arts organizations and individual artists that take non-traditional approaches to the creation, presentation, and even the definition of art.Know an organization Bob should check out? Email him with your suggestions.
What's Old Is New: Traditional Sign Painting Is In Demand Again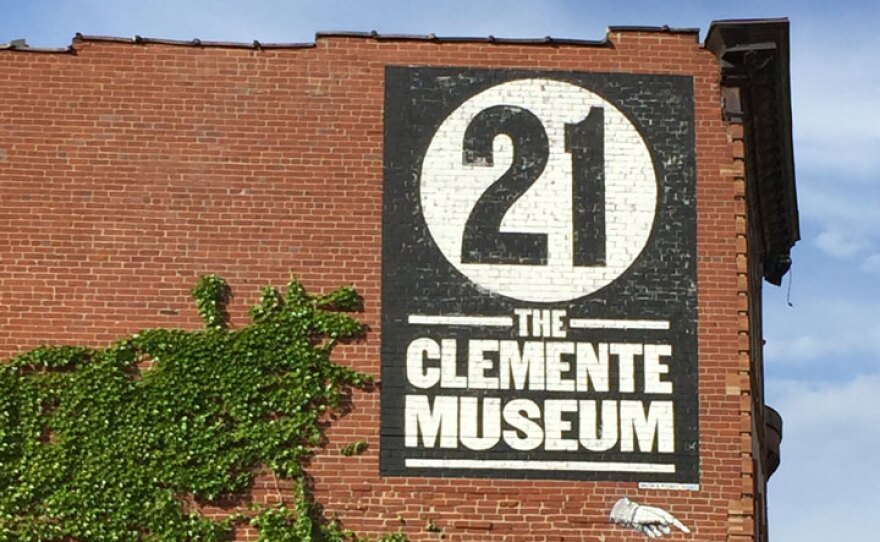 Shaknaitis' hand painted sign for the Roberto Clemente Museum.
Christian Shaknaitis
Shaknaitis paints a sign for The Abbey on Butler Street.
Christian Shaknaitis
Shaknaitis works on signage for Una Biologicals.
Bob Studebaker
Shaknaitis with his supplies at Una Biologicals.
Bob Studebaker
Brush and Pounce is the name of a modern business steeped in the aesthetics of another century. One local artist is embracing traditional methods to achieve the "vintage look" that has gained popularity with the artisanal movement of the last few years.
Standing in the 4300 block of Butler Street in Lawrenceville, Christian Shaknaitis points out his latest creation – a sign for a small boutique.
"There are 1-inch-thick cedar planks joined together, and then stained and then hand painted the logo on there. Sometimes they use a spar varnish depending on the effect that they want in each look. Then I let it weather naturally," he explains.
Shaknaitis is a sign painter who often creates signs with script reminiscent of another century: Think of a baseball team logo from the 1890s.
"I'd say 90 percent or more of the window jobs that I do are all done reverse on glass - it's done on the inside of the glass. So I'm working backwards. It looks a lot cleaner from the outside, it's a lot more durable protective in case someone messes with it or just wear and tear from the elements."
He loves what he does. The Connecticut native says he's been working at his craft for about 10 years, and feels a true connection to the past.
"Everything was hand painted and handcrafted. If you're looking at any old photos of the cities and stuff signs were everywhere on everything," said Shaknaitis.
But that throw-back approach is now resurgent, and Shaknaitis says he sees it across industries.
"I definitely think that there's a lot with handcrafting things whether it's jewelry or art or clothing or anything like that," he said. "It's like a revival of something from a past period when people really put pride into the work that they did."
That's exactly what a lot of customers are looking for. He's done work for dozens of businesses along Butler Street as well as other neighborhoods, including Square Café, Atlas Bottle Works, Churchview Farm, and Café D'Amore.
On this day, he's working at Una Biologicals. Jessica Graves, one of the owners, says hiring him was a natural choice.
"We are a handmade company based in Pittsburgh. So it made sense to partner with another handmade company to help create our storefront," Graves said. "We use a lot of traditional methods here in how we make and produce things and so using a traditional artist also went with what we were doing."
Shaknaitis business is called Brush and Pounce. Brush, for the instrument, and pounce being the process used generations ago to place large ads on the sides of buildings. The art is put into a pattern with perforated holes and then transferred to the building by hitting that "pounce" pattern with a "pounce" pad - a sack of chalk dust.
What he does is hand crafted with little or no digital involvement. Even when his clients choose a modern look, he achieves it using traditional methods.