Contact 90.5 WESA with a story idea or news tip: news@wesa.fm
Pittsburgh Pride Events Reflect 50 Years Of Fighting But More Work Is To Be Done
Fifty years ago police raided the Stonewall Inn, a bar frequented by LGBTQ clientele in New York City. Those inside, led by transgender women of color tired of harassment and oppression, fought back.
The next five decades would bring significant victories for the LGBTQ community, including the election of openly gay lawmakers, the repeal of the military's "Don't Ask, Don't Tell" policy, and the legalization of same-sex marriage.
But the community isn't done fighting. Ciora Thomas, founder and executive director of the transgender and gender non-conforming shelter and advocacy group SisTers PGH, said there are plenty of problems still plaguing transgender people, especially women of color. She hopes to put the issue of violence against these individuals at the forefront of the third annual People's Pride being held this weekend in Pittsburgh.
"It does not get talked about," Thomas said. "It hasn't been in the spotlight like it needs to be."
At least 26 transgender people were killed in the U.S. in 2018, according to the LGBTQ advocacy group Human Rights Campaign. That number is likely higher, though, due to misgendering in police reports and high rates of transgender people without documentation that matches their gender identity.
Death isn't an easy topic to discuss during Pride month, Thomas acknowledged, but just like the events of Stonewall, she says change won't happen without action. The recognition that there is still a lot of work to be done will be central at People's Pride.
"We want to make sure that our allies, our friends and our supporters are aware of that," Thomas said, "and that's not getting erased through the corporations, through corporate pride."
The "corporate Pride" Thomas mentioned is a dig at the annual Pittsburgh Pride celebration organized and run by the Delta Foundation of Pittsburgh. The non-profit has built Pride's reputation in the 11 years it's managed the event and it's become the largest such celebration in Pennsylvania -- 185,000 people came to the city to attend Pride events last year.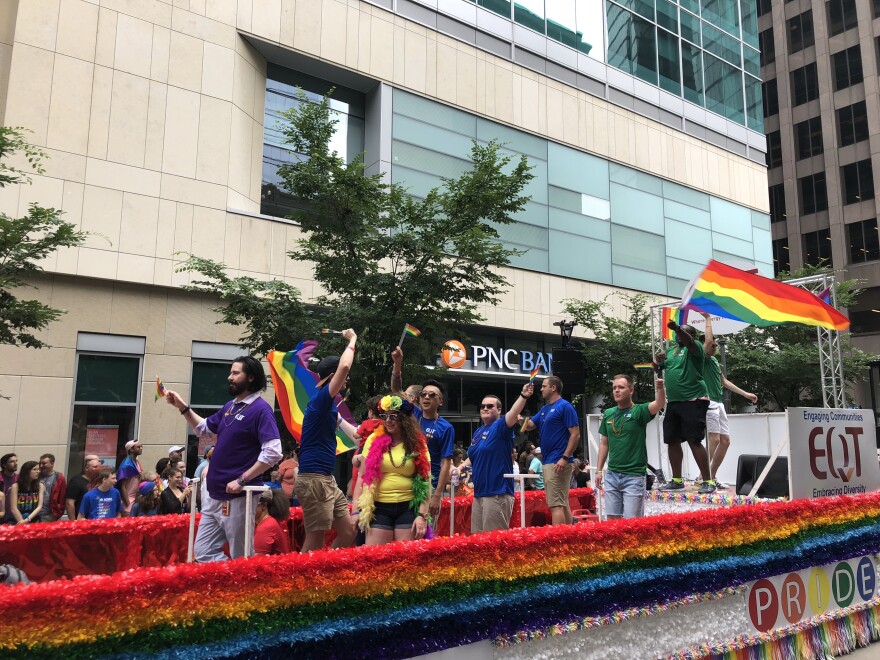 The Delta Foundation has been criticized for curating its annual Pride week celebrations to a narrow segment of affluent gay people, leaving out some of the transgender and non-binary people of color who historically stood up for equality. The group has also been criticized for not engaging with the community year-round, and including corporate sponsors whose practices don't support LGBTQ rights.
Delta Foundation Director of Marketing and Development Christine Bryan said the organization has taken steps to be more inclusive and tries to curate Pride each year to be as welcoming as possible for as many people as possible.
"We try to be as broad of a reach as we can," Bryan said. "There's lot of other events that happen and we recognize we can't be all things to everybody.
One of the latest issues stems from the change of location of Pride in the Streets. Long situated on Liberty Avenue, Bryan said the City of Pittsburgh asked Delta to find a new spot, citing traffic and security concerns. The celebration this year will be on the Andy Warhol bridge (also known as the Seventh Street bridge) and on Ft. Duquesne Boulevard between Seventh and Ninth streets.
"We think Andy Warhol would think it's kinda cool that Pittsburgh Pride's on his bridge," Bryan said, referring to the Northside-native artist, who was gay.
The City of Pittsburgh Public Safety said in an email statement that the new location "matches Public Safety's goal of providing more effective security," adding that "a bridge is easier to secure as it has only two primary entries and exits."
But some LGBTQ people are worried that fewer exits could make them feel less safe. Plus, they say, bridge events have the reputation of being crowded. Others see the removal from Liberty Avenue as a way to hush the community during what many think should be an inherently disruptive show of resistance.
People's Pride march begins at 11 a.m. on Sunday, June 9 at Freedom Corner in the Hill District. Pittsburgh Pride March hosted by the Delta Foundation will begin at 12:30 p.m. on Sunday, June 9 at the Boulevard of the Allies.
Bryan said the location change was in no way an attempt to muffle the community. "It's no different than any other event that happens downtown," she said. Pride events in the past have shut down parts of Liberty Avenue for days. Typically events of this duration are moved to Point State Park, Bryan said, but the annual celebration almost always coincides with the Three Rivers Arts Festival, situated in that spot.
People's Pride and Pittsburgh Pride organized by Delta will host multiple events throughout the weekend. Throughout the month, members of the LGBTQ community and their allies can check out everything from Pride yoga, to drag shows, to bicycle rides. The multiple celebrations are an opportunity for the city to demonstrate its inclusivity, while still remembering the grassroots activism that led to Pride's existence in the first place.