Contact 90.5 WESA with a story idea or news tip: news@wesa.fm
North Hills State Senate Race Features Campaign Drama, Sharp Policy Differences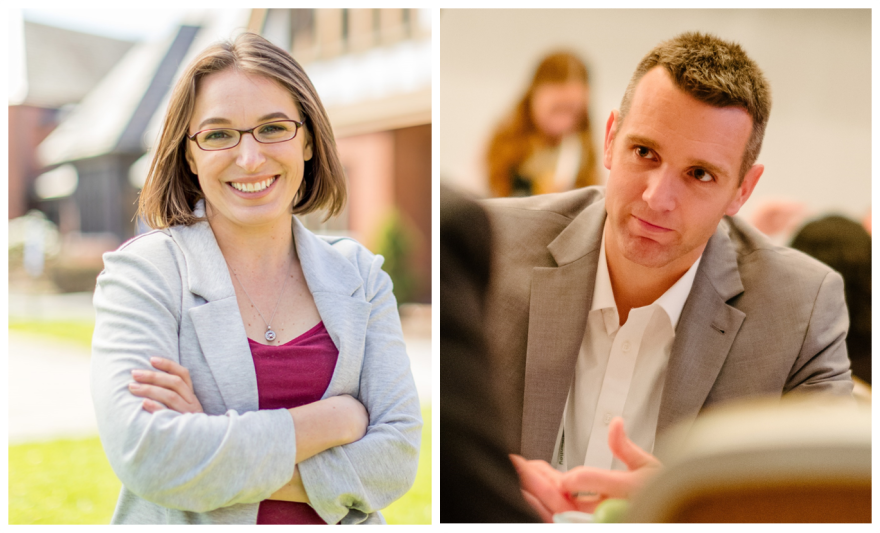 For decades, the Republican Party has had a firm grip on the North Hills suburbs that make up much of Pennsylvania's 38th state Senate district. But Democrat Lindsey Williams, a staffer for the Pittsburgh Public Schools teachers' unions, hopes to change that.
She's enlisted an army of volunteers, who've been knocking on doors for months. And on a recent Saturday morning, Williams, of West View, mounted a step-stool to rally canvassers crammed into her Ross campaign office.
She greeted the group and told them she's a "workers' rights advocate." Before she could get much further, several people shouted out for her to stand up. The 5-foot-tall Williams took another step up the stool.
"Now, everybody can see me, all right," she said. "So, I grew up a workers' rights advocate because I know how important it is to protect workers, to fight for our health care, fight for good jobs, fight for investment in our public schools."
For Williams, these positions translate into a progressive platform. The Democrat wants to raise the minimum wage to $15 an hour and would support single-payer health care. She thinks the state should boost education funding with a tax on shale drilling.
Williams said those ideas have broad appeal in the 38th district, which also includes a handful of neighborhoods in the city of Pittsburgh's East End. While the district has traditionally voted Republican, it broke narrowly for Hillary Clinton in 2016.
Williams' opponent, however, says the Democrat is left of most voters. Republican Jeremy Shaffer, of Ross, even calls her a socialist.
"That to me is the big issue in this campaign," Shaffer said at his Allison Park campaign office. "Do we want a socialist in the state Senate?"
Shaffer is a software company executive and Ross Township commissioner. He calls Williams a socialist because she's a member of the Pittsburgh chapter of the Democratic Socialists of America.
Williams said she joined the group last winter to seek its endorsement. She didn't get the endorsement, and doesn't refer to herself as a socialist.
Yet, a few weeks ago, Democrats were outraged when lawn signs that resembled Williams' but labeled her a socialist started to appear in the district. The North Hills Republican Club, a group tied to Shaffer's campaign manager, funded the signs. The club also paid for live and automated phone calls that have spread confusing and negative messages about Williams.
There was also a failed Republican-backed lawsuit that sought to remove Williams from the ballot. The suit alleged that Williams hasn't lived in Pennsylvania long enough to run in this year's election. A Commonwealth Court judge dismissed the case last week, writing that Williams' opponents brought their complaint too late.
Williams says Shaffer wants to distract voters.
"You know what, he knows he's wrong on education," she said during an interview. "He knows that he's wrong on a bunch of issues and doesn't want to talk about it."
At his campaign office, Shaffer did address a number of issues, including the minimum wage. He said he would support raising the rate to about $10 an hour. He considers the $15 rate Williams favors to be too high.
"That could devastate a lot of our small businesses. It could dramatically disrupt our local economy," Shaffer said. "So, I think the best way to give more money to people and the workers is to grow our economy here."
Shaffer agrees with Williams that the state should spend more on schools. But, unlike the Democrat, he wouldn't use a shale tax. Instead, he would draw on casino revenue and the privatization of liquor sales.
"People do not like living in 'Tax-ylvania,' and the solution is not always just raising more and more taxes," he said.
Still, Williams questions Shaffer's commitment to public schools. Among the Republican's biggest campaign contributors is the Students First political action committee, which supports candidates who favor charter schools and private-school vouchers.
Shaffer said his own five children go to Christian school or are home-schooled, but that the oldest will start public high school next year.
He wouldn't directly say whether he supports public funding for voucher programs. Instead, he spoke in general terms, saying, "We need to empower our students and our parents to be able to have choices that work for them."
Shaffer has also come under scrutiny for missing a September vote on a Ross Township ordinance that bans discrimination against LGBTQ people. He said he was traveling at the time, but declined to say how he would have voted.
"All of those motions either passed unanimously or passed with huge margins, so ... my vote was not a swing vote," he said.
Even with that question mark, the stark policy differences between Shaffer and Williams will give voters in Senate district 38 a clear choice on Election Day.