Contact 90.5 WESA with a story idea or news tip: news@wesa.fm
Darlene Harris Ousted From District 1 Council Seat By Challenger Bobby Wilson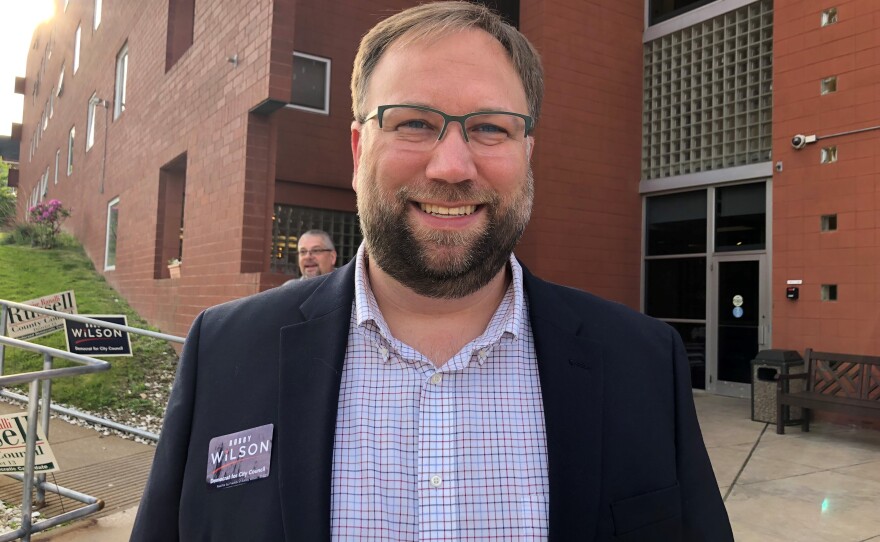 Bobby Wilson beat Darlene Harris to take the District 1 seat on City Council, representing the North Side.
Katie Blackley
Bobby Wilson announces that Councilor Darlene Harris congratulated him on his win at his campaign party at the Elks Lodge.
Ariel Worthy
Bobby Wilson toppled Pittsburgh's District 1 City Councilor Darlene Harris, following a sometimes bitter election fight, likely removing the sharpest critic of Mayor Bill Peduto from the nine-member body.
Four other seats were up for grabs Tuesday, but the city's political landscape barely changed otherwise, as incumbent councilors held onto their seats in the four contested races.
District 1
Wilson won the closely watched council race, garnering 57 percent of the votes.
This was Wilson's third run for the office, and he campaigned on a pledge to be more responsive and open to voters in the district.
"We have to make sure that everyone has a voice in the neighborhood," he said at his election party at the North Side Elks Lodge.
In heavily Democratic Pittsburgh, winning the district's primary all but assures that next January, Wilson will represent northern city neighborhoods that include Brighton Heights, Northview Heights, Spring Garden, Spring Hill and Troy Hill. Should that happen, he said his first priority would be to ensure that residents have access to the city's resources, like the Housing Opportunity Fund.
"We want to make sure we have some shovel-ready projects, we're going to make sure that all happens," he said.
Wilson ran with the backing of Mayor Bill Peduto. Harris has frequently opposed the mayor, most recently by voting against the controversial gun legislation that would ban the use of certain firearms, accessories and ammunition within city limits.
Harris, who has held the office for nearly 13 years, touted her record on animal rights, including free spay and neuter programs for city residents. In 2012, she co-sponsored legislation that would have levied a tax on billboards. A lawsuit over the tax is pending.
Harris said she is old enough to retire, which she plans to do at the end of the year. She said she called Wilson and wished him luck.
"He can ask me (for help transitioning to the office)," Harris said at her campaign headquarters on California Avenue.
Harris seemed emotional for a moment, but she doubled down, saying she was fine.
"I [was] debating whether I was going to run or not," she said. "I thought, well it'll keep me busy, and it's been my life's work. I've met a lot of great people, met a lot of great friends."
Wilson said he spoke to Harris for a while when she conceded.
"She congratulated me and it was mostly that," he said. "It was a good conversation; I respect her."
Mark Brentley, who also challenged Harris, garnered roughly 10 percent of votes cast. The former school board member, and lone African American in the race, said too many district neighborhoods were left out of the city's resurgence.
DISTRICT 3
Bruce Kraus won with roughly 54 percent of the vote, beating out challengers Ken Wolfe and Chris Kumanchik.
Kraus, who serves as council president, said the win was "a victory for all of us. It's a constituency bonding with a community that makes this happen." But he allowed that the results were closer than he'd expected, and said it was "a wake-up call that maybe I need to look at doing some things differently."
Kraus, of the South Side, faced challenges from Kumanchik of Oakland and Wolfe of Allentown, but was able to marshal superior resources throughout the campaign. Kraus garnered the endorsement of Allegheny County Democratic Committee members and outraised both his rivals.
DISTRICT 5
Incumbent Corey O'Connor faced no Democratic challengers in this district, which includes Squirrel Hill, Greenfield and Hazelwood. No Republicans filed for the party's nomination either, and O'Connor, the son of late mayor Bob O'Connor, appears to be assured of another four-year term.
DISTRICT 7
Deb Gross celebrated with a small group of progressive supporters at Nico's Recovery Room in Bloomfield. She credited her win to having established strong relationships with the people in her district.
"Obviously everyone's very, very happy to see the results," Gross said. "I think people in the district are really clear on their priorities. So, we have another four years to make that happen – defending public water, pushing for affordable housing, working on issues in the neighborhoods and really setting that progressive agenda."
Gross was first elected to Council in 2013, and has been an advocate for affordable housing. She sits on the board of the city's water and sewer authority, advocating for lead-line replacement in the city.
Notably, Gross did not receive the Allegheny County Democratic Committee endorsement ahead of the primary – the only council incumbent not to do so.
Challenger Deirdre Kane, who works in marketing for Highmark, focused on creating more green space in the densely populated district – which encompasses Polish Hill, Bloomfield, Friendship, Highland Park, Morningside, Stanton Heights, Lawrenceville and the Strip District. She also pledged to make the office more accessible.
But she was hesitant to criticize Gross, of Highland Park. As a lifelong Lawrencevillle resident, Kane focused on fears of gentrification, and said that while Gross has done work to address the issue, she believed more should have been done sooner.
DISTRICT 9
Ricky Burgess faced five challengers Tuesday night – the most crowded field opposing any council incumbent. But unofficial election results show him out in front with over 38 percent of the vote.
"We are humbled and grateful for the confidence the voters of the ninth council district have given me," he said Tuesday night at his campaign headquarters on Larimer Avenue. "We have to work hard to make sure that every single resident can participate in this new Pittsburgh."
Burgess said he hoped to collaborate even more with Mayor Peduto in the coming term, and thanked him for his support in the primary.
"Every term is slightly different, every council is slightly different. I think we have a great mayor, I'm a great supporter of the mayor and I'm very, very, very humbled by his support of me in this race," he said. "You see the presence of his Chief of Staff here, and I look forward to what we can do in partnership with the mayor and council together."
The win sets up Burgess for what will almost certainly be his fourth term representing the district, which includes Homewood, Larimer, Garfield and part of East Liberty. He touts his efforts to address crime in the district, and a crime rate that has declined citywide.
Burgess was up against a field of challengers both old and new. It included real estate agent Judith Ginyard, who'd run for the seat three times before, as well as political consultant Kierran Young challenged Burgess in 2015. Newcomers included Cherylie Fuller and Stephen Braxton.
Each candidate raised concerns that, as the long-struggling community begins to recover, residents will be displaced by gentrification and a lack of affordable housing.