Contact 90.5 WESA with a story idea or news tip: news@wesa.fm
Western PA GOP Vets Back President Trump's Controversial Military Pardons
Several Western Pennsylvania veterans, including two military lawyers, are running for Congress next year. Two of them have publically backed President Trump's controversial decision to pardon three members of the military who have been convicted or accused of war crimes — despite concerns that this may weaken military discipline and morale.
"I think what the president is doing here, is reversing some of the Obama-era mindset in the military and he's letting war fighters be war fighters," said U.S. Rep. Guy Reschenthaler (R-14) said on Fox News. "When they're on these missions, they have to think about capturing and killing the target, not about getting wrongfully prosecuted back home. So I applaud the president's commutation and pardon of these war fighters. I applaud the reversal of mindset because this will allow the war fighters to focus on the mission."
Reschenthaler previously served as a military lawyer in the Navy. The three service members he referred to as "war fighters" were either convicted or accused of war crimes, the most serious violations of the laws of war.
On Friday, President Trump pardoned Ex-Army Captain Clint Lorance, who had served six years in prison for the murder of unarmed Afghan men that others in the platoon did not see as a threat. Nine platoon members testified against Lorance at trial.
Trump also pardoned Army Major Mathew Golsteyn, who admitted to killing a suspected Afghan bomb maker and was charged with premeditated murder but had yet to be court-martialed.
In the third case, Trump restored rank to Chief Petty Officer Eddie Gallagher, a Navy SEAL who was charged with the murder of a wounded ISIS fighter and accused of shooting unarmed Iraqi civilians, including an elderly man and a school girl. He was acquitted on all charges this summer, except for the lesser charge of posing for a photo with the body of a corpse.
Congressional candidate Sean Parnell, an Army veteran who received a Purple Heart and two Bronze Stars for his service in Afghanistan, thanked the president for "having the courage to fight for our warfighters" on Twitter.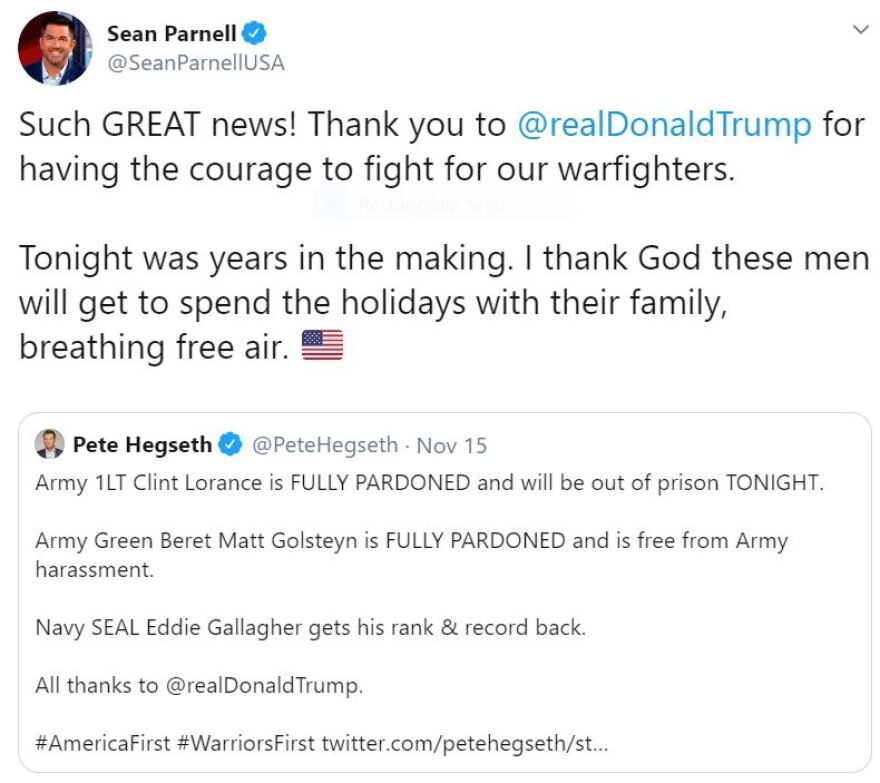 "I thank God these men will get to spend the holidays with their family, breathing free air," Parnell tweeted.
Parnell is challenging U.S. Rep. Conor Lamb (D-17) in the 17th Congressional district. Lamb is a Marine Corps veteran who, like Reschenthaler, has experience as a military lawyer. He successfully prosecuted a Marine who lied about sexual misconduct. Lamb has been silent about the pardons, and his office did not respond to WESA's request for comment.
But others are pushing back against the president's decision. The New York Times reported Tuesday that Rear Admiral Collin Green, who commands the Navy's special forces, plans to oust Gallagher from the Navy SEALs. And the controversial pardons have drawn broader skepticism as well.
"These pardons send numerous messages that are that are dangerous," said Rachel VanLandingham, a Southwestern Law School professor specializing in military law and a retired Lt. Colonel from the U.S. Air Force. She served as a judge advocate on active duty and was the chief of international law at U.S. Central Command, focusing on the law of armed conflict.
One message sent by the pardons, she said, "is that perhaps the laws of war really aren't that important, in fact, we should disregard them. Two, it sends a message: 'Well, maybe I don't trust my commanders,' because commanders in the military make the prosecutorial decision. It's not lawyers. It's senior commanders, senior combat commanders that decide that there's credible evidence to support the individual committed such crimes. The third [messages] is the undermining of the credibility of the entire military justice system, the criminal justice system."
VanLandingham said it is "ludicrous" to argue that special forces shouldn't have to worry about being wrongfully prosecuted for their actions.
"It's not about second-guessing by a prosecutor," VanLandingham said. "It's about following your commander's orders and being trained how to engage lethal force effectively and efficiently."
She said the laws of war protect members of the armed forces themselves.
"We ask our service members often to do rather horrific things, to do things that otherwise would be considered murder if it wasn't on the battlefield and according to law of war," she said. "That's what combat immunity and privilege is all about, is that it takes what otherwise would be unlawful and makes it lawful, only if it's conducted according to these rules."
"They know that sometimes killing the bad guy means that they're there will be innocent civilians around that will be killed. That's called lawful collateral damage. It's still awful, but it's lawful, and that means it's moral for these folks. So they can go home and look in the mirror and say, 'OK, I did the right thing.'"