Allegheny County To Begin Tracking HPV Vaccination Rates Among Adolescents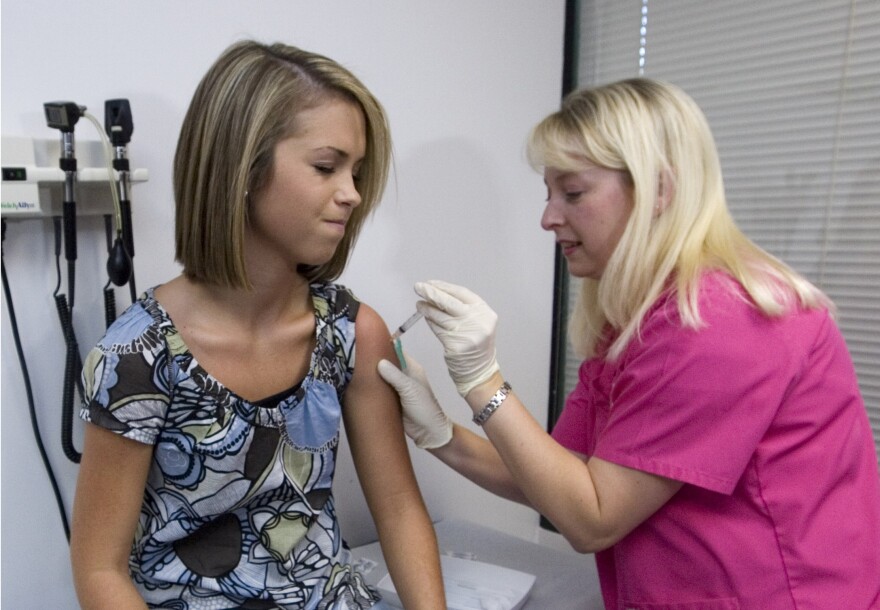 School nurses in Allegheny County will soon begin reporting HPV vaccination rates to the county Health Department.
Director Dr. Karen Hacker said it's the first step in exploring a possible mandate requiring the HPV vaccine for all children in the county.
"We see HPV vaccine as a way to prevent cancers and we would really like to get our rates up much higher than they are at this point in time," she said.
Data collected from local health insurers by the Jewish Healthcare Foundation and presented at the Allegheny County Board of Health meeting last week suggests that less than 16 percent of 13-year-olds in the Pittsburgh region had completed the three-shot vaccination in 2014. That is up from less than 12 percent in 2013. Also in 2014, less than half of 14 to 17-year-olds in Allegheny County had even started the eight-month vaccination schedule. Surrounding counties had even lower rates.
Dr. Joseph Aracri, chair of pediatrics at Allegheny Health Network, said parents' reactions to his suggestion that their children be vaccinated are changing.
"Usually I present it as, 'This is a vaccine that will protect your child in the future. The younger you give it the better the immune response. Yeah, you catch HPV through sexual contact, but I'm not expecting your 11-year-old child to become sexually active,'" he said. "And then I always equate it to the Hepatitis-B vaccine that the babies get when they're born."
Aracri said, in the past, parents were more likely to say they were uncomfortable with the idea of getting their 11-year-old child vaccinated for a virus that is primarily sexually transmitted. Doctors recommend that the three-shot vaccination course begin at age 11, though children as young as 9 may be offered the vaccine.
"We don't stay 11 forever," said JoylettePortlock, member of the Allegheny County Board of Health head of the environmental advocacy non-profit Communitopia. "These are things that are out there. It's protective of all our health in the long term to create herd immunity around these diseases, these infections that really do hurt people."
Jeanne Bondi of Wexford, who has three daughters age 20, 16 and 14, said she was leery of the HPV vaccine when her oldest daughter's pediatrician first suggested it.
"Why would I want to get a 13-year-old a vaccine that protects against a sexually transmitted infection?" she said.
But Bondi said after further conversation, and after finding out that the doctor was getting her own son vaccinated against HPV, it started to make more sense.
"Your kids face so many challenges as it is, why wouldn't you just remove the ones that you can?" she said.
Portlock said messaging around a potential HPV vaccination mandate would be key to its success, and Bondi said part of what changed her mind is thinking of the vaccine as protection against cancer, rather than an STI.
According to the Centers for Disease Control, about 27,000 new cancer cases can be linked to strains of HPV each year. The primary risk for women is cervical cancer; for men it is oropharynx cancer which affects the back of the throat, tonsils and base of the tongue.
Hacker stressed that any HPV vaccine mandate would go through a full public process before being implemented, beginning with a public hearing. A potential mandate would still allow for exceptions for religious, moral and medical reasons.