Contact 90.5 WESA with a story idea or news tip: news@wesa.fm
Economic Development In Pittsburgh Must Benefit People And Neighborhoods, Officials Say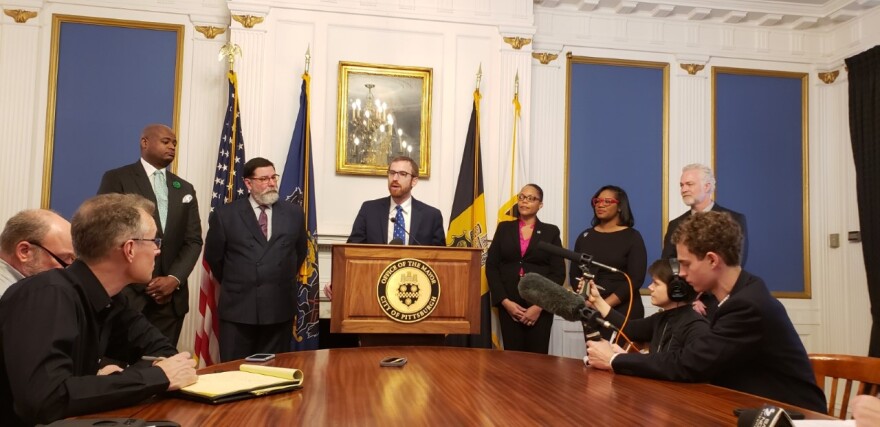 Mayor Bill Peduto and his administration want to shift the focus of economic development and investment in the city. Instead of relying on the Urban Redevelopment Authority to drive broad growth, city hall and city agencies must work together to ensure all Pittsburghers thrive, said Dan Gilman, the mayor's chief of staff.
At a press conference on Wednesday, Gilman introduced a new economic development team and said they're ready "to restructure and to take Pittsburgh forward into a 21st century model of both economic development [and] also neighborhood development."
It's time for Pittsburgh to "dream small," said Peduto: to build a people-focused revitalization strategy that invests in workforce development, small loans for small businesses, entrepreneurship, clean technology and green energy. He said the city will add new tools to its arsenal and assess existing ones such as zoning and tax incentives.
"Sometimes we have tried to use a hammer to prune a tree," he said. "Our goal is to get all of our departments in line to be able to empower others to be able to do more."
For example, Peduto said the Pittsburgh Land Bank must begin operations in earnest so that thousands of city-owned properties can return to the tax rolls and benefit their neighborhoods. This month, Peduto appointed Paul Leger as interim executive director to get the largely dormant six-year-old body into gear.
"When we are landlords to nearly 17,000 vacant lots, blighted properties and empty houses, we should be able to convert those houses into opportunities for people to own and rent affordable housing throughout the city," Peduto said.
At the close of 2019, Peduto selected Marty LaMar to fill the city's newly created chief economic development officer role, and said his job will be to coordinate between the city, the Department of City Planning, the URA, the Housing Authority of the City of Pittsburgh and the Pittsburgh Land Bank. LaMar worked most recently as a regional vice president for McCormack Baron Management. He previously directed the Lucas Metropolitan Housing Authority in Toledo, Ohio and held roles in both the Atlanta, Ga. and Philadelphia, Pa. housing authorities.
LaMar said he's excited to help build the city he now calls home.
"We have everything that we need to be successful," he said. "I look forward to expanding the city's economy, working to attract growth industries, [and providing] opportunities for individuals to find their home in Pittsburgh."
Monique Pierre is the new chief development officer of the housing authority. She said the agency will continue to collaborate with the city and ask how it can contribute to the development of resources and people.
"We are in a coordinated effort and working closely with the new team that's on board."
In November, city and URA officials selected Greg Flisram as that agency's new executive director. Before moving to Pittsburgh, he served briefly as interim CEO of the Economic Development Corporation of Kansas City, Mo.; for five years he helped lead that organization's business and real estate development departments.
City officials said they expect to announce a new director of the Department of City Planning in the coming weeks. The former director, Ray Gastil, left the post in the summer of 2019.
Before Wednesday's press conference, the new economic development team met with community organizations, developers, labor leaders and real estate representatives. Those leaving the meeting said it was mostly about making introductions and sharing priorities.
"I think this is going to be a great opportunity for the city," said Mark Masterson of the Northside Community Development Fund. "Anything that we're doing has got to have [equitable development] as the centerpiece."