Contact 90.5 WESA with a story idea or news tip: news@wesa.fm
Trump's Pittsburgh Visit Blurs Ethical Boundaries, Critics Say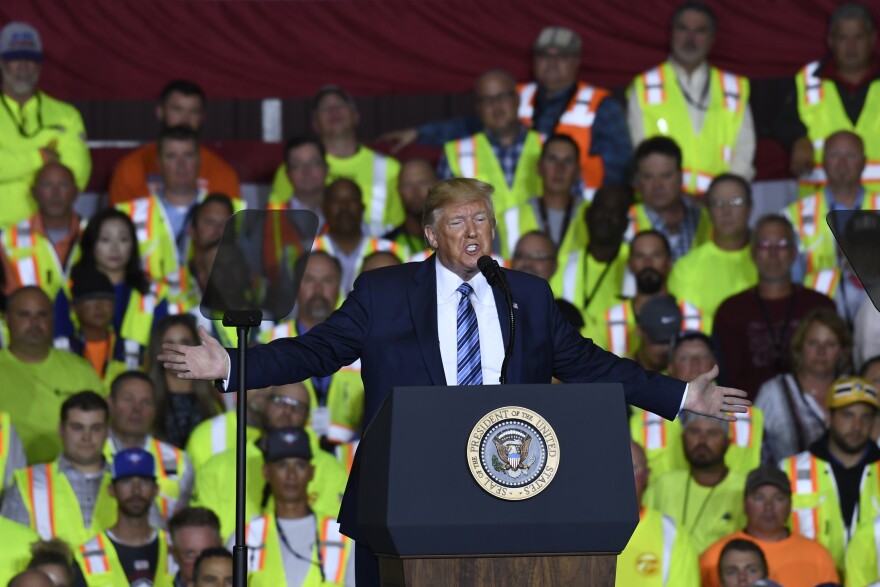 President Donald Trump made two widely reported appearances this week: One was a political rally, in Manchester, N.H.
The other was an official White House appearance outside of Pittsburgh – "not a political event but an official event," a senior administration official stressed in a call with reporters the day before.
What was the difference between the two events? A little more than 600 miles – and in some ways, ethicists fret, not much more.
There were no red MAGA hats at Trump's Tuesday visit to the Shell petrochemical plant under construction in Beaver County. There were no "Trump 2020" banners in audience. But other campaign trappings – like his use of the Rolling Stones' "You Cant' Always Get What You Want" as outro music – were there. And as Trump spoke to thousands of workers building the plant, he repeatedly cast aside his script about "energy dominance" to urge workers to support him in 2020.
"I'm gonna speak to some of your union leaders to say, 'I hope you're going to support Trump,'" he said at one point. "And if they don't, vote them the hell out of office because they're not doing their job."
He talked openly about polling data, warned them that Democrats would take away their jobs, and mocked Democratic rivals like Elizabeth Warren, by using a nickname that refers to her years-old dubious claims to Native American ancestry: "We'll have to hit Pocahontas very hard if she does win. … What a group – Pocahontas and Sleepy Joe [Biden]. I don't think they give a damn about western Pennsylvania, do you?"
Trump has a long-established reputation for redefining expectations of presidential behavior. But the Pittsburgh event surprised even some veteran Trump-watchers.
"In the past, he's at least tried to stick closer to the official event," said Jordan Libowitz of watchdog group Citizens for Responsibility and Ethics in Washington. "But it seems like this time he made a decision to go off the script and do a campaign rally." In fact, he used some of the same talking points – like suggesting more mockery may be in store for Warren – in New Hampshire, where the event was explicitly a rally.
Federal law prohibits using taxpayer dollars to aid a campaign. But that can be a tricky rule to apply for any president up for re-election. President Barack Obama, like his predecessors, combined official White House visits with 2012 re-election campaign events like fundraisers. And in 2016, he squired around Democratic hopeful Hillary Clinton, his Secretary of State, to political events on Air Force One. At the time, one of the sharpest critics of that practice was … Trump, who called it "a total disgrace" that "taxpayers are paying a fortune for the use of Air Force One on the campaign trail by President Obama and Crooked Hillary."
Estimates for the cost for flying Air Force One – which the President takes to every event – range over $150,000 an hour. And when the aircraft or other assets are used for travel that includes both political and presidential functions, the President's political campaign, or a political party, reimburse the taxpayers for the "political" portion of a trip. But it's the White House itself that determines how to apportion those costs, and the formula for doing so has been a closely guarded secret long before Trump's inauguration.
Ethics experts say Trump's unique approach to the rules often involves eyeing lines that are already blurry, and then walking all over them.
"When there's a campaign event and an official event on the same trip, the White House is supposed to allocate the costs," said Brendan Fischer, director of federal reform at the Campaign Legal Center. "The challenge with this president is that he is known to go off script and talk about whatever is on his mind, and so what starts as an official event can become a campaign event."
Fischer allows that "I don't recall specific guidelines or magic words" that transubstantiate an event from one category to another. After all, for a president to defend his actions, or argue on behalf of the direction he is taking the country, can be a matter both of politics and policy.
Still, he says, "There definitely does appear to be a line that has been crossed here. It would be one thing if he's going to Pittsburgh to talk about how great his presidency has been for workers. Clearly that would benefit his reelection effort, but it wouldn't be explicit. But this doesn't feel like a gray area. When you are talking about the election and your opponents, or saying that people will lose their jobs if you aren't re-elected, I think it's pretty clear."
Trump's campaign has reimbursed taxpayers for at least some of the costs incurred by his travel. So far this year, it has reported paying the Treasury just under $900,000 for "travel expenses." That would cover the cost of about six hours' worth of Air Force One flight time.
A reimbursement of any sort seems unlikely on this trip. When WESA asked for the White House's position on whether the trip involved political activities, an official responded with a one-line statement: "The President traveled to Monaca, PA, for an official visit to the Shell cracker plant where he discussed at length his Administration's energy agenda and job growth within the local community. "
That does little to assuage criticism from transparency advocates like Jordan Libowitz.
"There's a larger issue here, which is at what point does this become a constitutional crisis?" he said. "These rules are in place because using taxpayer resources to keep themselves in power is something authoritarian dictators do."
"On its own, this rally doesn't present a crisis," he added. "But it's part of a broader attack" that includes Trump's ownership of hotels where government officials end up staying, as well as violations of the Hatch Act – which bars political activity by federal workers – by Trump aide Kellyanne Conway.
Libowitz's organization skews left. It's been funded by George Soros, a major contributor to progressive causes. (WESA reached out to Judicial Watch, a conservative watchdog group that scrutinized Obama's travel expenditures, but the organization did not respond to interview requests.) But Libowitz says "it's not just about Trump. We're afraid of a Democrat that takes over and says, 'Trump did all this, and so I'm just going to ignore these rules too.' And then a Republican will do the same thing. That's how ethical norms start falling apart."
Libowtiz says that his organization is trying to determine if there is any legal recourse, though he says that ultimately, "We need an overhaul of ethics laws, like we saw in the 1970s after Nixon."
In the meantime, he says, only one thing is certain.
"The president is going to keep doing this."