A Torrent Of Outside Cash Pours Into Pennsylvania's U.S. Senate Race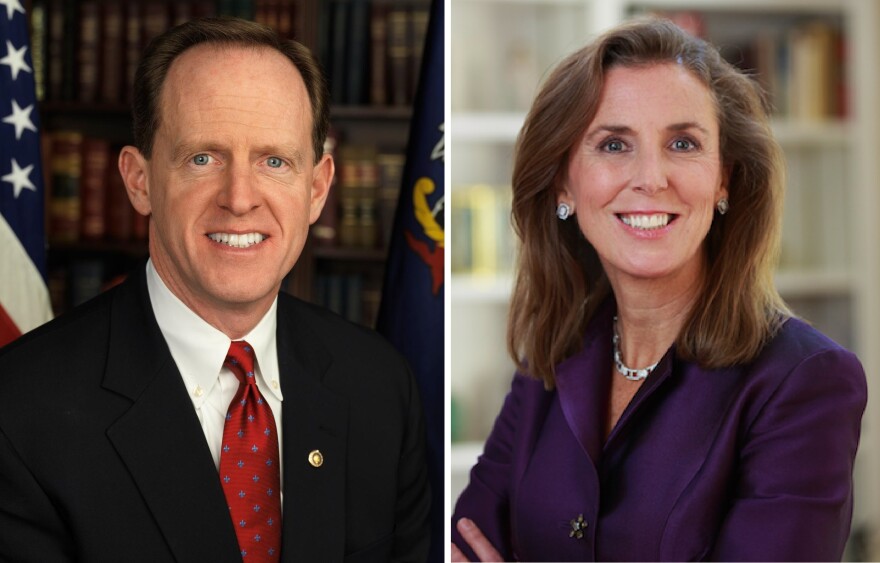 Pennsylvania's U.S. Senate race this year will likely set a new record for spending, as outside groups pour money into the contest hoping to influence the control of the Senate.
So far, groups independent of the candidates themselves have spent more than $70 million to influence the race between incumbent Republican Pat Toomey and Democratic challenger Katie McGinty, and there's more to come.
The result is TV advertising so ubiquitous that when Toomey toured the Belmont Charter School in Philadelphia Thursday, many of the questions from kids was about the commercials.
"Why, when I see the commercials, do they try and get other people for bad things, so you don't vote for them," asked fourth-grader Day'Ron Regan.
Yes, Toomey said, there are a lot of negative messages, but a lot of them are outside groups who can say whatever they want.
Viveca Novak of the Center for Responsive Politics said spending by outside groups in Pennsylvania is already even with the money-soaked 2012 Senate race in North Carolina.
"That race set a record for spending by super PACs and other outside groups," Novak said. "There's still three weeks till Election Day, so there's no doubt that Pennsylvania will hold the new record."
Who's in?
To most of us, a million dollars is a lot of money — and it's a lot to spend on a political campaign.
Want to guess how many different groups have spent more than $1 million on Pennsylvania's Senate race?
Three?
Six?
It's 20, funneling money from all over the country, most of it for advertising, and four-fifths of that for attack ads.
So far, the liberal and Democratic forces backing McGinty are about $3 million ahead of the conservative and Republican groups on Toomey's side.
The biggest single spender is the Senate Majority PAC, a committee funded by wealthy Democrats with ties to Senate Minority Leader Harry Reid.
"Do you own a plane? Do you own a bank?" an announcer says in their ad. "Pat Toomey owned both. But it's the fact that Toomey owns a seat in the U.S. Senate that should really concern us."
That group alone has spent more than $15 million on the race.
The second biggest spender is Freedom Partners Action Fund, funded by the conservative Koch brothers and their allies.
"We struggle to make ends meet, but the last time she was in government, she backed the largest tax hike in decades," an announcer says of McGinty in one of its ads.
It refers to McGinty's stint as chief of staff to Gov. Tom Wolf. His proposal would have raised some taxes to fund education and other needs, but also would have lowered property taxes. It was never enacted.
There are labor, feminist and environmental groups supporting McGinty. The U.S. Chamber of Commerce and many conservatives back Toomey.
Most groups are super PACs, which accept large contributions but do report their donors.
Some on both sides are nonprofits, which conceal their donors, the "dark money" groups.

All you can eat
So many ads coming from so many groups can overwhelm journalists and watchdogs trying keep track of them.
Anna Orso is a reporter with the website Billy Penn, the Pennsylvania partner of PolitiFact, which checks the accuracy of political claims.
Months ago, newspapers and TV ad trackers were keeping up with political ads, "checking new commercials every time they're released," she said. "I'm certainly not seeing that as much anymore, and I think a lot of that can be attributed to the volume. Looking at every single ad is too much."
The candidates speak
I wondered if the endless ad barrage from so many sources changed the way the campaign feels for the candidates, since most of their messaging comes from people they can't control or even legally talk to.
McGinty told me tries not to watch most of the ads. She said that, even though she benefits from the outside money, she doesn't like it.
"I think that there's far, far, too much money in politics," she said, "and I've been hard-charging to do critically important things like overturn this court decision Citizens United that really opened the floodgates."
"It's a big difference between myself and Sen. Toomey, who has voted against overturning Citizens United," McGinty said.
Toomey responded to the charge in the candidates' Monday debate in Pittsburgh.
"Look, I've always preferred more transparency in the system," he said, "and the simple way to do this is have all this money go to candidates and let the candidates be responsible and accountable for it, and require disclosure."
Toomey is against contribution limits. He believes donors should give what they want, and candidates themselves should take responsibility for the cash — and the messages it funds.
Odd duck
One group putting money into the race is a little unusual.
End Citizens United is crusading against all that outside money going into local contests, but to get that message across, it's doing just that, spending a lot of money independent of the campaign.
Spokesman Adam Bozzi said End Citizens United is different from the big super PACs — it's a traditional political committee and takes no checks bigger than $5,000.
"This is a unique and groundbreaking model," Bozzi said. "We are giving a voice to families across the country who've been shut out by a system that is stacked against them. We're taking on this band of billionaires who've stacked the deck in their own favor."
The group targets officials and candidates who'll defend the Supreme Court's Citizens United ruling. It's put $2.2 million into attacking Toomey.
https://www.youtube.com/watch?v=Hmius9OhivQ
Find this report and others at the site of our news partner, Newsworks.