Ralliers Implore House Members To 'Do Your Jobs'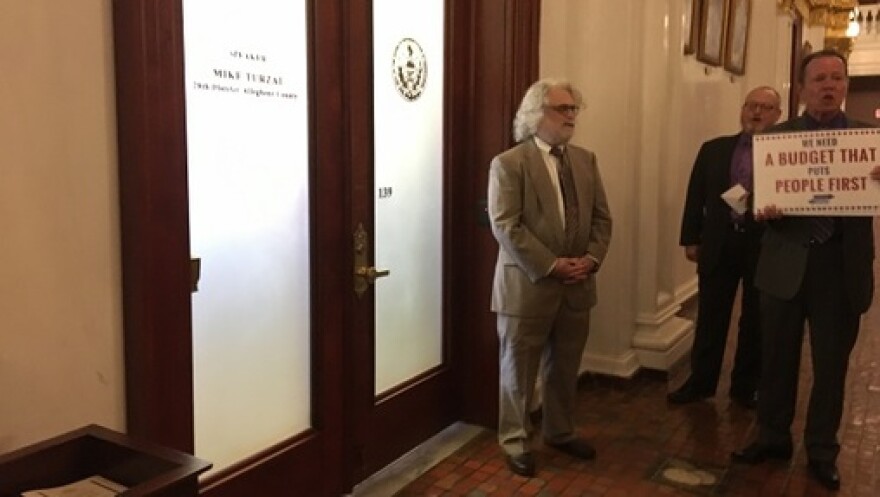 Pennsylvania has had an unbalanced budget for nearly a month, and advocacy groups around the commonwealth say they have real concerns Governor Tom Wolf will soon have to start freezing spending as a result.
A few dozen ralliers from the left-leaning Pennsylvania Budget and Policy Center and the SEIU Local 668 union took over the Capitol rotunda Monday afternoon, and focused much of their dismay on GOP House Speaker Mike Turzai.
The budget is awaiting House action, and Turzai has the power to end his chamber's indefinite recess.
Though the Speaker was out of the office at the time, the protesters banged on his door and asked a secretary to relay their message.
"I have no assurances from anyone that we can fix this unless there's willingness on all sides to come to an agreement and compromise," said PBPC Director Marc Stier.
House members are deliberating how to best fill a $2 billion gap in the spending plan they passed in June. They say they won't agree to a plan already passed by the Senate.
State Treasurer Joe Torsella has said the situation is bad enough to warrant freezing spending in the near-future.
Stier said he's concerned about two spending areas in particular.
"You can't cut Medicaid without losing federal funds, you can't open the doors to the prisons," he said. "You can stop funding human services, you can cut funding to education. Those are the places that always get hurt, and that's what we're afraid of--they're going to get hurt again."
A spokesman for Governor Tom Wolf said the governor urges the House to take note of Torsella's warnings.
"[Wolf] urges the House to return and to complete and fully fund the budget that they overwhelmingly passed at the end of June," he said in a statement.
House GOP spokesman Steve Miskin called the protest "utterly silly," and said members are working hard on a compromise behind the scenes.