Contact 90.5 WESA with a story idea or news tip: news@wesa.fm
Live Blog: Midterm Elections
Check in throughout the day for 90.5 WESA's continuous coverage of the Midterm Election.
12:03 a.m.: Williams declares victory, Shaffer hasn't conceded
In the super tight race between Lindsey Williams and Jeremy Shaffer in state Senate District 38, it's still too close to call. Williams appears to have a lead by about 300 votes and has declared victory, but Shaffer has not conceded.
11:16 p.m.: Pennsylvania Senate District 38 race still too close to call
The race between Democrat Lindsey Williams and Jeremy Shaffer in state Senate District 38 is still too close to call, with votes nearly 50-50. Allegheny County is currently counting absentee ballots.
PA State Senator Jay Costa just told reporters Allegheny County is counting absentee ballots right now for District 38. Says there seems to be a higher concentration of Dem absentees. Race is still not called.

— Kathleen J Davis (@katjacqueline) November 7, 2018
11:04 p.m.: Pennsylvania sending record number of women to U.S. House
Pennsylvania voters are sending a record four women to the U.S. House of Representatives.
All four victors are Democrats who won open seats in the Philadelphia suburbs and the Lehigh Valley. Three of them won in districts that had been under Republican control before the state Supreme Court redrew their boundaries in a bid to make them more competitive.
Pennsylvania had never sent more than two women to the House at any one time.
Madeleine Dean beat Republican Dan David in the 4th District. Mary Gay Scanlon prevailed over Republican Pearl Kim in the 5th District. Chrissy Houlahan beat Republican Greg McCauley in the 6th District. And Susan Wild beat Republican Marty Nothstein in the 7th District.
Dana Brown, executive director of Chatham University's Pennsylvania Center for Women and Politics, joined 90.5 WESA to talk about a lasting shift for Pennsylvania women in politics. Listen below:
-The Associated Press contributed to this report.
10:43 p.m.: Excitement at Lindsey Williams HQ
At the campaign party for Lindsey Williams, the Democrat running in the 38th state Senate District, people are excited – including Jonathan Colton, a registered Democrat. He says he's very optimistic about Williams winning, based on projections that have her in the lead.
The biggest campaign issue for him was choosing someone who protects labor unions.
"That was my big issue, and obviously there's only one candidate that does that," Colton said.
He says he believes labor is an issue thath resonates with a lot of voters in the 38th District.
The race has yet to be called, but Williams is leading by a narrow margin, with just more than 50 percent of the vote and 92 percent of precincts reporting.
10:33 p.m.: Children's Fund organizers say measure likely won't pass, but work not over
Organizers for the Allegheny County Children's Fund addressed the crowd just after 10 p.m. to say the race isn't over, but that it was unlikely that the fund would be approved. Steering committee leaders thanked volunteers for their dedication to the cause and said the work was not over.
With about 97 percent of precincts reporting, there are more th an 17,000 more "no" votes. The campaign asked voters to approve a property tax increase to pay for child well-being initiatives.
10:22 p.m.: Guy Reschenthaler wins in 14th District
The Associated Press has called Republican Guy Reschenthaler the winner in Pennsylvania's 14th congressional district. Reschenthaler beat Democrat Bibiana Boerio, a first-time candidate.
10:01 p.m.: Conor Lamb wins
The Associated Press and NPR have called Democrat Conor Lamb the winner in District 17. As we reported earlier, the race between Lamb and Republican Keith Rothfus was the only House race in the country between two incumbents. Lamb won a special election in March, beating Republican Rick Saccone, to replace Republican Tim Murphy.
9:53 p.m.: Democrats lead in key Pennsylvania House races
Democrats are leading so far in three of four key House races in Pennsylvania. Susan Wild, in District 17 leads with the widest margin over Republican opponent Marty Nothstein. While Democrat Scott Wallace trails Republican Brian Fitzpatrick in Ditrict 1.
9:30 p.m.: So close for the children's fund measure
It's neck and neck for the proposed children's fund measure that would change the Allegheny County Home Rule Charter to increase property taxes in order to bolster certain programs for county children. Votes are split almost 50-50 in favor of and against the measure.
9:21 p.m.: Tune in for live coverage
Live on the air, 90.5 WESA will be with listeners through at least midnight, offering local, state and national coverage from the field and in studio. As returns started to roll in, Chris Potter talked big picture questions, electoral trends, key messaging this cycle and implications of a projected blue wave with:
Kris Kanthak, political science professor at the University of Pittsburgh, who's been tracking these races throughout the election cycle, and,
Joseph Sabino Mistick, law professor at Duquesne University, former candidate and former top aide to the late Mayor Sophie Masloff.
Listen below:

election_night_2018_-_big_segment_edited.mp3
9:09 p.m.: AP calls it for Casey and Wolf
The Associated Press is saying Democratic Sen. Bob Casey has won a third term in office and Democratic Gov. Tom Wolf has won another term as Governor.
8:57 p.m.: Lamb leads in only duel incumbent race
The U.S. House race in District 17 featuring Democrat Conor Lamb and Republican Keith Rothfus is the nation's only House race to feature two incumbents. So far, Lamb, who was voted into office in a special election in March, has a sizable lead with 11 percent of precinct reporting.
8:37 p.m.: Less than 1 percent is in
Democratic Sen. Bob Casey and Gov. Tom Wolf are leading with wide margins ... but that's with less than 1 percent of the vote in, so far.
8:24 p.m.: Time to party
Campaign parties for several local candidates are off to a slow start, but it is early in the evening.
Just arrived at the campaign party for Democrat Lindsey Williams at the IUOE Local 66. She's running for PA Senate in District 38. Quiet now, but the doors just opened. pic.twitter.com/bva2PIB6bX

— Kathleen J Davis (@katjacqueline) November 7, 2018
I am at the election night party for Rep Keith Rothfus who is running against Rep Conor Lamb in the 17th district. So far restaurant employees seem to outnumber supporters. @905wesa pic.twitter.com/Ft2cuE3ji0

— Lucy Perkins (@lucyeperk) November 7, 2018
Meanwhile, Conor Lamb's HQ is filling up.
8:11 p.m.: News outlets calling it for Wolf
The Department of State isn't reporting any election results yet, but CNN, MSNBC and other national news outlets are already projecting Tom Wolf to win the governor's race. Nothing has officially been called yet, though.
Just a note, PA polls closed seven minutes ago, so nothing is called yet. But CNN, MSNBC and other outlets are projecting Wolf will win (which isn't a surprise). https://t.co/HfPRRkCJvN

— Katie Meyer (@katieemeyer4) November 7, 2018
8:04 p.m.: Now we wait
The polls are closed, but we'll still have to wait a bit until reults start trickling in. Once they do, you can follow Pennsylvania results here. You can also follow U.S. House results here and U.S. Senate results here.
7:15 p.m.: Polls are almost closed
There's less than an hour left until the polls close. At many Pittsburgh-area polling locations, volunteers said anecdotally that turnout was much higher than in previous elections.
Poll worker at Sunnyside Elementary in Stanton Heights said 80 percent of registered voters in the precinct had already voted by 5:15pm. Says it's the biggest turnout he's seen since 2008. @905wesa

— Liz Reid (@WESALiz) November 6, 2018
Poll workers tell me high turnout at my polling place in Mt. Washington. They say I am their 80th voter of the day, and they normally have only 10 by this point in the morning (it's a little before 10:30 a.m.). @905wesa pic.twitter.com/e57qwvaWtu

— Amy R. Sisk (@amyrsisk) November 6, 2018
6:24 p.m.: "I still believe Donald Trump will bring it home at the end of the day"
As the working day drew to a close, some area Republicans were acknowledging high Democratic turnout -- at least in areas where Democrats were strong. Bob Cranmer, a political consultant and former Republican Allegheny County Commissioner, said turnout was up at his own voting precinct in Brentwood.
"They said the vote count was way up, and that there were a lot of first-time and younger voters," he said.
Did he agree with the conventional wisdom that turnout among those groups bodes well for Democrats?
"Unfortunately, I do," he said with a laugh. "But one thing I can tell you is nobody can put a finger on what's going to happen." Cranmer estimated his community as holding a 2.5-to-one Democratic advantage, but that Republicans elsewhere in the state would rally to support President Donald Trump.
"I still believe Donald Trump will bring it home at the end of the day," he said.
6:00 p.m.: Democratic activists say they're getting out the vote
With hours to go until polls close, Democratic activists are touting their success at turning out voters, including college students who are often reluctant to vote, and sometimes do so by absentee in their home districts.

But NextGenAmerica, a progressive group financed by billionaire Tom Steyer, has been trying to boost turnout among students, and said its efforts were bearing fruit. Shortly after 5 p.m., Pennsylvania media manager Victoria Vinall said turnout at Pittsburgh's 4th ward, 8th district, had topped 770 votes -- well over twice its 2014 all-day total of 299 votes.

She said turnout at other college campuses was also high, including at a handful of Erie-based schools. With college voters more likely to skew liberal, that could help Democrat Ron DiNicola's bid to challenge Republican Mike Kelly in the 16th Congressional District.

5:28 p.m.: Voter turnout high in Squirrel Hill
Sam Hens-Greco, who chairs the Democratic Committee in the 14th Ward of Pittsburgh, said that by mid-day, turnout was already above 50 percent of what it was in the 2016 presidential election. "Normally, you only get around 50 or 55 percent of the presidential total for the entire day," he said.
The 14th Ward, which includes Squirrel Hill and some adjoining neighborhoods, is a Democratic bastion. Strong turnout there bodes well for Democrats at the top of the ticket, though it will have little down-ballot impact. Its voters are in the city-centric Congressional District held by Mike Doyle, a state Senate district that is not up for grabs this year, and a state House district where incumbent Dan Frankel should have an easy contest against a Green Party candidate, Jay Ting Walker.
Earlier today, there was a delay opening a polling place at the Squirrel Hill branch of the Carnegie Library, but voting machines there have since been operating normally and Hens-Greco says there have been no other problems there.
5:11 p.m.: One of the region's most contentious races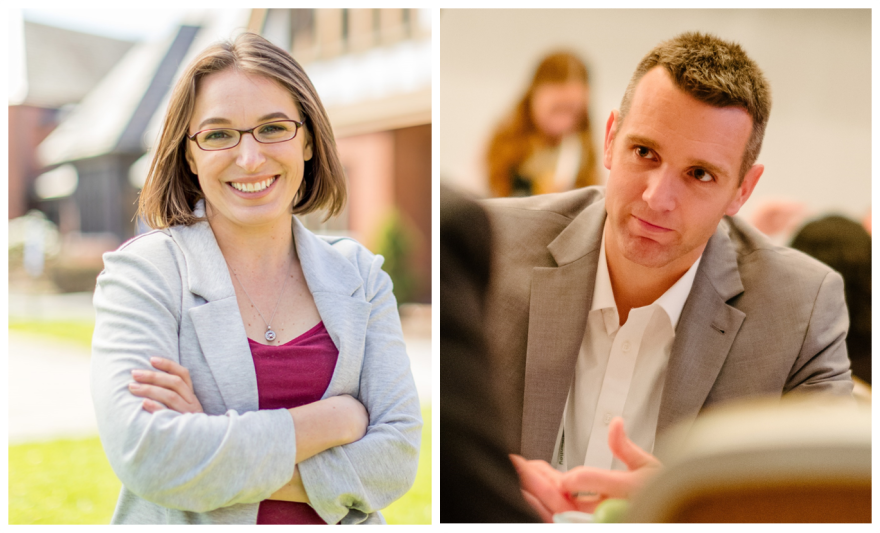 The race for the seat representing Pennsylvania's 38th Senate district has been one of the messier ones of the election cycle. Running are Republican Jeremy Shaffer and Democrat Lindsey Williams. It's featured a lawsuit to remove Williams from the ballot and a campaign sign scandal, in which a group tied to Shaffer's campaign manager, produced lawn signs labeling Williams a socialist. Here's a look at how "dark money" has also played a role in the race.
4:08 p.m.: Allegheny County reports high volume of absentee ballots
According to a release, the total number of absentee ballots for this election was 26,840. In 2014, the total was 10,295; in 2010 it was 18,127 and in 2006, it was 23,789.
In the southern part of the county a transformer failure on Old Clairton Road knocked out power to 14 voting districts. The county says the voting machines have battery back-ups and teams are working with the utility to restore power.
The affected districts include:
North Versailles 6-1 and 6-2
Baldwin Borough 0-5
Pleasant Hills 0-1, 0-2, 0-3, 0-4 and 0-10
Plum 0-1 and 0-19
Whitehall 0-5, 0-6, 0-9 and 0-12
3:19 p.m.: Man arrested for threatening to shoot poll workers in Washington County
A man has been arrested on charges that he threatened to shoot workers at a western Pennsylvania polling place.
Forty-eight-year-old Christopher Thomas Queen of Claysville is charged with terroristic threats and disorderly conduct. Melanie Ostrander, Washington County's assistant elections director, said he came to the South Franklin Volunteer Fire Department in South Franklin Township at about 9 a.m. Tuesday but became irate when he was told he wasn't registered to vote.
Ostrander said the man allegedly "became upset, told the poll workers he was going to go get a gun and come back and shoot them."
Court documents don't list an attorney for Queen and a phone number listed in his name rang unanswered before disconnecting Tuesday.
The Associated Press contributed to this report.
3:07 p.m.: Which parties yinz are googling
According to Google search trends, searches for the Republican party are higher than Dems in most of Pennsylvania's counties. In Allegheny County, people have searched the Republican party nearly three times as much as the Democratic party. You can check out this map of every county in the U.S. here.
1:46 p.m.: Voter turnout higher than normal, vote switching concerns
Allegheny County officials say, anecdotally, voter turnout is higher than normal, though they won't have final numbers until the polls close at 8:00 p.m. Higher than average turnout is being reported across the country, officials say.
There have been reports of machines incorrectly logging votes – known as vote switching – in some precincts in West Deer, Plum, Moon and South Fayette. Officials say technicians have been sent out to recalibrate the machines if necessary.
In Ingram, a judge of elections was accused of being impaired; she was brought before an election court judge, removed from duty and taken home. Another poll worker from that location will serve as the judge of elections for the remainder of the day.
12:12 p.m.: What to do if you can't vote at your polling place
If you find yourself at your polling place and your name isn't on the rolls, WHYY explains what you can do. The first thing would be to make sure you are at the right polling place. If you're unsure where to vote, you can check the website of the Department of State in Pennsylvania. If you're sure you're registered and at the right polling place, ask your election official for help; if they can't resolve the issue, request a provisional ballot and your vote will be counted once your registration is verified.
11:08 a.m.: What to make of exit polls
As election results roll in, a lot of political junkies might be watching exit polls to get a sense of what will come later that night. But, as NPR reports, exit polls are complicated and can be misleading. Here's a breakdown of how exit polls work and how to make sense of them as the numbers roll in.
10:13 a.m.: A few other problems in Allegheny County
Most polling places opened on time and without incident, according to county officials. But in addition to the problems at Squirrel Hill, there were these issues:
In Bellevue, a judge of elections overslept and the polling place opened late
In Collier, only one board member showed up
In Oakland, voting started late due to issues with opening machines
In McCandless, a polling place opened late at 7:15 a.m. Paper ballots were used until that time.
9:36 a.m.: Paper ballots being used in Squirrel Hill
Voters at a Squirrel Hill polling place were unable to cast their ballots when the polls opened this morning. According to Allegheny County officials, the judge of elections had a medical emergency last night and was still hospitalized this morning.
The polling place, located in the Squirrel Hill branch of the Carnegie Library, is district 34 of the city's 14th ward. It's now allowing people to vote by emergency ballot.
Sam Hens-Greco, who chairs the Democratic 14th Ward Committee, said that remedy came too late for at least two voters.
"One couple was flying out of town and won't be able to come back. They've left, and they were not happy."
Eileen Freedman, 50, and her husband Jeff were among the voters who were unable to cast their ballots this morning. She said they arrived at the library to vote at 6:50 a.m. and were informed of the situation.
Freedman said her husband called their City Council representative, Councilman Corey O'Connor, right away. She said O'Connor is headed to the polling place now.
Freedman said she will be able to come back and vote later, but that she wanted to vote first thing in the morning because she "just wanted to have an uplifting day."
Freedman said she works at the Community Day School which prioritizes voting and allows employees to leave at any time to go vote. She said it is an in-service day and there are no students at the school on Election Day.
"I'm concerned mostly about the people who did not have that luxury," Freedman said. "If this was their only time, they couldn't [vote]. That's unacceptable."
Hens-Greco said another two voters also had to leave but could come back after 8 p.m. He is hoping to have voting hours extended at the polling place – a move that would require a judge's order.
"I don't know about the prospects for that," he said.
Hens-Greco said he has also reached out to the county for replacement workers to come and power up machines so voters can vote in the conventional way. He was unsure of why the elections judge had not shown up this morning.
"We've been calling people at the county and the response has been, 'We're on it.' But I don't know the procedure."
Hens-Greco said 531 votes were cast in the 34th voting district in the 2016 election. The 14th is among the city's largest and most active wards, so "It's about an average number for us, but that's a big number of voters ... And the room was full of people waiting to vote."
8:00 a.m.: An early morning view from the polls
Purely anecdotal evidence: Line at my polling place (college-educated, Democratic-tilted) about 8 deep at 7:20. Not quite 2016 level, but enough to impress poll workers. And judging by couple of folks confused about what line to be in, occasional/first time voters in the mix.

— Chris Potter (@CPotterPgh) November 6, 2018
7:42 a.m.: What to watch for
A lot of seats are up for grabs across the country and it can be confusing to know which ones are key to flipping control of the House and Senate. NPR will be tracking what happens and has an hour-by-hour cheat sheet for what to watch for as the polls close in different states. Check out the guide here.
The midterm elections are here. Here's a quick breakdown as election day gets underway:
Polls are open from 7 a.m. to 8 p.m. in Allegheny County.
Check out where your polling place is by typing in your address here.
You can also view your sample ballot online here.
If you want to catch up, find all of our pre-election coverage here. You can also check out our reporting on the following races: The governor's race between Tom Wolf and Scott Wagner. The Lt. governor's race between John Fetterman and Jeff Bartos. The U.S. House race between Conor Lamb and Keith Rothfus. The U.S. Senate race between Bob Casey and Lou Barletta. State House District 28 between Mike Turzai and Emily Skopov. State Senate District 38 between Lindsey Williams and Jeremy Shaffer.